There's no question it's been a busy year for Scott Jones. He reigned as Mr. D.C. Eagle 2005, stepping down last month. And there was the stint as Metro Weekly's Nightlife Coverboy in April. While Scott can't peg either experience as the highest point of the past year, they were far better experiences than the lowest part of the year, which came in July.
Scott returned from Rehoboth after the July Fourth weekend to find his Shaw-area condo had been ransacked by a burglar. The violation hit hard.
"It brought up a lot of issues. I don't want to give my sob story, but I didn't have a lot of money as a kid," he says. "My food was gone [from the condo], and that was big thing for me. I always keep a lot of food because I remember times when I had to take hand-outs from charity organizations as a kid.
"I am still upset," he admits. "I don't know if somebody is around the corner, watching me when I'm in here."
One would think it would take a lot to unsettle Scott. Not only does he have a build that looks capable of knocking nearly anybody on his ass, he's got the military training to back it up. On paper, Scott is a pretty tough guy. The copy of the children's book Frog and Toad are Friends sitting in his downstairs bathroom, however, pulls the curtain back just a little bit. This tough guy with an Army and Air Force background has a genuine soft spot.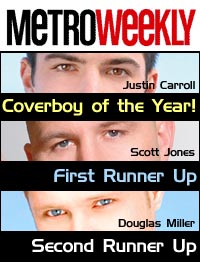 "I'm really happy that I was a geek as a kid," he admits. "I had a lot of insecurities because I'd been a little overweight. I had to wear corduroy, bell-bottom Huskies. I was so embarrassed…. I got beat up a lot as a kid."
Sitting in his home, sporting a baseball cap with the COLT porn-company logo, Scott has come a long way from that geeky kid of inner-city Philadelphia. At 30 — after leaving his hometown to pursue degrees in international studies, to work at the University of Miami and serve as an officer in the Air Force — he finally feels comfortable with his identity as an adult.
"This is going to sound so odd, but the high point of this year was standing in front of the mirror, looking at myself and realizing how much of an adult I've become," says Scott, saying he has reached a greater sense of contentment than he's ever known.
"In my head, I still want to be this 19-year-old little jock, running around, doing those things I did in college. But I realized that I'm actually — wow, shit — an adult. I felt really happy with it. I like getting older for all the things I'm learning. I'm growing up, realizing it, and becoming content with the changes."
It may be telling that Scott, who told Metro Weekly in April that he was very single, but on the look-out for Mr. Right, cannot mention this zenith without turning immediately to a new love.
"I met somebody this year who has changed my life," says Scott. "Having that person teach me some wonderful lessons about love and intimacy has been another high point." But it wasn't easy, as his romantic interest played hard-to-get, leading Scott to engage in an energetic pursuit.
"I put an ad on Craigslist under 'missed connections,"' he laughs. "Only after that — and two more phone calls — did I get my first date. He made me work!"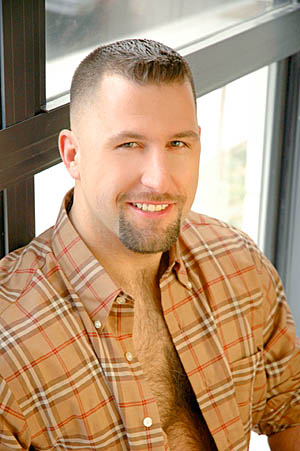 Scott says that his prominent leatherman persona may have influenced his new love's initial reluctance, which could make one wonder how it would affect his relationship with that part of the D.C. gay community.
"One of the downfalls of [my leather identity] is many people see me only as that person," he says. "They have no clue what the diversity of my experiences represents."
Still, he says, after 13-years of being involved in the leather community, he knows that it's more about long-lasting friendships than sex.
"Right now in my life I'm looking for more of an ability to give back and volunteer," he says. "I see the leather community as a opportunity to harness a lot of really dedicated, wonderful people in a direction of charity and fellowship."
It's this desire for philanthropy that may pose the biggest questions for Scott in this newest phase of his life. He says the drive is there, but that he's having a hard time figuring out where to direct it.
"I'm still learning what my attributes are in philanthropy," Scott says. "The most fun I've had over the past year was working on a holiday workshop with Pediatric AIDS. It was one of the most rewarding evenings I've had.
"I really see myself being dedicated to a cause. I don't know what's right, but it's time to do more things for people who can't help themselves. It's really kind of strange to mature. Your priorities become totally different in life."
Click here to read Scott Jones's original Coverboy Confidental interview.
First Runner Up Prize Package

$250 Cash
Cobalt – $75 Bar Tab plus 5 VIP Passes
Cherry – 2 Tickets to Main Event
DC Eagle – Black Hoodie Eagle Sweatshirt
Dakota Cowgirl – Dinner for two
Fireplace – $25 Bar Tab
Follies – $50 Gift Certificate for merchandise
Freddie's Beach Bar – Freddie's T-shirt
Go Mama Go! – $100 Gift Certificate
Halo – $25 Bar Tab

Heat – $25 Bar Tab
JR.'s – $50 Bar Tab
Leather Rack – $50 Gift Certificate
Mid-Atlantic Leather Weekend 2006 – 2 tickets to Reaction Dance
Reel Affirmations XVI – 2 Lincoln Theatre passes to next October's GLBT film festival
Signature Theatre –Pair of Sunday Pride Night tickets to Nevermore (Jan. 29), includes post-show cocktail reception.
Wet – $25 Bar Tab
Ziegfeld's/Secrets – $25 Cash Certificate

Some restrictions may apply to certain prizes