Looking for a last-minute stocking stuffer? How about t.A.T.u.'s latest album, Dangerous and Moving? It's this season's perfect musical gag gift. There may be some who would enjoy it, just as some people appreciate gifts of mass-merchandised fruitcake. But as with fruitcake, most recipients of a t.A.T.u. album will receive the gift ironically, knowing they should be "shocked" by something tasteless.
And "tasteless" is t.A.T.u., to a T.
After modest success and much infamy a couple years ago, t the Russian dance-pop duo is trying its darnedest to get your attention again. This time, Lena Katina and Julia Volkova somehow convinced musical heavyweights to lend a hand, from The Eurythmics' Dave Stewart to Sting to Richard Carpenter. It's a stab at credibility that fails in the end, for t.A.T.u. and everyone involved. (What were Stewart and Sting thinking?) t.A.T.u. also stays true to form in stirring up attention with the are-they-or-aren't-they-lesbians guessing game.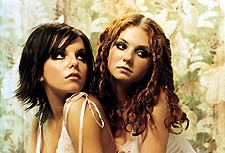 Non-lesbians: t.A.T.u.
And so you come to realize that with only minor alterations, including several awful ballads, and despite heavyweight production, Dangerous and Moving sounds almost identical to t.A.T.u.'s debut, 200km in the Wrong Direction. And even if that debut had been an accomplished piece of art and not just an occasionally enjoyable throwaway one, it would still be disappointing to see the total lack of musical growth on display with the new set.
The t.A.T.u. girls remain obsessed with themselves, or at least their public personas. Nearly every song seems to be about the tired controversy the girls' former manager concocted to get the group noticed in the first place. Several songs go so far as to imply that the two are still in love, even though they admitted years ago that the love was fabricated and that they aren't lesbians. Volkova even had a baby with a male paramour in the intervening years.
So nothing rings true in the childish and clichéd lyrics, which come across as insincere even if you don't know that the girls themselves had nothing to do with them. The only thing Volkova and Katina do is sing as part of the act. If only they were good at that: When their vocals aren't heavily processed, they're frequently flat and always conveyed without any sense of feeling or charisma.
With that kind of attitude and with this kind of result, why did they even bother? And why are they still around?
If t.A.T.u. is the dance-pop equivalent of mass-merchandised fruitcake, then Imogen Heap represents the gourmet variety that actually tastes good. And that makes her U.S. debut, Speak for Yourself, a genuinely perfect stocking stuffer. Heap descends from a long line of female vocalists who create adventurous, mostly uptempo pop music exploring electronic possibilities, from Kate Bush to Bjork to Sinead O'Connor to Sarah McLachlan. Heap's tightly constructed, intensely melodic music progresses in unpredictable or unexpected ways, but always with confidence and grace. It forces you to pay attention to it, never fading into the background.
Heap's first single from Speak for Yourself, "Hide and Seek," is the most breathtaking song on the album — and also the slightest. It's a forlorn ballad with a beautiful melody that moves slowly and quietly but for several startling shifts. And except for the faint sound of a passing train, it's all realized from one instrument: Heap's own voice, which registers in processed layers that expand and contract and split apart.
A classically trained pianist who also records with producer Guy Sigsworth (Madonna, Bjork) as part of the duo Frou Frou, the twenty-something Heap handled every aspect of producing Speak for Yourself, from financing to writing to recording. She even self-released it this summer in her native U.K. It's a remarkable feat. It's all so intricately produced and multi-layered to sound like a major-label production from the get-go, and not just a major-label release only after the fact, at least here in the states.
Occasionally Heap strays into overproduced and overwrought territory, as several songs swell to climax or a precious contortion of her voice into a whispery, Machlachlan-like state. But usually she finds the right balance to convey her songs' complicated, savvy lyrical sentiments about the shifting nature of love and life. Heap is an aspiring temptress on her sweetest song, "Goodnight and Go," concocting a scenario in which she converts a friend into a lover.
Later she becomes the tempted on the beautifully pained "The Walk." This brilliant song is as lyrically complex as it is musically rich, flawlessly incorporating sounds from adult contemporary, rock and even chamber pop into her standard dance/electronica base. Lyrically Heap shifts from resisting temptation to giving in, and then from relishing being bad to laying blame elsewhere after the fact. "It's not meant to be like this, not what I planned at all/I don't want to feel like this, so that makes it all your fault." But when a song — and an album — is this good, relish every minute of it.