In September 2004, when D.C. Mayor Anthony Williams announced the creation of the Mayor's Office of Lesbian, Gay, Bisexual and Transgender Affairs, he said, "I'm proud to be establishing the office with Wanda Alston leading it," lauding the woman who had served as his special assistant on LGBT affairs since 2001 — the year D.C. Council member Jim Graham (D-Ward 1) first submitted legislation to establish the office.
Less than six months later, Alston was murdered. A drug-addicted neighbor attacked Alston in her home, delivering the fatal knife wounds that robbed D.C. of a tenacious community activist. Months of mourning followed the March attack.
Still, life goes on, and Williams's office announced on Nov. 30 Alston's replacement to head the Office of LGBT Affairs. Effective Jan. 1, 2006, Darlene Nipper will assume her role as director of the office.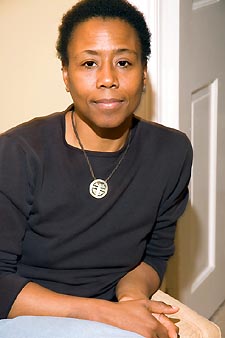 Darlene Nipper
(Photo by Todd Franson)
"I had reservations," Nipper admits, sitting in her home in D.C.'s Brightwood neighborhood, where she lives with her partner. Around her neck she wears the Chinese symbol for longevity. It's the same pendant Alston wore — Nipper had given it to her years earlier, as they were close friends for nearly two decades.
"Some months ago, someone in the community said we've got to get someone into this position," says Nipper. "We need a strong leader. One of my friends said, 'Darlene, you should do it.' I was grieving Wanda's death and just wasn't thinking about work at all at that time. Then a call came to say that people were interviewing and that perhaps I should put my hat in the ring, I just sort of did it."
Nipper says her close friendship with Alston gave her pause when contemplating taking on the position.
"I just wasn't sure I could go into a place where she went all the time, and be comfortable without being overly emotional. I'm starting to see that I'll be okay."
While D.C.'s GLBT community may feel some sense of closure in regard to Alston's death, knowing her close friend will succeed her, that's no replacement for professional qualifications. Nipper brings a master's degree in non-profit management, and a job history that includes senior positions with the Black Entertainment Television Foundation, the National Alliance for the Mentally Ill, and the National Mental Health Association. A breast cancer survivor, she has also been involved with the Mautner Project, the Black Lesbian Support Group and various HIV/AIDS agencies. D.C. residents may also appreciate that Nipper is a local, through and through.
"I'll be 41 on the 15th of January, and I've never lived anywhere else," Nipper says with apparent pride and a friendly smile. "I'm just a real kind of D.C. person. I'm sort of the worst kind of Washingtonian. I'm a snob about it. I refuse to live anywhere else."
Nipper's friendly, calm demeanor may be a contrast to Alston's. Whereas Alston had a reputation for being confrontational in her drive to get things done, Nipper says her own modus operandi is a bit more low-key.
"At the memorial services, everyone could recount a fight with Wanda. It was hysterical," Nipper says, with obvious fondness. "She was pretty high-strung. My style is much more laid back. I don't tend to be very argumentative. I tend to listen, make an assessment and act…. But Wanda's whole mission was about love. Wanda had a kind of commitment and caring about people that is very hard to match."
One area where Nipper says she's eager to put her own style to work may center on the office she's about to head. The highly respected Gay and Lesbian Activists Alliance (GLAA) opposes making this GLBT office permanent. Nipper says she's eager to work with GLAA concerns, as well as other opinions, to find some common ground. Whitman-Walker Clinic and The Center for GLBT in Metro D.C., for example, support making the office permanent. But at the end of the day, Nipper notes, it is the mayor to whom she is ultimately beholden.
"My job is to synthesize the information that's coming in from the community, and to effectively communicate the community needs and potential policy solutions [to the mayor]," says Nipper. "I hope there is an opportunity for us to really listen to one another about this and a bunch of other things, and come back with a unified platform, where we can all feel pretty comfortable about whatever the mayor decides to do, because we'll know it's reflecting our community's needs.
"Every individual's position is critically important," she continues. "My goal will be to bring all voices to the fore so that we can actually hear them and, hopefully, develop a unified platform that collectively addresses the issues of the entire community. That's difficult with this very diverse community. You've got folks in one pocket who may be completely opposing the issues of the folks over there…. The challenge is to find the common ground and to develop a platform that prioritizes the issues that we can all agree on. And just move forward, rather than focusing on how we're different. We need to see commonalities."