Who could avoid the biggest local news story of 2005, the return of baseball to D.C.? From the front page of newspapers to repetitive sportscasts, it was impossible to miss the presence of the Washignton Nationals — and that was just the coverage of the political intrigue surrounding the proposed new stadium in Southeast.
The O Street SE stadium site immediately caught the attention of the gay community — that stretch of commercial and industrial real estate was dilapidated by day but inundated by night with patrons for a range of businesses, from the adult fare at the Follies and Glorious Health and the bathhouse at Club Washington, to the nude dancing and drag shows at Secrets and Ziegfeld's. After decades as a gay clubbing destination — VelvetNation reigns on Saturday, as did Tracks in the 1990s — the area may become a monument to America's alleged favorite pastime.
But not without a fight — even a quixotic one.
In April, a community forum at Ziegfeld's drew a number of D.C. Council members — mostly those already opposed to city financing of a new stadium — and a crowd of business owners and patrons lamenting impending destruction of the neighborhood. One of the loudest and most persistent voices — then and now — has been long-time activist Frank Kameny, who says the area is a historic reminder of what gay life was like during the early days of the movement, and how the community created spaces for itself.
"We were given a lemon and we made lemonade," said Kameny. "[These businesses] are part and parcel of the gay life in this whole metropolitan area."
By the end of the year the future of the proposed baseball stadium was still uncertain — it's very likely to be built, but rapidly escalating cost projections have given yet more life to those opposing the construction, particularly D.C. Council bulldog David Catania.
As for the businesses, they received notice in late October from the city that their property will be taken under eminent domain, leaving 90 days to relocate. Those that can move are looking for ways to do so, but D.C. zoning laws still threaten the continuation of nude dancing venues such as Heat and Wet, as well as the sexually oriented business at the Follies. Without some action by the D.C. government, those businesses may never reopen.
(Update: Please check MetroWeekly.com all this week for recent updates to this developing situation.)
"People think we're closing tomorrow, not going to a new place…. We're going to try to stay in the same area, but if we can't, we can't. But we plan to stay in business. We've been doing this for 30 years. It's all we do."
— Ziegfeld's co-owner Allen Carroll. ("Eminent Eviction," Nov. 3)
"These establishments have employed people in our community who are the marginally employable. Major League Baseball won't be lining up to…hire transgender people."
— Phil Pannell of the D.C. Coalition ("The Last Inning," April 14)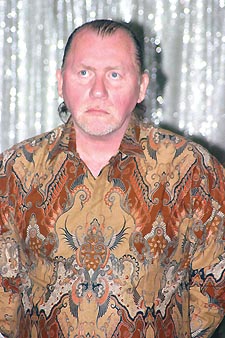 O Street business owner Bob Siegel
"I really am very hopeful. The building I'm looking at is 20-times larger than the existing area. It's room enough for all of the adult amusements. Maybe I will have my Gay Disneyland."
— Bob Siegel, owner of Glorious Health and Amusement and landlord to a number of adult gay businesses on O Street, on his possible new location in D.C. ("Eminent Eviction," Nov. 3)