Forget small. Forget intimacy. Forget cramped. Blowoff is about to get bigger. A lot bigger.
The popular monthly party, created three years ago by indie rock powerhouses Bob Mould and Rich Morel, moves from the 9:30 club's basement to its main floor this weekend. But the pair don't intend to change the casual vibe, however.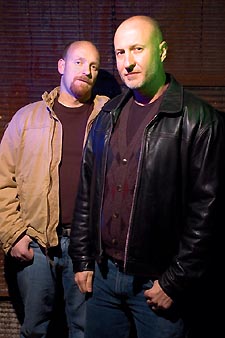 Morel and Mould
"We're not up in the DJ-as-God booth," says Morel. "We'll be DJ-ing on the floor, basically right in the center of the whole party. We'll be down there getting drinks spilled on us."
Mould describes the Blowoff crowd as one that's "fun, a little older, [with] not a lot of pretense.
"It's guys just drinking beer," he continues. And, adds Morel, it's a crowd that's "really into music," noting that their sets cover the spectrum, from alternative rock to deep house to dub.
But here's the kicker that will set the new, expanded Blowoff apart: Halfway through the evening Mould and Morel will take to the stage and perform a set of original music from a soon-to-be-released album the duo recorded under the moniker "Blowoff."
"The club night was an extension of making the record," says Mould. "We've written it over the past couple years, but we just need to tighten up the sounds a little bit."
As for the choice of this weekend to launch? "I knew we would start [the bigger Blowoff] with MAL [weekend]," Mould says, pointing out that there exists a lot of overlap between the leather community and Blowoff regulars. But that doesn't mean either Mould or Morel will wear chaps and harnesses on Saturday.
"I can't fit into any of my fetish wear right now," laughs Mould, "because I had too much to eat over the holidays. I'll be the one in a leather muumuu."
Blowoff happens from 10:30 p.m. to 3 a.m. Saturday, Jan. 14, at the 9:30 Club, 815 V St. NW. Cover: $10. Visit www.blowoff.us for more info.