Humans are social creatures. We often seek out like-minded people who share our values, interests or peccadilloes. And so it is in the world of leather, a tight-knit community who may be even more prone than the mainstream to band together.
Every January during Mid-Atlantic Leather Weekend, the individuals and groups who comprise the leather community descend upon Washington from across the nation and around the world. But what of those clubs who call the D.C. area home? They run the gamut, from clubs that put the ride above all else to those with members who have never touched a motorcycle. From kinky clubs for women to clubs that enjoy their leather with slapstick (not to mention a slap of the stick). From those that insist upon discipline above all else to clubs that prefer their social get-togethers take a more casual form.
In short, they are as diverse as the community they represent. And to give you an idea of just how diverse, we present eleven clubs that help make the D.C. leather community vibrant, caring and indispensable.
· Centaur Motorcycle Club ·

MISSION: Founded in 1970, Centaur MC consists of a group of men with an enthusiastic interest in motorcycles, leather and other men. Members also participate in a wide variety of philanthropic and social fundraising events.
MEMBERSHIP: By invitation. 38 active members, plus fraternal and associate members.
ACTIVITIES: The Centaur MC sponsors the Mid-Atlantic Leather (MAL) Weekend and the Mr. MAL Contest, as well as the annual Labor Day Weekend event Olympia. The group also hosts regular bar nights.
BACKGROUND: While the Centaurs call themselves a motorcycle club, President Glenn Mlaker says they use the term loosely: "Some members have motorcycles, but it's not a requirement. If you're a true motorcycle enthusiast, you might want to be a Spartan. We're just looking for people who want to have a good time, who will help us produce events.
"There's no pledge period," he continues. "If someone is interested, they express that to a member. They'll hang out with us. If someone fits the bill, we invite him to come in."
A longtime motorcycle rider, Mlaker says he was looking for fellow riders when he joined the Centaurs — and he found them. But his link to the leather component may be a little looser than some. "People ask me all the time what kind of leathers I have. I wear mine because of my motorcycle," says the pragmatic Mlaker. "When people see me out, mostly I'm in jeans and a T-shirt. Leather is a part of it, but it's not all of it. I'm more interested in the friendship, the brotherhood."
Mlaker says that camaraderie is always a huge part of what makes MAL special. As president of the sponsoring organization, however, the MAL weekend is far from just fun and games for him and the rest of the club. But for Mlaker, and likely the rest, it's a labor of love. He even goes so far as to say that the work that goes into pulling off the MAL weekend and contest is the highlight of the whole affair.
"Believe it or not, I like the work," says Mlaker. "I like the sense of accomplishment when it's done."
CONTACT/SITE: Visit www.centaurmc.org.
NEXT EVENT: Mid-Atlantic Leather Weekend, Jan. 13-15, 2006, at the Washington Plaza Hotel, Almas Temple and various locations around town. For a complete list of events, visit www.leatherweekend.com/events.html
· D.C. Bear Club ·

MISSION: Founded in 1995, the D.C. Bear Club (DCBC) was created to promote fellowship among bears, cubs, Levi/leather and other diverse members of the D.C. gay/lesbian community. In addition, DCBC seeks to promote better inter-club relations with local, regional, national and international bear and Levi/leather communities, and to encourage a positive public image in the larger global community.
MEMBERSHIP: 17 active members. Formal process of nomination for membership, followed by a vote.
ACTIVITIES: DCBC produces the annual D.C. Bear Invasion, and instituted the nation's first bear contests. Along with regular bar nights at Green Lantern, DCBC also holds an annual Gay eBay Auction fundraiser, usually benefiting Brother Help Thyself.
HOW TO JOIN:
BACKGROUND: With loads of embassies and the State Department, D.C. is no stranger to diplomacy and détente. In a sense, DCBC is an extension of that noble tradition.
"Essentially, we're a bridge between the bear community and the leather community," says DCBC president and co-founder Chris Wilkins, adding that his group hopes to infuse local bears with a sense of community exemplified by the leather groups. "There is a sense of brotherhood between leather clubs across the country. Bear clubs aren't really that way. People mostly do what they want."
For Wilkins, there is more than just a desire to emulate the leather community's sense of brotherhood. He's not about to dismiss the actual leather from the equation.
"I find I have three identities," he reckons. "First thing is gay. Then I found out my physical definition is 'bear.' On top of that, I have an affinity for leather. Mine doesn't go as far into the eroticism, but it's always held a sense of mystique for me."
DCBC has been helping with MAL weekends since their founding. "The first thing we were asked to do was have an after-hours party at the Washington Plaza," Wilkins recalls. "It was a lot of fun. The hall was overflowing with people. It was madness."
For the past six years, DCBC has continued to play a very active role in the MAL weekends, providing security for the Leather Cocktails event and the contests. Wilkins insists his bears have never roughed anybody up, "but we've had to deal with some pretty spectacular divas."
CONTACT/SITE: E-mail info@dcbearclub.org or visit www.dcbearclub.org.
NEXT EVENT: Participating in the MAL benefit "Buster's World," Saturday, Jan. 14, 10:30 p.m., at Titan Bar, 1337 14th St. NW.
· Defenders Levi/Leather Club (LLC), Washington, D.C. ·

MISSION: Founded in 1991, The Defenders LLC is a fellowship of concerned Christians associated with Dignity/Washington and the leather/Levi community. The club is pledged to help gays and lesbians reconcile their spirituality with their sexual orientation under the motto, "Deum cognoscere, hominem amare," or, "To know God is to love man."
MEMBERSHIP: Approximately 20. Members are voted in. Though affiliated with Dignity, the group for GLBT Catholics, Catholicism is not a requirement for membership.
ACTIVITIES: The Washington chapter of Defenders holds an annual Leather Flea Market, regular bar nights, fundraisers, monthly meetings and Sunday Mass.
BACKGROUND: The idea of a leather/Levi group with a sensibility inspired by the Catholic Church might conjure images of men tied to crosses at sexual play parties, or erotic dungeons shooting for a Spanish Inquisition theme. In some instances, that might be right on the money. But when it comes to the local chapter of Defenders LLC, says club President Tim Holtz, that picture might be a little skewed.
"We have a prayer at the beginning and the end of our meetings," Holtz explains. "Or we'll say grace at the beginning of meals. It's not excessive."
And the sexual element of the club is far more subtle. "We don't see it that way," Holtz says, responding to mention of overtly church-inspired sexual themes. "Eroticism is a part of life. Sexuality is a gift from God. [Our club] is a little of all of it — spiritual, erotic, fraternal."
The fraternal will be a highlight of MAL 2006, says Holtz, adding he's not a big participator in the weekend, but that he does enjoy stopping by. "I usually just hang out at the hotel," he says. "I just like seeing new people, new faces, all the people coming in from out of town."
Those out-of-towners will also include fellow Defenders from San Francisco and Philadelphia. Holtz says he expects to see them away from the hotel, too, as this weekend also marks two big events for the D.C. Defenders. First, the group will celebrate its 14-year anniversary at Titan Bar on Saturday, Jan. 14. The next day, the Defenders will celebrate their annual anniversary Mass at St. Margaret's Episcopal Church, followed by a ceremony to donate the funds the group has raised during the past year.
CONTACT/SITE: E-mail DefendersDC@hotmail.com or visit http://defendersdc.tripod.com.
NEXT EVENT: 14th Anniversary Party, Saturday, Jan. 14., 3-5 p.m., at Titan Bar, 1337 14th St. NW.
· F.I.S.T. ·

MISSION: Founded in 1993, F.I.S.T. (Females Investigating Sexual Terrain) is a social and educational club for women interested in S/M, leather and fetish between women. F.I.S.T. does not discriminate against race, religion, creed or sexual orientation.
MEMBERSHIP: Approximately 15 full members. Most events are open to all women, including trans women. Membership is by invitation: "We haze upon request."
ACTIVITIES: F.I.S.T. hosts regular play parties open to women and transfolk, which include an educational component. Parties are held at The Crucible in Washington and The Play House in Baltimore. Regular bar nights are held at the D.C. and Baltimore Eagle bars. An annual pool party benefits the National Coalition for Sexual Freedom.
BACKGROUND: Glenda Rider was in a bind. She was looking for something that didn't exist: a local leather club for women. "I'm a hedonist," she says with a laugh. "I'm pretty much fully immersed in the leather world. I'm in the deep end of the pool.
"I really enjoy the exchange of sensation with a partner. Depending on the partner, that would take various forms. I play for the response of my partner. I'm going to do things to them, for them, that elicit an erotic response. The more intense, the better. I'm polyamorous, and all my lovers identify as BDSM-leather-fetish people."
With such a well-defined sense of self, what was a girl to do except start a club herself? Today, F.I.S.T. attracts a roughly equal number of women from Baltimore and the D.C. area. Many of them, says Rider, will be attending MAL Weekend, though F.I.S.T. does not host an official event. Rider, however, will be hosting a women's play party during the weekend on Friday, Jan. 13.
For the record, Rider says she also has a great time at MAL, fully clothed, hanging out with the boys. "The thing I like best about MAL is it's the biggest annual family reunion. I can be in the room at Leather Cocktails and feel like I know most of the people there. Everyone is in their finest leather. It's fun to get the family dressed up sometimes."
Though Rider's characterization may make the MAL crowd seem like a relatively close-knit bunch, she says that shouldn't intimidate newbies: "Come by and talk to some people. Most of us don't bite until you ask us to."
CONTACT/SITE: E-mail fistwomen@aol.com or visit http://members.aol.com/fistwomen
NEXT EVENT: Pot-luck dinner and outing to Charm City Kitty Club Cabaret, Friday, Jan. 27. RSVP to GlendaCPFA@aol.com.
· Highwaymen TNT ·

ORGANIZATIONAL MISSION: Founded in 1978 in the spirit of brotherhood, Highwaymen TNT aims to develop and maintain friendships among members; collectively strive to obtain mutual feelings of support, respect, honor and camaraderie; promote better inter-club relations with the local, national and international leather/Levi communities; and to encourage a more favorable public image. Rather than identifying as a motorcycle club, the Highwaymen have designated the club "TNT," for "Trash 'n' Travel" — the true meaning of the club.
MEMBERSHIP: 22 active members. Potential members undergo an observation period, requiring attendance at six Highwaymen TNT events, followed by a three-month pledge period. Pledges may be voted in as full members.
ACTIVITIES: Regular club nights, such as the "Hot Jockstrap Contest" at the D.C. Eagle. The group travels together to various community events in the Mid-Atlantic region, and regularly hosts fundraising events for various charities.
BACKGROUND: When HIV/AIDS began to hit the gay community, H. Alexander Robinson, a former president of the Highwaymen TNT, was living in San Francisco. That's when he learned just how much community the leather community could muster.
"The bikers and the leathermen, that's who my friends were," Robinson recalls. "We were family for one another. When the AIDS epidemic became obvious, a lot of people were getting sick and dying. There was a disproportionate impact on our [leather] sub-population, so we helped raise money, raise rent…. We always had the need to be there for one another."
By the late '80s, however, Robinson was new to D.C. and in need of a new, local family of friends. Charting his course through D.C.'s various leather clubs at the time, it was the Highwaymen TNT who provided him a friendly shore. "They have led the way in diversity," says Robinson, who is African American, touting the group's inclusion of women and others. "It was one of the first clubs to have a significant number of deaf members. The Highwaymen were among the first to embrace leathermen who also considered themselves bears. They were one of the few clubs to have a significant number of African-American members outside the clubs formed around that population.
"Not only are they fun," he continues, "but they also have a long history of being open to the diversity of anyone who wants to participate and embrace the mission of the organization."
The trips together are pretty fun, as well. "They're jubilant, lacking in pretense," says Robinson. "You can hang with us, or you can meet the love of your weekend and disappear."
CONTACT/SITE: kenr@highwaymentnt.org or visit www.highwaymentnt.org
NEXT EVENT: Beer blast, Sunday, Jan. 15, 4 p.m., at the D.C. Eagle, 639 New York Ave. NW.
· D.C. boys of Leather ·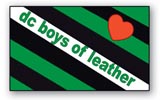 MISSION: Founded in 1999, D.C. boys of Leather, the first and oldest club of its kind, is a group of self-identified "leatherboys," the term being defined as broadly as possible. It is not based on sex, age or appearance. The purpose is to gather in brotherhood and boyhood, supporting our members and our community with respect and integrity. The mission is to provide leatherboys a forum in which to have fun, learn, educate, socialize, contribute and support each other and their community.
MEMBERSHIP: Approximately 20 full members. Sponsored applicants are invited to become full members (brothers) following successful completion of a sponsored probationary period of at least four months.
ACTIVITIES: The D.C. boys of Leather host a monthly tattoo and piercing event, "Metal and Ink," at the D.C. Eagle.
BACKGROUND: Identifying himself only as "boy ky," the president of the D.C. boys of Leather says his group has ambitious plans for this year's MAL weekend. "For Friday, from 9 to 1, we've charted a party bus — with the Eagle — and we'll make a circuit from the hotel to Titan, Green Lantern, past the other hotel, and to the Eagle," he says, adding that this is the second year the leatherboys have made such a contribution. "This year we upgraded to an executive coach. It's a continual, rolling cocktail party. We're there to party and serve, to have fun and contribute to the weekend."
That quick circuit is a bit shorter than the journey boy ky made in his own discovery of his leatherboy orientation. "I really came out [as a leatherboy] in 2000," says boy ky. "I had an encounter with a friend, a man I'd known for years. We had some BDSM (bondage and discipline/sadomasochism) play together. From that, I came to an appreciation that I am a leatherboy, BDSM submissive. I ended up 'under the collar,' in the service of a 'sir' for a year and a half. He instructed me to find clubs in the D.C. area. That meant finding the boys, and really accepting and celebrating my kinky side, my BDSM side."
Five years beyond his initial foray into kink, boy ky says he's settled in well with the group, coming to the end of his second term as president.
"It's been great," he offers. "I've found a sense of home with the boys. I enjoy being able to simply be a leatherboy — my professional life is kind of hectic. I enjoy serving."
CONTACT/SITE: E-mail president@dcboysofleather.org or visit www.dcboysofleather.org.
NEXT EVENT: Metal and Ink, Wednesday, Feb. 1, at the D.C. Eagle, 639 New York Ave. NW.
· Masters And slaves Together, Washington ·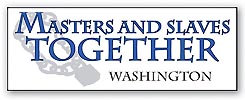 ORGANIZATIONAL MISSION: Founded in 1999, Masters And slaves Together (MAsT), Washington, exists as a support group for men — gay, straight or bisexual — involved in or interested in the Master/slave lifestyle.
MEMBERSHIP: Approximately 20. No membership criteria; any regular attendee may be considered a member.
ACTIVITIES: MAsT holds regular meetings, open to the public, to discuss issues pertaining to dominant-submissive relationships.
BACKGROUND: Despite a haunted history of slavery that's left America with wounds that have yet to heal, some say that the terms "master" and "slave" can actually be liberating within a relationship dynamic. "Master Taino" is among them.
"What happens in America is that when we talk about 'master' and 'slave,' what comes to mind is the slave of African-American history, which was non-consensual," says Master Taino, countering that what MAsT offers is something purely consensual. "There are people who are born to serve, and they enjoy it. And there are people who crave authority. It can be used in healthy and productive ways. If someone has what we call a 'master heart' or a 'slave heart,' this comes from the inside. We call discovering it a second coming-out.
"Even though a lot of people think a lot of what we do is sex or BDSM, the master-slave relationship is a whole different dynamic. It's a matter of the master taking responsibility for the slave, for guidance, protection, safety. And the slaves want to surrender. A lot of people in both the gay and straight world who've been practicing BDSM are realizing they need to live a dominant/submissive lifestyle in a more 24/7 way. They need this as a lifestyle."
To that end, Master Taino says the main purpose of MAsT, as well as his own Master Taino-branded training academy, is education. For just as he says the master-slave relationship of the 21st century may be a healthy thing, he grants that the dynamic may be abused. "This is not something that you learn in one day," he cautions. "There is no substitute for education."
CONTACT/SITE: E-mail info@mastwashington.org or visit www.mastwashington.org.
NEXT EVENT: Seventh Annual Master/slave Reception, Saturday, Jan. 14, 1-3 p.m., at Titan Bar, 1337 14th St. NW.
· Men of Discipline, D.C. ·

MISSION: Founded in 1998, Men of Discipline is an alternative leather fraternity for gay men who are serious about BDSM and the leather lifestyle and practice discipline in their daily lives.
MEMBERSHIP: 7 full members, 3 fraternal members, 15 associate members, 3 recruits. Three-month period of training and testing for recruits, who may be voted in as members.
ACTIVITIES: Bar nights and fundraisers, with the aim of raising visibility and promoting "safe, sane and consensual" BDSM.
BACKGROUND: In Men of Discipline, D.C, (MOD D.C.) fashion, Justin Cox is not the president of the group, but rather he is their colonel. There are a plenty of similar, subtle ways the MOD D.C. impress the uninitiated with their devotion to a militarily inspired sense of order and, well, discipline.
"Our big MAL event is our 'play party,' starting at 2100 hours. We'll be giving a bondage demonstration at 1400 hours at Green Lantern."
Roger and out, Col. Sox!
Kidding aside, Sox takes his devotion to living a disciplined life seriously. In a world filled with chaos, perhaps that's not such a bad thing. At the very least, it's contributed to a stable home for Sox.
"I'm coming up on 15 years with my partner," he says. "He's got an odd-hours job and we find it hard to even see each other, but there is still a lot of bondage in our personal life."
As a matter of fact, it was Sox's partner who first learned of MOD D.C. and helped introduce Sox.
"It must've been MAL 2002," Sox recalls. "My partner had been tracking them. He'd contacted some of them. That weekend, we hung out with [MOD D.C.] all weekend and had a great time. Even from before I was a recruit, I felt a trust, a bond, with men from MOD."
It seems that trust was not misplaced. After all, MOD D.C. has made him a colonel. And membership meant he had to buy himself a spanking-new uniform to boot. "We try very hard to be extremely visible, partly because we're a uniform-fetish club, and we look good in our uniforms."
CONTACT/SITE: E-mail justinsox69@yahoo.com or visit www.dcpride.org/mod.
NEXT EVENT: Men of Discipline MAL Play Party, Saturday, Jan. 14, 9 p.m.-2a.m., at The Crucible, 1816 Half St. SW.
· Potomac MC ·

MISSION: Founded in 1992, Potomac MC is a leather/motorcycle club, exclusively gay and primarily male. The club was formed as a social, educational and fundraising organization for men with like interests.
MEMBERSHIP: Approximately 10 active and 35 associate. Applicants must fulfill a "pledgeship" of between three to six months. Afterward, applicants may be voted in.
ACTIVITIES: Potomac MC members primarily focus on fundraising and regular bar nights.
BACKGROUND: "Zany" may not be the first word that comes to mind when thinking of gay motorcycle clubs, but it's one of the first words to come out of Mike Newsome's mouth when he talks about his Potomac MC.
"Our niche is basically to have fun," says Newsome. "We're actually kind of a zany, off-the-wall kind of club. We're a fun group to be around. A lot of zany things happen when we have a bar night. One Cinco de Mayo, we had a chicken fight with rubber chickens."
Silly as that may sound, Newsome, an avid motorcycle rider — although that's not a Potomac MC requirement — grants that the club harbors the more usual bent as well.
"Some people say they have the fetish for the leather. You feel horny in the leather, or it makes you feel more manly," says Newsome. "I have a fetish for a guy on a motorcycle, a guy on a 'crotch rocket.' Some of the guys like the kink. And we're definitely not the Abercrombie & Fitch types. We're average guys."
As average guys, Newsome insists that they don't want any members to take the club too seriously. It's apparently the unwritten rule of the Potomac MC. "Work and personal life come first, the club comes second," says Newsome. "If you're not in Potomac MC to have fun, you shouldn't be in it. If you want to have fun, then we want you to be with us."
MAL 2006 attendees can get a peek at the Potomac MC's brand of fun Jan. 14, when they host bar night with the visiting Philadelphians MC at the D.C. Eagle.
CONTACT: E-mail bikermike1971@mac.com or visit www.dcpride.org/Potomacmc/
NEXT EVENT: Bar night, Saturday, Jan. 14, 9 p.m., at the D.C. Eagle, 639 New York Ave. NW.
· SigMa ·

MISSION: Founded in 1984, SigMa is a male group devoted to providing an environment where like-minded men can safely and sanely explore alternative sensual experiences, from bondage to hardcore. The name is derived from the Greek letter, and stands for "Special Interest Group Men's Association."
MEMBERSHIP: Approximately 150. E-mail membership@SigMaDC.org. New members may purchase a one-time, one-month membership.
ACTIVITIES: SigMa holds play parties four times monthly at the group's dungeon space.
BACKGROUND: SigMa members have spent the past few months breaking in their new dungeon space, getting the kinks out. But this weekend marks the first chance the club has to put it through its MAL paces.
"This will be our first MAL weekend at this new location," offers SigMa Vice President Gerry Martin. "We generally get a good crowd [during MAL]. There are not many places guys can go when they're in town. And I've gotten a lot of e-mails in the past week or so from guys that will be coming to MAL.
"Our old space was in the 1200 block of Eighth Street, NW. We needed to move on," Martin continues. "The new dungeon is slightly larger. We renovated the whole space. We have more equipment. We've started adding some extra parties, too. One party per month highlights bondage. Another highlights spanking and paddling. A third party is the 'kink of the month,' featuring a different area of kinky play each month. As you can imagine, those run the range. They might feature role playing, or electricity."
With all they've got going, however, Martin says that leather is generally not a huge part of their fun.
"If you were at one of our parties, you'd find relatively few of our members are wearing leather," he says. "A good percentage of our members are involved in the MAL weekend. It's a fun thing to go to, but a lot of people are just more interested in playing [than leather]."
Martin falls into the same way of thinking, and finds that even with his merely mild interest in leather, MAL offers him a full weekend. "I enjoy associating with the other guys from around the country. I certainly enjoy the market. And there are groups that have private parties, and that's an opportunity to deal with similarly minded people."
CONTACT/SITE: E-mail sigmadc@sigmadc.org or visit www.sigmadc.org.
NEXT EVENT: MAL Open Dungeon, Thursday, Jan. 13, 9 p.m.-4 a.m., at 1014 H St. NE.
· Spartan Motorcycle Club
of Baltimore, Md. & Washington, D.C. ·

MISSION: Founded in 1968, the Spartan MC is a club for motorcycle owners/operators only, and takes an active role in the leather/Levi club scene.
MEMBERSHIP: Approximately 20. "Legal riders" are welcome to join the Spartans on rides. Active membership requires a three-quarters majority vote of approval.
ACTIVITIES: Spartan MC holds rides, weather permitting, and participates in Motorcycle Safety Foundation courses and conducts ongoing motorcycle education and safety seminars. The club also holds regular fundraising and other events.
BACKGROUND: Make no mistake — Dave Marshall, president of the Spartan MC, takes his motorcycle riding very seriously.
"My orientation, first, is a rider, a motorcycle man," he says. "I can remember the moment I saw a motorcycle on the street and thought, 'That looks fun.' What I did not anticipate was just what an impact it would have on me. I find it meditative, very relaxing. You're one with the machine. It has become my vehicle of choice, just for the Zen of it. It requires all your senses. It's exhilarating."
It's that love for the machine and the ride that brought Marshall to the Spartan MC. This is not a club that just looks the part. "I chose the Spartan MC because their emphasis was riding. That was my motivation, as opposed to joining the leather community," he says. "The attraction was for the emphasis on riding and the non-sexual friendliness of the other members, We don't have play parties or anything like that. Any erotic feeling I get from riding is purely personal."
By no means, however, does that mean Marshall is about to forego MAL Weekend.
"My involvement focuses primarily on riding, but MAL is an opportunity to step outside of that and see the general leather community at large," he says, adding that his bike won't be along for the weekend. "If there's any potential drinking involved, I won't ride. As a matter of fact, a buddy and I are sharing a room at the Crowne Plaza, just to be safe."
CONTACT/SITE: E-mail mdstudpup@aol.com or visit www.dcpride.org/spartanmc.
NEXT EVENT: Club meeting, Feb. 19.