Crystalization
CRYSTAL METHAMPHETAMINE had D.C.'s gay community buzzing in 2005, but not in the usual way. In March, the D.C.-based National Coalition for LGBT Health held its spring meeting here, and the drug was a hot topic.
"We have seen crystal methamphetamine use among gay and bisexual men who have sex with men dramatically increase on the East Coast in the past few years," explained panelist Dr. Barbara Warren.
The community was already well aware, and responded in May with a grassroots forum at Titan Bar. Titan, along with Brother Help Thyself and The Center-Home for GLBT in Metro D.C., sponsored the event titled "The Leather Community Wants You To Know: The Truth About Crystal Meth." That event drew a standing-room-only crowd and some passionate input.
"Tina is a bad woman," implored Kevin Shipman, manager of the Office of Special Populations, Addiction Prevention and Recovery at the D.C. Department of Health, using one of the drug's street names. "Tina is simply crack with an attitude. This is a bad-ass drug."
The fight gained incredible momentum in summer. First, The Center hosted a June 28 strategy session bringing together leaders from many corners of the community. Over the course of the year, that effort has morphed into a variety of working groups fighting meth abuse. One of the most visible results has been a "Crystal Sucks" campaign that hit the bars and clubs in December.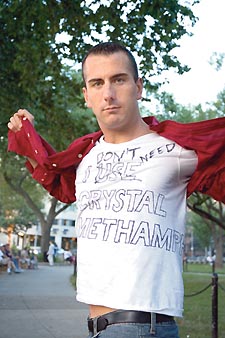 Chad Upham
Rewinding back to summer, the Human Rights Campaign — in association with the Gay & Lesbian Activists Alliance, Equality Maryland, Equality Virginia, Whitman-Walker Clinic and the Sexual Minority Youth Assistance League — hosted a July 14 forum of their own: "Crystal Meth and the LGBT Community: A Growing Threat, Lessons Learned and What Our Community Can Do."
Back on the streets, Chad Upham started a campaign of his own after attending a second meth meeting at The Center. On a hot Thursday night, July 28, Upham took his position on 17th Street wearing his handmade "I use crystal methamphetamine" T-shirt. He and friends posted banners and handed out stickers to promote an open dialogue about meth abuse, prompted by Upham's own desire to stop using.
"This whole thing going on was conceived at 3 a.m. on Monday," Upham told Metro Weekly shortly before his street campaign. "By 8 a.m., I'd built a Web site, conceived the banners and sent out an e-mail. Of course, I was still under the influence of the drug from the weekend. I was able to harness that energy."
In August, the city came face-to-face with other users. Or, at least face-to-mouth. Photos of the so-called "meth mouth" phenomenon resurfaced, with hysterical warnings of decaying gums and lost teeth in publications such as Newsweek.
"If you were to reduce the current moral panic to a single image, it would be a photo of a meth user whose gums are pus-streaked and whose rotting teeth — what teeth he still has — are blackened and broken," wrote Jack Shafer in an Aug. 9 posting on Slate. "…[I]n the United States, moral panics are most reliably directed at illicit drug users. No exaggeration or vilification directed their way is too outrageous for consideration."
Moral panic aside, it seems that D.C. ended 2005 with meth abuse squarely in its sights. As VelvetNation co-promoter and the man who coined the "crystal meth sucks" tagline, Ed Bailey told Metro Weekly in December: "Our basic underlying premise of the campaign is to try to get everyone who is not a user to realize it's really not okay to sit on the sidelines and be apathetic, especially with a drug as destructive as crystal meth…. I've seen it harm too many people, and I want to do something."
"I think it's probably easier to be gay in New York City than it is to be gay in Omaha. No question in my mind. But I also think it is probably easier to get crystal in New York City than in Omaha — although you can easily get crystal in Omaha now, let's not kid ourselves."
— Paul Kawata, executive director of the National Minority AIDS Council ("World AIDS Day," Dec. 1)
---
Super Trooper
WHEN THE NEW YORK Times reported in March that a possible strain of "super HIV" — a version of the virus resistant to treatment and virulent in effect — lots of warning bells began to toll. A new wave of the epidemic was possibly poised to fall upon the now-complacent gay community — it was the kind of news that many activists and public health advocates would proclaim loud and far to make sure gay men knew that condoms and safer sex practices were still necessary protection.
But the super bug turned out not to be so super after all. The story had been built on the case of one man in New York City who, it turned out, had issues involving heavy crystal addiction and multiple sex partners and eventually began responding to treatment. New York magazine published an extensive look at how the story quickly spun from anomaly to media circus.
All of this came amid continued debate over what, exactly, is the state of the epidemic among gay men. Some indicators show decreases in former high-incidence areas, leading some commentators to decry the continuing focus on a "crisis." More likely, it seems, HIV has become a problem of specific groups that requires very specific responses. Just don't count on the Republican controlled Congress to be offering prevention help any time soon.
"We're stuck in this national dialogue that makes no sense to me, about how the fact that we have 40,000 new infections every year means that prevention has failed. I think the absolute opposite is true. That we only have 40,000 new infections every year means that prevention has been an incredible success, because we have so many more people living with HIV in this country."
— Julie Scofield, executive director of the National Alliance of State and Territorial AIDS Directors ("World AIDS Day," Dec. 1)
---
Typhoid Marys?
JUST AS LOVERS prepared to celebrate St. Valentine's Day in 2005, the Centers for Disease Control and Prevention soured things with news of a nasty strain of Chlamydia — Lymphogranuloma Venereum (LGV) — resurfacing in the gay community.
Four cases prompted San Francisco health officials to sound the alarm in December of 2004, before the rest of us were put on high alert. But though caution is generally in good taste, Dr. Philippe Chiliade, medical director at D.C.'s Whitman-Walker Clinic, helped to diffuse the new bad news.
"It's not new," he told Metro Weekly in February. "Until we learn more, I would not recommend people to panic."
By the time people had forgotten they'd ever heard of LGV — November, specifically — the CDC was quick to grab the gay-male community's attention again with ominous data pointing to an explosion of syphilis in the gay male community. Most groups were faring better against dreaded syphilis. But for men who have sex with men (MSM), it was just bad news: "CDC analysis suggest that approximately 64 percent of all adult [primary and secondary] syphilis cases in 2004 were among men who have sex with men, up from an estimated 5 percent 1999."
Again, Chiliade provided a much-needed second opinion, explaining that the MSM rise meant simply that this population was accounting for a larger percentage of syphilis cases simply because every other group was reporting fewer cases — not because syphilis was exploding inside the gay community.
"The gay men we screen here at the clinic — in 2004, it was 8 percent with syphilis," Chiliade said in November. "But that number has already decreased close to 5 percent."