In the Name of the Law
WHAT CAN YOU DO in Spain, Canada, Belgium, South Africa and the Netherlands that you can't do in Texas or Kansas?
Well, now that sodomy laws are unconstitutional in the U.S., the answer is "Get married."
2005 was a banner year for marriage, as long as you weren't in the U.S. With Spain and Canada joining the short list of countries allowing legal gay and lesbian nuptials, it seems like the marriage battle will be won, at least in the long term.
Even the United Kingdom got in on the act with new civil partnerships that create a marriage equivalent — but not marriage itself! — for gay and lesbian couples. Unsurprisingly, Elton John tied the knot with his partner, David Furnish, in an event so gay that it threatened to bend the space-time continuum.
Which is just how it should be.
Back home in the land of the…ahem…free, Texas and Kansas both passed state constitutional amendments declaring marriage off-limits to gay and lesbian couples. "Judicial activism" was the phrase of the day for conservative anti-marriage activists, proving once more that one man's justice is another man's activism. Texas gay groups attempted a last minute Hail Mary pass, claiming that an activist judge could rule the badly worded amendment to mean that no marriage of any kind could be recognized by the state.
Yeah, that worked about as well as you would expect.
---
Gays getting married? No way! Crazy people getting married? Bring it on!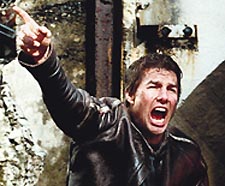 Tom Cruise
IN THE MOST legalistically neutral way we can phrase it, Tom Cruise engaged in one of the more interesting public courtships in recent memory as he went public with his love for Katie Holmes, jumping up and down on Oprah Winfrey's couch and generally making a spectacle of himself.
TomKat, as the couple has been dubbed by the gossip press, instantly became the new Hollywood standard for crazy, half-baked and rumored-to-be-contractually-arranged marriages.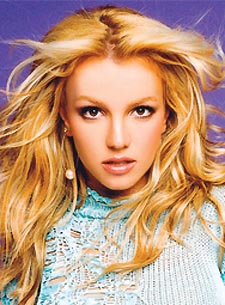 Britney Spears
In other marriage news, Britney Spears continued her foray into the Circle of Life by bringing a baby into the world, while also bringing television into the Circle of Hell with a reality show based on footage shot by her and her husband Kevin Federline. Five minutes of Britney & Kevin: Chaotic will cure you of any desire for celebrity. Ever.
Oh, and speaking of televised celebrity marriages, Nick Lachey and Jessica Simpson of Newlyweds are newly splits.
And don't even get us started on the whirlwind marriage and even speedier annulment of Kenny Chesney and Renee Zellweger. Her use of the term "fraud" as the reason the marriage ended fueled a particularly brutal press — and kept Chesney's PR flacks working overtime, asserting that the country music star was "unequivocally not gay."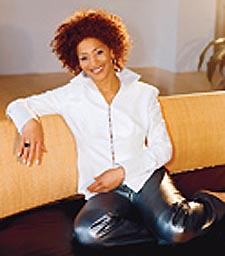 Terry McMillan
Finally, Terry McMillan, who famously novelized her romance with a younger man she found in Jamaica in her bestseller How Stella Got Her Groove Back, lost her groove when her younger husband, Jonathan Plummer, turned out to be gay. "The reason you're going to make a great fag is that most of you guys are just like dogs, anyway…. You do whatever with whomever pleases you and don't seem to care about the consequences," she reportedly wrote him in a letter.
But McMillan had cooled by the time she appeared on Oprah, telling Winfrey that Plummer had spent the evening at her home and they had even taken a bath together. "It was sort of like closure," she said.
Calgon, take it away.