"Spongebob and Buster, sitting in a tree…"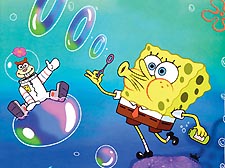 Sponge Bob Squarepants
WHEN THE YEAR kicked off with religious right maven James Dobson of Focus on the Family taking on Spongebob Squarepants as a promoter of the homosexual lifestyle, you just knew it was going to be a long 12 months. And, sure enough, in January PBS found itself in hot water with anti-gay conservatives for an episode of the children's television series Postcards from Buster in which the titular animated rabbit visits a Vermont family with — horrors! — two mommies.
We're sure it was all enough to make Phyllis Schlafly spank her gay son.
Oddly enough, the Buster controversy started with U.S. Education Secretary Margaret Spelling who, on her second day in the job, sent a letter to PBS stating, "Many parents would not want their young children exposed to the lifestyles portrayed in this episode."
Remember, this is from the woman who oversees the nation's education. And we're surprised by the push for "intelligent design"?
---
The White House Mess
SOME JOURNALISTS believe there's no such thing as a stupid question. Or they did, until they heard Jeff Gannon's White House press room whopper in January, when he asked President George Bush about reaching out to Democrats: "How are you going to work — you've said you're going to reach out to these people — how are you going to work with people who seem to have divorced themselves from reality?"
Liberal media watchdogs howled, but the story seemed a minor kerfuffle until John Aravosis at Americablog.com dropped the real bomb: Talon News reporter Gannon (real name: James Guckert) had previously run a Web-based escort service, with nude pictures of himself prominently featured. And with that, the scandal was officially off to the races.
Like Spokane Mayor Jim West, Gannon claimed his privacy had been invaded and for a time, at least, threatened to sue the myriad bloggers and news outlets that kept self-defined "past mistakes" in the news. As the scandal inevitably died down, Gannon attempted to rebrand himself as a conservative pundit.
Gannon's controversial profile resurfaced when the Washington Blade, which had previously run stories alleging Gannon attended a NoVa sex party, changed course and began running Gannon as a political columnist. Responding to outraged readers, Blade editor Chris Crain wrote, "One particularly angry reader asked rhetorically if he could expect to pick up the following week's paper to read an opinion column by an 'ex-gay' explaining the way out of homosexuality. 'I wish!' was my reply."
For his part, Gannon has gone on to lecture the gay community on how they need to be nicer to masculine, straight-acting gays, while he calls Ron Reagan Jr. a "nancy boy" and "twinkle toes." Just what the doctor ordered. Dr. Giggles, that is.
---
Family Time
NO MOSS GATHERED on the anti-gay American Family Association this year, as it declared victory in its years-long boycott of Disney — Disney said the boycott had no effect on its business and the company never altered its policies in response — and launched new boycotts of other gay-friendly corporations. "Their boycott list reads like the New York City phone book," quipped an HRC staffer to Metro Weekly.
So when Ford Motor Company appeared to capitulate to the AFA, canceling advertising in national gay publications, the gay community was stunned. While claiming no agreement existed with AFA, comments from Ford reps indicated that some of the decisions to end marketing to gays resulted from a meeting with the AFA.
Ford's public relations nightmare ended when pressure from the blogosphere — headed in large part by Americablog.com and others — and a coalition of GLBT political groups, including the Human Rights Campaign and the Task Force, helped the company decide to reinstate its add buys in national magazines.
The AFA, in addition to renewing its boycott threat against Ford, is reportedly now targeting American automotive giants General Motors and Daimler-Chrysler, because the old saying is true: You can't teach an old dog new tricks.
John Aravosis and Americablog really found themselves at the center of the year's biggest gay controversies — in addition to Ford and Gannon, the site led the blog charge against Microsoft when that historically gay friendly company suddenly dropped its support for pro-gay legislation in Washington state. At this rate, the blogosphere may be the biggest news in activism thus far in the 21st century.
---
It's a PlanetOut World, You Just Live Here
LITTLE ESCAPED the gravitational pull of PlanetOut in 2005. Already the owner of sites PlanetOut.com, Gay.com, Kleptomaniac.com and OUT&ABOUT Travel, PlanetOut Inc. in November became far and away the largest gay media company in the universe, purchasing LPI Media for about $30 million. LPI was the publisher of Out and The Advocate, already the two largest-circulation gay mags in America.
Later in November, PlanetOut announced a deal to distribute Q Television Network programming online, makers of exciting fare like The Reichen Show, an hour of the Amazing Race winner offering "talk, debate, education and gossip." What, no preening?
Closer to home, May 2005 saw PlanetOut signing a chummy "marketing alliance" with Window Media, which expanded into the D.C. market itself in 2001 with the purchase of the Washington Blade. Window, which also publishes Southern Voice, Houston Voice, David Atlanta, 411 Magazine, and Express Gay News, made some other changes in its New York colony, where 2005 closed out with a merger between Window's long-suffering New York Blade and HX, a gay nightlife weekly in the Big Apple.
No word yet on which publication, site or show will be offering scorecards to keep track of future mergers, acquisitions or alliances.
---
Daddy's Little Activist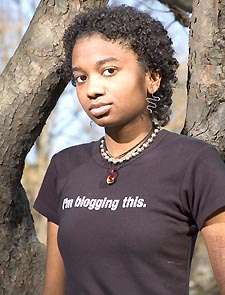 Maya Keyes
"There have been a lot of rabid media who don't care about anything I have to say. It's weird because all they want to know is do I hate my father, trying to get me to say bad things about him, trying to get me to say that I'm angry [at him], and none of that is true. He's my father and I respect his decisions. He has a lot of integrity. He's a very honest person and I think he would be better than a lot of politicians."
— Maya Marcel-Keyes, daughter of conservative activist and former presidential candidate, Alan Keyes, who cut off financial support after she publicly came out. ("Her Father's Daughter," Feb. 24)