It's been 10 years since singer-songwriter Duncan Sheik struck it big with "Barely Breathing," the inescapable radio staple from his self-titled debut, and his only major hit. But far from waiting around to appear on VH1's Where Are They Now?, Sheik has released a consistent series of under-the-radar, critically-acclaimed albums and writing film scores and theatrical compositions. On White Limousine, his latest, Sheik has created his most mature and lyrically potent collection of melodic pop ballads to date.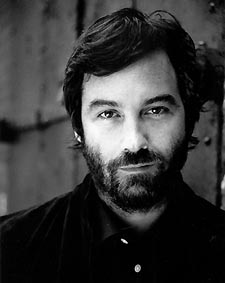 Duncan Sheik
Unceremoniously dropped from Atlantic after 2002's Daylight, Sheik was freed from the constraints of a major label contract and able to make music on his own terms, without concern for its commerciality. A Buddhist and humanitarian, Sheik's leftist politics have finally infiltrated his songwriting on White Limousine, and the songs are all the better for it. But not to fear, he strikes a balance between his newfound political commentary and the tuneful love songs for which he is known. "I'm worried about the world/worried, too, about a girl/but that's nothing new," he sings on "Land."
Chiming guitars and tinkling piano perfectly complement Sheik's dreamy melodies and haunting hooks on a dozen songs that are pro-love and anti-war, with the London Session Orchestra stepping in at key moments with lush string accompaniment.
While Sheik's love songs are as splendid as ever, it is his indictments on war, the media and consumerism that grab your attention. The title track is an extended metaphor about the absurdity of Western excess and our media-fed obsession with style over substance. The social commentary continues on "Shopping," another swipe at consumerism with a jaunty arrangement that belies its darker lyrics: "Let's go shopping/so that we can find ourselves/so that we can buy ourselves."
"Star-Field On Red Lines" finds Sheik painting an impressionistic portrait of America and its post-9/11 patriotism. Taking a poetic approach, he creates evocative word collages against hypnotic finger-picked guitar: "Playground/Home-land/A countryside to save/Blue skies/Air-space/Soldiers to raise/And sacrifice." The effect is chilling. But the coda is most ominous of all, as Shiek warns, "Head down/Brace yourself/Here it comes."
Don't like what you hear on White Limousine? Sheik offers a unique solution — simply drop the accompanying interactive DVD in your computer and create your own mixes of the songs using the supplied software and all of the isolated audio elements from the recording. You can even eliminate his voice altogether if you want, making him one of the most selfless rock stars around.
While Sheik is busy looking outward, hoping to right the perceived wrongs of the world, the prolific, if somewhat self-indulgent Ryan Adams — not to be confused with Canadian rocker Bryan Adams — is wrapped up in his own little world. He recently took a break from The Cardinals, his backing band of late, for 29, his third release in less than a year.
On the heels of the roots rock of Cold Roses and the retro country of Jacksonville City Nights, Adams offers up a dark and introspective song cycle of bare-bones piano and acoustic guitar-based late-night confessionals. Adams, now 31, conceived 29 as a chronicle of his tumultuous twenties, an elegiac lament for his misspent youth, if you will. Filled with ruminations on shattered dreams, missed opportunities, doubts and fears, 29 is navel gazing at its most melancholy.
Equal parts singer-songwriter, country traditionalist, and garage rocker, the genre-hopping Adams has yet to settle on a defining sound as he switches up his formula from album to album. He is a masterful musical chameleon, able to craft sonic pastiches that pay homage to the rock canon: Gram Parsons, the Rolling Stones, Van Morrison, Paul Westerberg, Jeff Buckley, the list goes on. Over the years, his albums have become a veritable game of "name that influence." And nowhere is his influence more evident than on 29's title track, a blatant retread of the Grateful Dead's "Truckin'." This autobiographical tale of restlessness and alcohol and drug use jumpstarts the album with a country rocking charge that all too quickly gives way to the somberness of the album's eight remaining tracks.
Elsewhere, Adams channels Harvest-era Neil Young as he alternates between an imperfect, aching falsetto and soft, whispered vocal delivery, imbuing each note with emotion. Adams achieves a fragile beauty on "Strawberry Wine," a rambling but elegant tale of downtrodden characters with their best years behind them, and "Starlite Diner," a lovesick ballad about a paramour who never arrives for a late night rendezvous. The Southern Gothic storytelling and haunting pedal steel of "Carolina Rain," the album's centerpiece, recalls the alt-country glory of Adams' previous band, Whiskeytown.
While 29 is punctuated with moments of brilliance, it is best used as a cure for insomnia (just skip past the opening track and crawl into bed). The album's sleep-inducing monotony is broken on occasion — there's the sudden undertow of echo and reverb on "Night Birds" and the dramatically strummed spaghetti-western guitars on "The Sadness" — but it isn't enough to save it from collapsing under its own weight.
If Adams is this depressed about turning 30, one wonders if he'll ever make it to 40.