It's fitting that the first three letters in "poetry" belong to Edgar Allan Poe. The infamous writer of all things dark and dreary is resurrected in all his mystery and murk in Matt Conner's Nevermore, a haunted new musical receiving its world premiere at Signature Theatre. It's just as strange and enigmatic as Poe would wish it to be.
The tormented soul of the 19th-century writer best known for his chilly short stories and poems (most notably "The Raven," "The Fall of the House of Usher" and "The Tell-Tale Heart") is examined through a virtual carousel of songs, all underscored to various works written by Poe himself. It's an extraordinary collaboration between a fledgling young composer and an author who has been silent for 156 years.
But the payoff is in the music.
Conner, a local actor whose most memorable previous work includes stints at Toby's Dinner Theatre and the 2002 production of Naked Boys Singing! at ATW, has an undeniable talent and colorful imagination. Inspired by the inherent syncopation of Poe's meter, Conner has written a thrilling score of 17 songs, fully orchestrated by Broadway master Jonathan Tunick and performed by an eight-piece orchestra conducted by Jenny Cartney.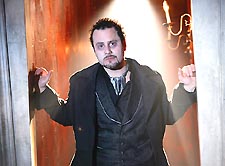 Edgar poetryhands: Cooney
(Photo by Carol Pratt )
It's rare that a green composer would receive such royal treatment, but the project has been helmed by Eric Schaeffer for the past two years, undergoing routine readings and extensive rewriting until it earned a spot in Signature's season. The result is a swirling collage of scenes with barely-there exposition, entrenching the audience in a bizarre fit of dreams and feverish nightmares.
The story isn't really about the life of Poe as much as it is about his death. Nevermore is proffered as a non-historical, non-chronological account that explores Poe's relationships with the women in his life, lending context to the mystery surrounding his final days in October 1849.
There are significant problems in both staging and story, as the drama never fully develops. It takes a long while to establish how each woman relates to Poe in the 90-minute operetta. But Schaeffer's passion for the material is evident, and whatever Nevermore lacks in shape and clarity, it more than makes up for in musicality and style.
The world of Nevermore is a romanticized haunted house, complete with shadowy wisps of light and an ominous full moon. Conner's score, with its beautiful discordant notes and pulsing harmonies, provides the melancholic ambience true to Poe's lyrics.
Daniel Cooney weathers Poe's dark and stormy moods with a rough, jagged demeanor and classic pop affections. His Poe is a lost boy searching for his mother (she died when Poe was a toddler), always dissatisfied with himself and obsessed with his work. Channez McQuay is the stern, loving aunt "Muddy" who entreats Poe to abandon "scribbling fantasies" and his fascination with decadence, but instead, Poe convinces his paternal aunt to allow him to marry his first cousin, who is all of 13 years old.
Perhaps the most terrifying part of Nevermore is Lauren Williams' child bride Virginia, whose pernicious vocals can best be described as Kristin Chenoweth on helium. She is a startling figure of girlish innocence with a mature lust for the grotesque. "Love always disappears," waxes Poe after a tasteless scene of incest and debauchery, and he is broken when his young cousin surrenders to tuberculosis. It's back to whoring and seeking out old flames for years, until he was found semiconscious in a Baltimore bar, unable to explain what happened to him in the days that ultimately led to his death.
Signature's memorable vision is in the vein of a Tim Burton film, with Derek McLane's haunting scenic imagery, Mark Lanks's spectacular lighting and Jenn Miller's clever costume design. But beyond its technical triumphs, Signature has proven the perfect incubator for ambitious works that advance contemporary music theater beyond recycled Hollywood blockbusters and the Disney dynasty. Conner is a visionary talent plucked from obscurity, and Nevermore is a sparkling debut that promises better things to come: He and book writer Grace Barnes have been tapped to write another musical for Signature, this time focusing on the Underground Railroad. As long as Jonathan Tunick and Eric Schaeffer are on board once again, Signature is rolling on the right track.
---
It's a far cry from the dark drama of Poe, but not much has changed in family matters since Frank D. Gilroy received the Pulitzer Prize for the ever-compelling The Subject Was Roses more than four decades ago. His heavily-lauded play still cuts into the heart of disconnected people trying to survive under the same roof. And while the story stands on its own humble merit, when coupled with a trio of dazzling performances it is a heartbreaking account that aches with truth and bitter reality.
Here's the catch: You'll only be moved by The Subject Was Roses if you too have experienced the passive-aggressive polarities of life inside a dysfunctional family unit. If everything was rosy at home, then you may find yourself bored. For the rest of us, we recognize the caustic remarks, the unintentional alliances, and the pain that lingers from family battles. Gilroy paints characters who are our selves, our parents, perhaps our grandparents — generations of a family who suffer together for the sake of staying together.
It's May 1946 when Timmy Cleary comes home from the Army to parents who kill each other with silence and blame each other for their own emotional isolation. In an attempt to help resolve their conflict, he insists that his father claim the roses he bought for his mother were from him. When she finds out the flowers were from Timmy, the family's carefully constructed lives begin to crumble under the weight of the truth.
There are difficult, even impossible decisions to make — to leave or to stay, to ignore or to confront, to concede or to retort — that demand acknowledgement from the Clearys, and Leonard Foglia allows the drama to unravel with pitch-perfect pacing.
Bill Pullman takes a detour from his usual nice guy film roles to portray John Cleary, the bullheaded, judgmental father who can't resist a clever jab at his only son. Steve Kazee is the war hero who finds himself in combat once again, this time on the homefront. But Judith Ivey's devastating performance as the mother and wife who must reconcile her dreams with her reality softly pricks the heart.
They don't make plays like they used to, or so it's been said, and The Subject Was Roses is proof that sometimes the most simple and subtle of stories can also prove the most effective.