After a year spent on a financial precipice, the Whitman-Walker Clinic now says its situation is stabilizing and that it has already begun taking steps to ensure the long-term stability of the historic provider of medical and support services to HIV/AIDS and GLBT communities. Among those first steps: the decision by the clinic's board of directors to reduce its number of members and change the nature of its elections, says interim executive director Roberta Geidner-Antoniotti.
Whitman-Walker is also planning to reorganize its service delivery model, Geidner-Antoniotti said, taking a more "mission driven versus program driven" approach. Under this new business plan, developed in late fall of 2005, the clinic hopes to create an "integrated service delivery model."
Currently, the clinic offers many services as part of specific programs, such as weekday evening STD clinics or HIV counseling and testing programs. Under an integrated approach, services will be provided to clients over a broader range of times. Geidner-Antoniotti also noted that the clinic would be focusing on streamlining the process of accessing other needed services — clients testing positive for HIV, for example, can more quickly be offered support and medical services under the new plan.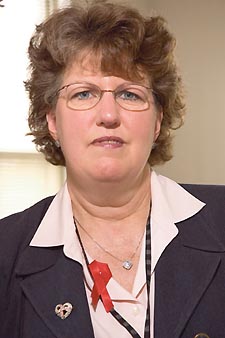 Geidner-Antoniotti
(Photo by Todd Franson)
She stressed that Whitman-Walker is maintaining its mission to serve the GLBT community. Some programs — in particular the clinic's GLBT health services and addiction services — have already implemented structural changes in line with the new business plan.
Geidner-Antoniotti said she was concerned that the community was unsure about the viability and stability of the clinic, and hopes that news of strong fundraising efforts and restructuring will reassure people that the clinic will continue to be a part of the local fabric of the community.
While fundraising has been strong, particularly with major donors and direct mail efforts, the clinic is working to reduce its dependence on government grants and private fundraising. Much of that, she said, will come from increased focus on forging contracts with major health plans and better accessing the Medicare/Medicaid system for eligible clients.
Despite this focus, Geidner-Antoniotti said that Whitman-Walker is "not moving away from uninsured and underinsured clients." She noted that about 85 percent of the clinic's clients have an income at or below 200 percent of the poverty rate, and that will be unlikely to change.Still, the clinic will also focus on broadening its scope to include more primary care services, which will be available to the whole community.
The clinic's staff size decreased last year through layoff and attrition, and currently stands at around 230 employees, down from around 260. Geidner-Antoniotti said that the new business plan calls for around 250 positions, some of which will be filled by current employees. She noted that the clinic will need to work closely with the employee union on staffing issues.
In 2002, the clinic employed approximately 290 people.
As last year's fiscal crisis unfolded, the clinic received criticism for the structure of its board of directors, which some said was too large and too focused on representing the needs of specific programs to effectively navigate a period of financial hardship.
As part of the board meeting in October 2005 in which the new business plan was adopted, the clinic board voted to reconstitute itself.
"[We] need a board that's smaller, makes decisions faster, and has more client representation," said Geidner-Antoniotti.
While "constituency representation" will likely be maintained to some degree, she said, the new nomination and election process will focus on addressing the specific skills and competencies needed by the clinic. In order to implement the board changes, the clinic's members — primarily clinic volunteers — voted to make the board the only members.
A committee of the board is developing a new election and membership plan, and will be looking at best practices from other GLBT and HIV/AIDS service organizations. The current transition board will serve until a new board is elected. The clinic hopes to have the new board structure and elections in place by spring.
The 2005 financial crisis, precipitated in part by late payments from D.C. government contracts, resulted in D.C. Council hearings and a change of leadership at the district's HIV/AIDS Administration (HAA). Geidner-Antoniotti said reimbursements for city contracts are now being made in a timely fashion, and the clinic has so far enjoyed a strong relationship with new HAA director Marsha Martin.
"The new leadership has been wonderful," said Geidner-Antoniotti, "[HAA is] engaging the community in ways we haven't seen in the past. I think they're going to be much more responsive."
The clinic received a $650,000 earmark from Congress to implement a client payment system. It has hired a consulting firm to help develop a strategic plan to consolidate the clinic's properties. The clinic has sold a number of its properties, including some on 14th Street NW, to raise funds.
Geidner-Antoniotti said that one of the biggest challenges Whitman-Walker has faced over the past few months is the continuing belief among some that the financially beleaguered clinic was going to close. She's hopeful that the community will see the continued operation of the clinic and its efforts to reorganize itself to improve its services as a positive effort worthy of support.
"We have a very strong history that people believe in," she said. "Word of mouth is always the strongest thing in the community."
Pointing to the closure of the clinic's outpost in Maryland, she noted that although the site was discontinued, services were not. Through an agreement with the state, Maryland clients were able to choose to access services through the clinic's D.C.-based programs, which a significant number of clients did.
She said it would be some time before the clinic could consider reopening those suburban programs.
Whitman-Walker's search for an executive director continues, as the search firm retained by the clinic has identified a group of candidates and made a presentation to the board of directors. Geidner-Antoniotti said the board hopes to have a decision in March.
Asked if she were a candidate for the permanent executive director position, Geidner-Antoniotti said the confidential process precluded her from commenting.