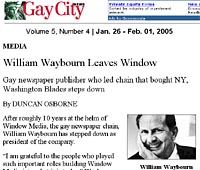 Read this full article at the Gay City News website
After roughly 10 years at the helm of Window Media, the gay newspaper chain, William Waybourn has stepped down as president of the company.
"I am grateful to the people who played such important roles building Window Media into what it is today," Waybourn said in a Jan. 20 press statement. "It's unfair that I will get much of the credit for their hard work to make our publications the best in the gay press, and the alternative press as well."
The statement was placed on the Window Media Web site after Gay City News contacted David W. Unger early on Jan. 20. Unger is a principal in Avalon Equity Partners, the majority stakeholder in Window.
Read the full story from Gay City News here.