Canadian Jason Collett is being touted as one of the best singer-songwriters currently recording. And one listen to his sophomore U.S. album, Idols of Exile, convinces you that the boast is not hyperbole. Collett has found a happy middle ground of sound between Dylan-esque folk and Beatles-esque rock that's the envy of most of his alt-rock contemporaries. If he keeps this up, Collett could easily join his countryman Neil Young in the Rock and Roll Hall of Fame.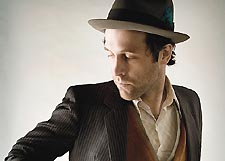 Scene stealer: Collett
But let's not get carried away. Collett, after all, has toiled in relative obscurity for nearly two decades in the music business. Had he not joined the celebrated indie-rock collective Broken Social Scene a couple years ago, he'd probably still only be known in and around Toronto's highly developed and tight-knit music community. So it helps that he can now market himself as a full-fledged member of the Scene. The two years he spent touring and recording with the Scene helped influence his sound, which is now a bit more brash and a lot richer. Idols of Exile is not raucous or dissonant, and certainly not difficult to love, unlike the Scene's self-titled release last year. It's much more in league with fellow Scenester Leslie Feist's brilliantly eccentric and exceptionally tuneful recent album Let It Die.
Feist and many other members of the Scene contribute to Idols of Exile, on nearly every song and the album is many times better because of it. Collett, who appears Wednesday, Feb. 8 at the Black Cat, has written his songs in a straightforward manner, alternating between bruised ballads and twangy rockers, and he sings in a warm, unaffected and natural voice. But with the sharp twists and rich layers added by the contributing Scenesters, the best songs come out sounding effortless and timeless. "I'll Bring The Sun" would be a sunny-sided rocker on its own, but with Scenester-provided driving drums, tilting bass and perfectly timed backing-vocal shouts and electric-guitar pelts, it's even brighter than you'd expect from the title.
The album's obvious standout is "We All Lose One Another," in which Collett channels Bob Dylan in voice and somber style to create an anthem that both celebrates and regrets time's passing. Beginning with a quick and optimistic three-note guitar ring, Collett's strumming is soon joined in harmony by a sorrowful piano and electric guitar as he sings, "We all lose one another along the way." The song captures the mood when you're moving on from a period of great significance, such as graduation.
Though years will likely be spent savoring this album, we can't help but think about Collette's future. He's graduated with honors, but what's next?
Audio Bullys are not your typical dance duo. The British pair is more enamored of hip-hop than most, and they don't even think of themselves as dance-music makers. "What we're doing is the modern rock 'n' roll. This is the future of music," the duo's rapping singer Simon Franks boasts in the press notes to sophomore set Generation.
Well, it's not quite the future we hope for. Yes, it sounds just fine as the album opens, with the Nancy Sinatra-sampling "Shot You Down." The Bullys make deft use of Sinatra's "Bang Bang" cover, leaving intact the original's mournful and quiet sound, simply building a beat bed around it that repeatedly shoots at us.
But there aren't as many examples of catchy, or even inspired, dance-pop tunes as you'd hope for in something intended to be music's future. The duo's music man Tom Dinsdale prefers the repetitive and spare electronica style of Daft Punk, and he samples music from familiar club tunes while adding little of his own ideas to justify the effort. It often comes at the expense of his Bullys partner Simon Franks. Thanks to the contrived music, Franks' talk-singing and raps aren't as memorable as they could be — or should be, given that they're mostly amusing club-going ruminations about chance encounters with strangers and especially wasted time.
Fortunately, Dinsdale does come through from time to time, such as on "Get Myself on Track." Franks sings about the need for a change: "I need to find myself again, too much of my life is spent on the weekend. I don't feel great, 'cause I can't pretend/That the nighttime hasn't come and got the upper hand."
Dinsdale keeps the musical mood light and relatively warm, matching Franks' optimism that "the future looks much brighter than those bad yesterdays." Okay, maybe so.
But let's hope music's future will be even brighter than this.