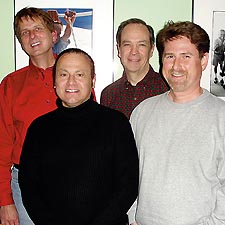 Big Gay Book Club
MISSION: Formed in 2004, the Big Gay Book Group is a forum open to all to discuss gay literature on a monthly basis.
NUMBER OF MEMBERS: Approximately 10.
ACTIVITIES: The group meets monthly in the Dupont Circle area to discuss a particular book, and other topics as they arise.
BACKGROUND: Robert Starner's initial motivation for forming the Big Gay Book Group stems form his former job as a manager at Lambda Rising. "I was trying to generate more interest in author events [at the store]," he says. Starner has since left the gay bookstore, but he's not abandoned the group. "It's very important to me. I guess it's one of the big social things for me. Â… We just socialize and chat about books. Everyone is welcome. It's certainly nothing in-depth or detailed. It's just personal reactions to books."
CONTACT: To subscribe to the group's e-mail list, send a message to biggaybookgroup@hotmail.com For more information visit www.biggaybookgroup.com.
NEXT EVENT: Discussion of My Lucky Star, by Joe Keenan. Wednesday, March 8, 7 p.m. Location TBA.