Chi Chi La Rue may have shot a porn film called Striptease on location at D.C.'s Wet nightclub, but like so many films, the fantasy is somewhat different than reality.
"What went on in that video was purely, purely fantasy," laughs Jesse Wily, Wet's director of lighting and production, as well as unofficial historian. "We would never allow anything like that to happen within these sacred walls."
Not that reality doesn't offer plenty at one of D.C.'s nationally famed bastions of all-male, all-nude entertainment that first opened its doors on Jan. 30, 1995.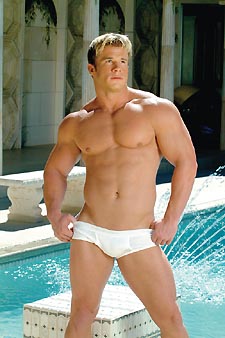 Mark Dalton
(Photo by Courtesy Falcon Studios)
"I've been here since day one, so this is my anniversary too," says co-manager Tony Christian of this Saturday's 11th anniversary bash. For the occasion, Wet will expand beyond the club's perimeter to include adjoining spaces in the Wet/Edge complex, allowing it to serve a buffet dinner and feature a dance area.
They've also invited some former employees and dancers to return for the anniversary, says Wily, "and do what they'll do. If they want to get up and shake it for old time's sake, so be it."
Also walking the Wet stage and signature shower stall will be Falcon star Mark Dalton, himself a past guest dancer at the club.
Wet was a roaring success from the get-go, thanks to a launch team including folks from the nationally celebrated nightclub Tracks. Even today, the Tracks' influence lives on: Wet's top management team of Christian, his co-general manager Anita Dodds and Wily all got their start at the now-defunct Tracks.
Wily is understandably sad about the changes happening in Southeast's gay nightlife, which is about to disappear altogether. Construction is expected to start soon on the city's major-league baseball stadium just a few blocks away from Wet.
"What is happening in this neighborhood is going to be the end of the post-Stonewall era for D.C. gay nightlife," says Wily.
Wet will be open at its current location until sometime this fall. Says Wily: "We will utilize every piece of hardware and talent that we have to make sure the last memories are some of the best memories."
Wily points with pride to the continuing diversity in the club's offerings. "We have events that appeal to gay white men, gay black men and lesbians, and we've had events for straight white and straight black [audiences] as well as bondage and discipline parties."
"Wet was so wild in its earliest days," recalls Rex, a dancer at the club since opening night. "Every couple months a customer would get drunk and shuck his clothes and try to walk up into the shower, like a moth to a flame."
While those impromptu amateur stripteases may be "very rare" today, Rex says Wet is still a fun place to both work and to be a customer.
Wily suggests that's true because "Wet is a fun, let-your-hair-down kind of bar."
So should someone want to let down more than just his hair and bum-rush the shower… well, just consider it a little bit of history repeating itself.
Wet's 11th Anniversary Celebration happens this Saturday, Feb. 11 at 52 L Street SE. Doors open 8pm. Cover. For more info, visit www.edgewet.com, or call 202-488-1200.