Brother Help Thyself (BHT) both honored and supported the community minded during its annual grant reception on Saturday, Jan. 28.
About 85 people attended the reception, where they were treated to music by the Lyra Chamber Ensemble — recipients of an $850 BHT grant themselves.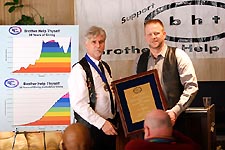 BHT's Tom Yates presents the Bachrach Award to Wessler
(Photo by Rudy K/Courtesy BHT)
BHT also recognized four entities for special recognition. The Dupont Social Club, organizers of The Miss Adams Morgan Pageant, received BHT's Founders Award for years of work for the community. The Anthony Bachrach Award for Community Service went to Jeff Wessler for his years of service to BHT. The George Dotson Business Award went to Heat Nightclub, which has offered a dollar to BHT for every drink ordered at the club on Sundays.
New this year was the Billy Collison Award, named for the community icon who died in January 2005.
"Billy is one of those rare people who give 110 percent, 120 percent of the time," says BHT Executive Director Larry Stansbury. "The nature of Billy was to always give. There was money raised in Billy's name that came to BHT, so we're recognizing one non-profit that goes above and beyond, sort of embodying the spirit of Billy."
The inaugural Collison Award went to Helping Individual Prostitutes Survive (HIPS). "They work with an underserved community no one else is doing much for," says Stansbury, reckoning that Collison would have approved. "Billy would always help the underdog."
More than 30 organizations received grants totaling over $130,000. Some notable amounts include $9,100 to the GLBT Center of Baltimore, $7,100 to PFLAG of Metro Washington DC, and $6,825 to PETS-DC. Newcomers to this year's list of recipients include Different Avenues ($3,390), a group aiding homeless youth, with many clients identifying as GLBT; and Baltimore-based Pride Services ($1,450), which is working on collecting GLBT history in that city.
"We're certainly looking forward to another challenging year," adds Stansbury. "We've already kicked it off. You can't wait until February to start doing things."
For more information about BHT, visit them online at www.brotherhelpthyself.com.