That Kate Eastwood Norris. You can't help but fall for her adorable little chuckle and wry, impish grin. She's a sprite of the stage. And she's the best thing that ever happened to David Mamet's Boston Marriage.
Not that Mamet's absurd drawing room romp couldn't get along without Norris's melodramatic wit and flair for the flamboyant. It's just that she embraces Mamet's skyrocket language with a splendid gift for parody that transcends the mediocre material. Within the Mamet canon, Boston Marriage is a slight exercise in farce. Consider it his foray into prim and proper lesbian comedy, if you choose to consider it at all.
Mamet goes Wilde with a nod to that gent's more polite comedies of the late 19th century. Adding a carnal twist to his vogue brand of Wildean humor, the playwright fashions a tale of two erudite society ladies engaged in a less-than-demure affair.
Anna and Claire are Bostonian spinsters who fancy one another. When Claire proclaims that, alas, she is in love with a fair young maiden, Anna must win her beloved back — but how?
It doesn't help that Anna's male "protector" happens to be the maiden's father, and that he has entrusted Anna with an emerald jewel that the maiden instantly recognizes as a priceless family heirloom. Add a lovesick Scottish maid to the mix, and let the woebegone antics begin.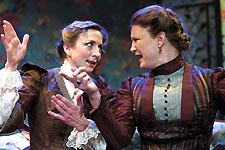 Sapphic affairs: Norris and Deal
(Photo by Ray Gniewek)
It's the stuff of wide eyes and arched eyebrows. Says the maid of stove tools recently acquired: "While I was admiring your muff, your parts came." It's a nod to Oscar Wilde in form and derivation alright, but there's also a wink to more contemporary British comedy stylings of John Cleese and Patricia Routledge.
Jeffrey Johnson is the directorial force behind the evening, and he guides Norris's delightful Anna alongside Jenifer Deal's restless Claire. There is genuine chemistry between the two actresses.
Norris is at her comedic best when admonishing her maid with scornful stereotypes or flittering about, obsessing over the object of her affections.Deal, however, doesn't fare as well with such elbow-in-the-side comedy. It isn't for lack of effort or understanding, it's simply her methodical approach to Claire's freewheeling personality doesn't quite work. Every emotion is carefully outlined and presented, as though the actress premeditated her reaction before experiencing it. Elizabeth Simmons is riotous as the Scottish maid who withstands incessant insults from her employer. All three women are costumed to perfection by Leigh Ann Chermack.
Boston Marriage
To March 19
Actors' Theatre of Washington
1835 14th Street NW
$25-$30
1-800-494-8497
www.atwdc.org

The evening opens in an homage to vaudevillian burlesque with a tedious pre-show cabaret. But when the curtain rises, it reveals the prettiest tearoom set Source Theatre has ever seen, a far cry from the drab, same old reconfigured black box space that endured 22 summers of the Washington Theatre Festival. Even the lobby and marquis have been gussied up for what may be the theater space's last rendezvous with Washington audiences. The old digs on 14th Street have never looked better, and the thoughtful folks at Actors' Theatre of Washington have ensured one thing with their clever production of Boston Marriage: If the show must end for the Source space, at least the final curtain will fall in style.