The Weinstein Company is off to a solid start. Founded by brothers Harvey and Bob, who were recently ousted from their posts-on-high at Miramax (which they founded in the '80s, and which was instrumental in changing the business of independent film), released its first slate of movies beginning in December. The first, Transamerica, is a congenial and entertaining road movie about a pre-op male-to-female transsexual (Felicity Huffman) who connects with her scruff-of a-son. It's a tough sell, Transamerica, and it's not done much in the way of box office. But it has hit paydirt when it comes to buzz for star Huffman, who won a Golden Globe for her remarkable performance, and who on Tuesday landed in a two-person race with Walk the Line's Reese Witherspoon for Hollywood's Little Golden Man.
Transamerica might seem like a bold release for the company — but the movie is remarkably placid and safe. It's entertaining without being issue-driven, illuminating without being preachy. Miramax has subsequently released the CGI cheapie (but critic darling), Hoodwinked, a Rashomon-like riff on the Little Red Riding Hood story, and Mrs. Henderson Presents, a British import starring old reliables Judi Dench (who also received an Oscar nod) and Bob Hoskins. For industry watchers, it's been fun to watch Harvey, a mercurial figure in contemporary Hollywood lore, and the quiet-but-no-less-mild Bob start again from scratch. This time, however, they're facing a different indie film landscape, which has changed considerably since Miramax became a major player in 1989 with sex, lies and videotape.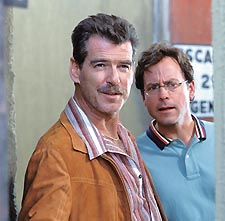 Killer friends: Brosnan and Kinnear
Their game plan seems to be as it was in the early years: Find movies that are a little off-center, movies that combine whimsy with a hint of moral decay. To that end, they've found the perfect release with The Matador.
Written and directed by Richard Shepard, The Matador stars Pierce Brosnan as Julian Noble, a weathered and worn hit man who is staving off a nervous breakdown. He's a lonely, sorrowful guy, without any friends, a man whose only meaningful human contact comes during discreet meetings with his handler Mr. Randy (Philip Baker Hall), and ride-em-hard sessions with hookers. An expert in high-level corporate kills, Julian goes where he's told to go, and gets the job done quickly, cleanly and expediently.
Late one night, while on a job in Mexico, he strikes up a hotel bar conversation with mid-level corporate salesman Danny Wright (Greg Kinnear). Although complete polar opposites, the two men somehow bond. And when Julian finally confides in Danny what he does for a living, Danny reacts with part disbelief, part adolescent-style glee that his newfound buddy is a killer.
The bond is subsequently dissolved when Julian makes a request of Danny to assist him on a job. But it's revived six months later when Julian, drunk and desperate, lands on Danny's doorstep in suburban Denver. "You're my only friend, the only home I know," he tells Danny and wife Bean (the marvelous Hope Davis). But Julian's visit has a motive, one that will again test the unlikely relationship between assassin and mild-mannered salesman.
The plot is enjoyable but inconsequential to the movie's greater purpose, as The Matador is a study in character types, pitting moral against amoral to see if any common ground can be struck. Julian is a fount of blue comic lines ("I look like a Bangkok hooker on a Sunday morning after the Navy left town"), and Danny is the ultimate straight man, reacting with fluster and alarm. But there exists a consistent underlying tension between the two men: one is a killer, possibly psychopathic, the other is not. Shepard finds a way to resolve things so that the moral threads are tied up neatly, without seeming too implausible.
Brosnan and Kinnear share wonderful chemistry — they're a natural pairing. The former James Bond casts off his spy-slick screen persona with the whacked out, sin-driven Julian. Freed of his Bond, Brosnan gives his most liberated and likeable performance since his Remington Steele days. Kinnear, meanwhile, adds another nimble performance to a belt already notched full (he's now officially forgiven for the remake of The Bad News Bears).
Vibrantly shot and sharply edited, The Matador isn't the kind of movie that will move mountains and shatter box office records. It's not the kind of movie that will change the way you look at cinema. Rather, it's an intimate, modest, enjoyable film — the kind the Weinsteins are best at putting their considerable weight behind, the kind that will help put their fledgling company on the road to Hollywood success.