If you haven't yet tired of the rampant pandering to the American myth present in every daily experience from the selling of cars to the selling of the war in Iraq, then Das Rheingold is for you. Watching the Washington National Opera's production is enough to make one wonder just how many things can be made American (as opposed to made in America).
Sure, innovation is great, especially when it comes to a treatment of Wagner's Ring cycle, but isn't there just a little arrogance in re-working the majestic themes of the Ring like a stroll through the American history room in the wax museum? One really has to wonder why now? Especially as we are already bombarded with images and rhetoric of neo-patriotism. Perhaps if there was even a shred of irony in this Rheingold, the answer would be more obvious. But there is no such nuance.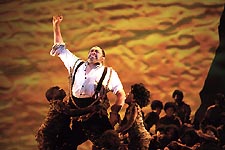 Lord of the Ring: Hawkins
(Photo by Karin Cooper)
Even setting aside the unfortunate timing of this interpretation, the production never quite gets off the ground. For starters, comparisons with the WNO's gobstoppingly stellar 2003 production of Die Walküre at DAR Constitution Hall are inevitable, and Rheingold simply can't hold a candle to that brilliant mix of concept and dramatic tension. The buck stops most firmly with director Francesca Zambello, who so tightly and finely honed Billy Budd in 2004, but here seems simply to have bitten off more than she can chew.
It's not that this is a disaster, but in her enthusiastic Americanization, Zambello allows the dramatic continuity, choreography and emotional tension to slacken in all but a few rare moments. There are times, such as when the giants come to claim the goddess Freia in payment for their services, when the players seem at loose ends; everyone moves around on schedule but without any connection to one another. As the giants Fasolt and Fafner argue for their prize, they paw Freia, but their caresses vacillate between unseemly and absent-minded, like teenage boys forced into the school play. Thus the fiction comes and goes along with the lapses in attention to these kinds of dramatic details. Though individual singers strive to bring musical and dramatic cohesion (Robin Leggate as Loge comes immediately to mind), it is too much for any one performer to salvage. At times, it's better to close one's eyes and listen rather than to watch these lackluster onstage activities.
Fortunately, the singing is worth hearing. Bass baritone Robert Hale sings Wotan, the morally compromised ruler of the gods, large and well, though he sometimes comes across more as a troubled human than anything remotely god-like. Elizabeth Bishop sings Fricka, Wotan's less than content wife, with a warm and powerful mezzo-soprano. But she is often one of the players skirting the edges of the drama, as if she is all dressed up with no place to go. When protesting Wotan's contract to give away Freia, she suddenly scuttles across the stage like some kind of diversionary tactic, but when she's done she just stops and nothing else happens. The staging simply makes no sense.
Gordon Hawkins, who most recently and successfully sang Porgy, appears as Alberich, a kind of ruler of the underworld. Distractingly, he wears an almost identical costume to the one he wore in Porgy, which suggests Porgy's era in American history. But now he is the slave-owner. This feels as contrived as the Great Gatsby costuming of the gods and delivers an equally uninteresting message. Nevertheless, even against such odds, Hawkins creates a powerful presence and shows his amazing versatility in the role.
Das Rheingold
Kennedy Center
Opera House
March 30, April 2, 5, 8, 10 and 14
$45-$270
202-295-2400

The wonderful mezzo-soprano Elena Zaremba (who sang Fricka in the 2003 Walküre) plays the goddess Erda, who here appears as an American Indian. Her dramatically crafted scene with Wotan provides one of the evening's few points of unity and emotional power. The moment Zaremba begins to sing, it is as if time stands still and we really, finally, enter the world of the gods.
Conductor Heinz Fricke, who so excellently led the orchestra at DAR Hall, shows his skill with Wagner again here. But throughout Fricke's wonderful treatment of the interludes the designers project endless unanchored images, so much less powerful than the stunning loops of dark moving water ebbing and flowing through the 2003 production.
Rheingold is the first of Wagner's Ring cycle. The WNO plans to stage the rest of the cycle in consecutive seasons, so this production launches a very special opportunity for Washington audiences. We can only hope that the Wagner team will spend some time in the Nibelheim caverns re-forging their perspective.