Season five of American Idol, everyone's favorite karaoke-fest, may be well underway, but fourth season champion Carrie Underwood isn't ready to give up the limelight. As the first country singer to claim the AI title, she's currently riding high on the country charts.
The 23-year-old Oklahoma native won over audiences and resident Idol curmudgeon Simon Cowell with her powerhouse voice and folksy, small-town charm. That impeccable voice is now front and center on her debut album Some Hearts, a slick collection of country-pop songs that alternate between self-pity and self-empowerment while covering the predictable topics of faith, family and relationships.
Underwood's vocal delivery lands squarely between that of Faith Hill and LeAnn Rimes, though she has a stronger voice than either. It seems only fitting, then, that frequent Hill collaborator Dann Huff handled production duties on half the tracks and songwriter Diane Warren, responsible for Rimes' crossover hits "Can't Fight the Moonlight" and "How Do I Live," contributed three songs to the mix.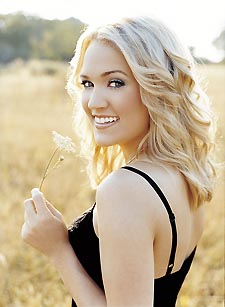 Country idol: Underwood
The touching first single, "Jesus, Take the Wheel," depicts a woman in spiritual and physical peril. Set on Christmas day, it's dripping with heartstring-tugging clichés and espouses the same "let go, let God" conviction that's intrinsic to 12-step programs. It's an uplifting, if somewhat heavy-handed message. Underwood also offers words of wisdom on "Lessons Learned," urging listeners to appreciate and learn from life's experiences, both good and bad.
In a break with her good girl character, Underwood sings about a betrayed woman who takes revenge on her cheating boyfriend by vandalizing his vehicle on "Before He Cheats," a highlight of the album. The brash and bluesy number finds Underwood exploring the lower register of her voice as she sings, "I dug my key into the side of his pretty little souped-up four-wheel drive / carved my name into his leather seat / I took a Louisville slugger to both head lights, slashed a hole in all four tires / And maybe next time he'll think before he cheats." It's a close cousin to Nashville Star finalist Miranda Lambert's equally gritty "Kerosene," in which she sets her cheating boyfriend's house on fire. Another high point is the power ballad "Starts With Goodbye," which points out that it's sometimes necessary to let go before starting over.
Like Gretchen Wilson did with "Pocahontas Proud," Underwood gives a shout-out to her single stoplight hometown in the autobiographical "I Ain't In Checotah Anymore." The song is Underwood's lone co-writing credit on the album, and it echoes the aches of leaving home and the fish-out-of-water themes found elsewhere on Some Hearts.
While Some Hearts is a promising debut, it ultimately falls short of expectations. There's nothing particularly bad about it (with the exception of occasional over-singing), but there's also nothing that separates it from the pack. Until Underwood develops a persona to accompany her pipes, she's destined to be lost in a sea of second-tier Shanias.
Upon listening to The Life Pursuit, the buoyant and brilliant new album by Scottish septet Belle and Sebastian, one could assume that Stuart Murdoch, the group's lead vocalist and primary songwriter, finally heeded the advice of The Partridge Family and got happy. With its lighthearted groove, Pursuit sounds as if it were recorded in the heyday of the early '70s, though it's more glam rock than pre-fab pop.
On their seventh studio album, Belle and Sebastian continue the metamorphosis begun on 2003's Dear Catastrophe Waitress. From their lo-fi beginnings as a melancholy, literate chamber pop group, they have recast themselves as a cross between bubbly '70s British glam and California sunshine pop. Think T. Rex meets latter-day Beach Boys and you're on the right track.
But worry not, dedicated fans, the group's signature wry character sketches are still intact, as are Murdoch's lilting vocals. They have simply been augmented with bursts of horns, deep bass lines, guitars and handclaps. The arrangements are tighter, and the hooks are massive, making Pursuit the best Belle and Sebastian album since their 1996's breakthrough, If You're Feeling Sinister.
It's almost impossible to fight the urge to dance or sing along when you hear the bouncy call-and-response vocals of "White Collar Boy" or the T. Rex-meets-David Bowie boogie-influenced hook of "The Blues are Still Blue." With a knowing swagger, Murdoch sings, "For a kid with the will to funk / he dances in secret; he's a part-time punk" on the latter. Add the organ-propelled shuffle of "Sukie in the Graveyard" and the instantly memorable "For the Price of a Cup of Tea" to the mix and you won't be able to keep your dancing a secret for long.
Murdoch and company also experiment with jangly country-rock on "Another Sunny Day," Motown beats on "Funny Little Frog," and Sly Stone meets Steely Dan dreamy jazz funk on "Song for Sunshine."
But not all of Pursuit is a radical departure from the band's early sound. There are a few classic-sounding Belle and Sebastian tracks peppering the 13-song set, such as "Dress Up In You," a bitter ditty about jealousy and regret featuring a loping piano melody accented by woodwinds and a stellar trumpet solo.
The lyrics may sometimes by cryptic, but Belle and Sebastian's unbridled enthusiasm and expanded musical palette make The Life Pursuit the catchiest album of their career.