The old man is snoring, all right. Not because it's raining or it's pouring, but because Lisa Peterson's revival of The Rainmaker hardly revives anything or anyone for a good 50 minutes.
N. Richard Nash's classic portrait of a lonely Western family struggling in a dry little town named Three Points is all stitched up like a pair of mended overalls until Michael Laurence's manic con artist finally arrives late in the first act and rips the family apart at the seams.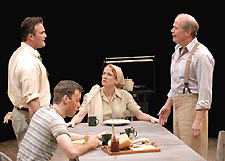 Unwatered world: Graham Winton, Ben Fox, Day and Parry
(Photo by Scott Suchman)
Peterson's sluggish production goes a little something like this: Here's Lizzie Curry, a plain Jane spinster with a heart of gold. Here's her pair of brothers — the older, wiser pragmatist and the younger, wide-eyed dreamer. Here's Lizzie's pop, a good old boy farmer concerned with his daughter's creeping age and lack of suitors. And here's Deputy Sheriff File, a prickly "widower" the boys set out to hook up with Lizzie.
Then, just as you've settled in for a sojourn to Snoozeville, Laurence springs on to the spare Fichandler stage to save Nash's scruffy play from drying out entirely. Things are downright dreary until the actor's appearance as one Bill Starbuck, Rainmaker and Ultimate Play Savior Extraordinaire. Starry-eyed from the promise of rain within 24 hours, Dad Curry can't resist employing the services of a rainmaker, investing $100 and all of his hope in a wandering wayfarer he knows is a fraud. Not only does Starbuck offer a chance of hope for the end of a long, dehydrated season on the plains, he also quenches thirsts of a much different variety.
If the story sounds vaguely familiar to you, it may be because you've seen 110 in the Shade, a musical version of Nash's work for which he also wrote the libretto, or the 1956 film version with Katharine Hepburn and Burt Lancaster. It's an enduring tale produced time and again in theaters across the country, for its solid bearings in 1930s Depression-era history as much as its heart-pricking love story. Though it's not exactly the subtlest of metaphors, Nash relates the drought of the heart and spirit with the cattle-killing heat of a desiccated summer.
The challenge in revisiting such a stalwart of the American stage is, of course, making it seem new again. Here Peterson relies on contrived comic direction that often impedes the spry ensemble. Her cast simply can't negotiate the vast space of the Fichandler arena with such overstaged choreography, pinning characters at opposite points around the stage and forcing them into awkward positions with each other. Ilona Somogyi's unappealing costumes add to the evening's minimalist aesthetics, as most of the action plays out on an empty set.
William Parry is a warm and tender father figure for the Curry clan, a workhorse of a man who warns his eldest son, "You're so full of what's right that you can't see what's good," yet Johanna Day is an odd casting choice for Lizzie. Her "old maid" seems mature enough to understand why she hasn't married yet, and a tad bit too wise to fall for the whims of a traveling confidence man. But Day deftly conveys the literal tug between the head and the heart, and she has a fanciful time relaying her girlish charms to Frank Wood's File, who responds to her advances with nearly catatonic dismay.
Laurence's Starbuck is inarguably the main attraction of this Rainmaker. It's his show once he introduces himself as the title character, and there are moments of glittery emotion whenever he's on the scene. Whether bucking like a cowboy itching for the range or buckling under the weight of his conscience, Laurence delivers a spitfire performance that provides Arena's production enough fuel to keep it moving along. As for the rest of the evening, it survives — but just barely — on his fumes.