"Take Jimmy Buffett and a drag queen, mix them together and add lots of purple," says Tony Rivenbark. And what does that get you? Freddie's Beach Bar & Restaurant.
It's an obvious recipe for success, as Freddie's just celebrated its fifth year in business as Northern Virginia's only regularly operating gay bar.
What's kept Freddie's kicking is its kicky, kitschy atmosphere.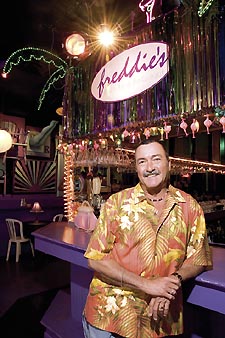 Lutz
"It's a very eclectic, fun, beachy kind of atmosphere," says eponymous owner Freddie Lutz. "You walk in the door and you know it's gonna be fun. And there's no attitude!"
Rivenbark, a longtime customer now serving as the bar's manager, adds, "You can walk in any night and feel comfortable, feel welcome. There aren't any cliques."
The "no attitude" philosophy drives everything about the business, including Lutz's own candid assessment of his establishment. "It's been a work in progress," he says. "It's taken time to get the service and the food and the décor where I want it to be."
Lately the focus has been on improving the menu, which from the start has centered on basic pub grub: chicken wings, crab cakes, nachos. But over the past few months more serious dishes — such as Chicken Parmesan and Pesto-Cream Pasta with Chicken — have been added and the standards improved, per consultation by the chef from Café Italia just down the street, where Lutz was the maitre d' for 25 years prior to opening Freddie's.
Inspired by his art-school background and a "travel trailer" he used to have in Rehoboth, Lutz admits that Freddie's décor is tacky, but in the most positive sense of the word.
"Tacky is not an easy thing to achieve," he says, noting that it takes a lot of pink flamingos, Barbie Dolls and "junk in a certain color scheme on the walls" to make tacky work well.
Lutz grew up (and still lives) in a house near his Crystal City bar. His is one of the very few gay bars to ever operate in Northern Virginia, and the fact that it's in an overall anti-gay state is a hindrance for some potential customers, Lutz acknowledges. "[But] how are we going to make progress over here if you guys don't support us?" he says.
Lutz is pleased to report another gay bar in Northern Virginia is preparing to open. Although he only knows the information he's gleaned from postings on the Web, he's happy to welcome new competition — all in his signature "no attitude" style: "I wouldn't mind if it was on the same street — there's plenty of room."
Freddie's Beach Bar & Restaurant is at 555 South 23rd St., in Arlington. Call 703-685-0555 for more information.