"We're presenting four different styles, four different composers, four different eras," says Jeff Buhrman, artistic director for the Gay Men's Chorus of Washington, D.C. "It's the best of the best."
Buhrman is referring to Showboys!, the latest in the chorus's recent annual spring tradition of putting on a show. The event has seen the chorus tackle everything from a camped-up version of The Wizard of Oz to an intimate You're a Good Man, Charlie Brown, as well as forays into conceptual-style shows. With Showboys!, Buhrman and team have concocted an evening celebrating the music of four iconic gay Broadway composers: Cole Porter, Jerry Herman, Stephen Sondheim and Marc Shaiman.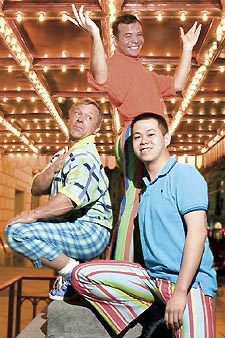 Clockwise from top: Chorus members Daniel Clavel, Sar Agus and Mark Hennen
"We decided to take the one art form that was created in this country — the Broadway musical — and celebrate the fact that there have been many gay men who have moved the art form forward since the beginning of the 20th century," says Buhrman.
The semi-staged production, which features the entire chorus as well as a nine-piece pit band, will boast selections from Porter's exuberant Anything Goes, Herman's lush Dear World, Sondheim's inventive Company, and Shaiman's joy-powered Hairspray.
"It's a hybrid," Buhrman says of Showboys!, which features stage direction by John Moran and choreography by Scott Roewer. "It's part show, part concert." It's a means of introducing newcomers to the majestic vocal gifts of the GMCW. But it's also a way of paying homage to the GMCW's core audience of gay men, many of whom (let's just be honest about this, okay?) adore Broadway showtunes.
"Our audiences want to be entertained," says Buhrman. "They want us to do all different types of music in all different styles while affirming gay people in our society. So when we pick material like this, it's not only an affirmation of Broadway, but an affirmation of gay people."
Showboys! plays Saturday, March 18 at 8 p.m. and Sunday, March 19 at 3 p.m. (signed performance) at GWU's Lisner Auditorium. Tickets are $19 to $49. Call 202-293-1548 or visit www.gmcw.org.