Etta James knows how to cover other people's songs. She's had a lot of practice, after all. For years she's been a regular presence on the national jazz and blues club circuit where covers are de rigeur. As one of the most celebrated singers in contemporary blues, James has gained as much recognition for recording new material as for reinterpreting standards popularized by a wide range of artists, including not only blues legends but also rock gods and, especially, Billie Holiday. Mystery Lady: The Songs of Billie Holiday earned James her first, very belated Grammy 11 years ago.
Only a singer as confident and passionate as James would dare attempt to put her stamp on classics from Holiday, The Eagles or Robert Johnson, to name a few. And only a seasoned, talented powerhouse vocalist as James would dare attempt to outperform Prince, R. Kelly, Marvin Gaye or any of the others she covers on her latest album All The Way.
"It's not about battling the original artists when I record these songs," James explains in the notes to All The Way. "It's about paying tribute to them."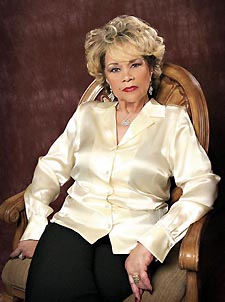 Play time: James
(Photo by Montes De Oca)
All the Way is also about paying tribute to Etta James. Born Jamesetta Hawkins in Los Angeles, the singer got her start when just a teenager half a century ago, singing R&B and doo-wop. And though she's belted mostly under the mainstream radar, she's has had nearly as much success on the R&B chart as fellow female pioneers Aretha Franklin and Dionne Warwick. Yet, All The Way marks a first.
"For the first time in my fifty-three years of recording I really had control over an entire album, start to finish. And that feels really good!" James says. She served as executive producer for this playful, sprightly album of eclectic covers.
After decades of offering lackluster or uneven studio albums, James finally takes the reigns to show us what she's capable of. Though it stumbles here and there, All The Way marks a triumphant return for the now-svelte singer, who, after having recently shed 200 pounds, can once again stand when she sings. With any luck, James will gain even more standing in the industry on account of her work here.
There's no denying how good she feels when she sings "Holding Back The Years." Though she conceives of Simply Red's 20-year-old original as a young people's kind of song, you can't help but think about the singer's own pain and perseverance. You feel it too. She savors each note, accentuating the chorus' hopeful resolution: "I'll keep holding on." The same is even more true of her cover of R. Kelly's "I Believe I Can Fly." James transforms the song, putting the power of her own experience to work in making it soar.
The too-smooth Love Boat-styled arrangement on her cover of Marvin Gaye's "What's Going On" is unfortunate, but even that can be explained away as a contrast to James' appropriately ragged and raspy voice as she lyrically ponders troubled times. She also tackles Leonard Bernstein's West Side Story, singing its anthem "Somewhere" from the perspective of a world-weary woman. Again, she's not helped by a mostly monochromatic smooth-jazz arrangement, and this time it can't be justified. The arrangement makes it even harder to believe the optimism she sings about and yet doesn't quite convey.
James ends the album with one of the best songs of the past couple decades, "Calling You" from Baghdad Café. Apparently James was the original singer of the song, but an unknown got the job for the film. She may be above battling other artists singing the same tune, but, however inadvertently, she's settled the score here in the most delightful way. She cries out the words and responds to the flugelhorn's call by convincingly imitating its sound. The cut concludes with a cell phone ring, as her son Sametto calls her. By accident. "Oh lord, I done called the wrong damn number," he says, and then hangs up on his mother.
But James keeps right on sweetly humming to the end, paying no mind. She's in too good of spirits to care.