The party at VelvetNation is coming to an end, promoters announced Wednesday, March 22. The biggest ongoing, weekly gay bash in D.C. will be going out with a bang Saturday, July 15, says Ed Bailey, promotional director of the regular Saturday events and a co-owner of P Street's Halo lounge. The end of Velvet also marks the end of the Nation venue, the warehouse complex that's housed Velvet for more than seven years, at 1015 Half St. SE, adjacent to the proposed site of the new Washington Nationals baseball stadium that is gobbling up a fair chunk of D.C. gay nightlife.
"We held an interest in the [Nation] building up until three years ago," Bailey explains. "We sold it to a developer, and they've been leasing it back to us. They kind of put us on-notice about two years ago, saying there was discussion of this impending baseball stadium. There was going to be development anyhow in this corridor. The baseball stadium accelerated all of that…. They were going to develop it one way or another."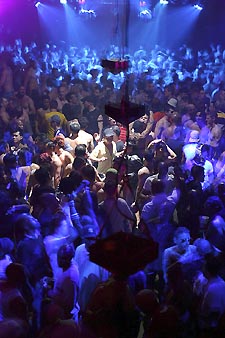 Velvet's main dance floor
(Photo by Henry Linser)
Despite the forced closure, Bailey — who along with business partner John Guggenmos has been molding D.C. gay nightlife for more than 15 years — says that he sees some good fortune in this turn of events.
"One of the things that's great about this is that most clubs just die," Bailey reasons. "You go one night and there's a padlock on the door. In a very unique way, we were able to control our fate here. We wanted to pick a date we knew we could control. We could absolutely set and plan events that are consistent with what we've done over the years.
"Certainly we've had a longer run than most venues of this nature get," he continues. "It's been a lot of fun. I have no regrets. The event had its day, but it's not what it used to be. That's evident to anyone who used to go that comes now. Everything has a shelf life. It's better to end this party on a high note when it's still a success, than to let it kind of die off, which more normally happens in this business. That's more sad."
And Bailey promises that, indeed, Velvet will exit with a bang rather than a whimper. By the time of Wednesday's announcement, says Bailey, he'd already made arrangements to see to that, although he's keeping the grand finale to himself for now.
"We are definitely ramping it up," he says with a hint of excitement. "Based on this news, I have booked the entire remainder of the life of the club. It's already done. I went ahead and put it on the Web site [calendar]. It's up-to-date through [Capital] Pride. I'm going to slowly release the rest of the schedule through the last weeks."
And those last few weeks, promises Bailey, "will be tremendous. Not just big-name talent, but bringing back everyone who's helped us become as successful as we are. It just seems like the right thing to do."
Christopher Dyer — a local advisory neighborhood commissioner by day and drag persona Cookie Buffet most Saturday nights — has been hitting Velvet since it opened. He'll be bringing his signature Wig Aid fundraiser to Velvet this Saturday, March 25.
"I've been there since the beginning as a drag performer, some might say as a fixture," he jokes. "It's been my destination of choice. The reality of D.C. right now is there are very few nightclubs the size of Velvet…. The Velvet chapter is that it took gay nightlife in D.C. and put it on almost the same level as Miami or New York. The space is bigger. The sound is better. It's sad that this great party is going to come to a close."
Despite his optimism about what he can create in these final weeks of Velvet, Bailey agrees that this is a sad time.
"I'm definitely sad," he admits. "I've worked hard and achieved a lot. I'm very proud of what we did and what we went through. I have been through this before with Tracks. We were no longer at Tracks when it closed, but I felt like I put in the same sort of sweat equity at Tracks."
As for what's next, that's anyone's guess at this point. Dyer says he thinks the age of large-scale, Saturday night gay dance parties may be coming to an end, with people turning toward more intimate spaces. Bailey says he doesn't know what's next, but that he's keeping his options open.
"At the moment, there are no specific plans [to relocate]," says Bailey. "We've certainly been approached by a number of clubs who thought they would ask if we'd like to move the party. We're tempted, but it's hard to go from a venue like Nation. We don't want to do it for the sake of doing it.
"[Closing] absolutely leaves a vacuum," he concludes, "but I would be surprised if someone, or something — maybe us — doesn't fill it. But I don't presently believe that right now there is a venue tempting enough to do the legwork to move the event."
For regular updates on Velvet's closing events, visit www.velvetnation.com.