He may not be a native son, but New York native Frank J. Oldham Jr. is no stranger to D.C. In the early '90s, he served under then-Mayor Sharon Pratt Kelly as chief of the district's Agency for HIV/AIDS. His time at the job — and in D.C. — was cut short by ailing parents back home in the Empire State. But now Oldham is back, having taken the helm at the National Association of People With AIDS (NAPWA) earlier this month.
"Always, these transitions are stressful. But this is for a very noble cause that I'm fully committed to," says Oldham, a gay, HIV-positive, African American. "With NAPWA being the oldest national AIDS organization in the country, this is really a supreme honor."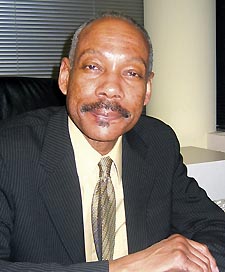 Oldham
(Photo courtesy NAPWA)
Though he's been away from D.C. for some time, he's remained in the fight against HIV/AIDS. To accept the NAPWA job, Oldham had to say goodbye to his position at the head of the Harlem Directors Group (HDG). This New York agency is a consortium of community-based HIV organizations in Harlem and other nearby areas of Manhattan.
"It's his dream," says HDG board president, Violet Tabor, of Oldham's move to NAPWA, adding that Oldham's connections to the city's infrastructure were helpful to HDG during his two years with the group. "He provided a certain kind of face to the organization because he was coming from the Department of Health. He was connected to various stakeholders in the community."
Oldham's work within New York's AIDS infrastructure was not without incident, however. "Our issue in the past had to do with his taking the Mayor's Office of AIDS Policy and staying on as that office was folded into the Department of Health," says Rev. Charles King, CEO of Housing Works and national co-chair of the Campaign to End AIDS (C2EA). "I still feel that elimination of the Office of AIDS Policy was a very bad thing to have happened." At the time, May 2003, Housing Works issued a statement calling for Oldham's resignation. Housing Works is a New York non-profit group working to ensure that homeless people with HIV/AIDS have access to social services and employment. In this instance, however, what happens in New York stays in New York.
"Since he's left he Department of Health, he's been an advocate [and] ally," says King. "He's indicated he'll be returning NAPWA to the grassroots, making it much more a voice for people with AIDS. NAPWA was important [to C2EA] in the past year. And I've had some great conversations with Frank, looking forward to expanding that partnership."
Oldham has also said he's looking forward to working with King while at NAPWA. He has some other agenda items, as well.
"I feel very strongly that the AIDS movement [has] become like embers. There is still passion, still fire, but we've got to fight complacency. Our biggest problem is complacency," Oldham says. "Seeing AIDS as a chronic, manageable disease is an incomplete sentence. It's becoming more manageable, but it is a fatal disease. We cannot underestimate the seriousness, the tragedy of AIDS in America."
Oldham points to other priorities such as adequate funding and ensuring that people with HIV/AIDS are involved at all levels of policy regarding the epidemic. To that end, he says he is encouraged by the potential of partnering with other agencies.
"It's a time when NAPWA is really at home with building a coalition," says Oldham, using the group's upcoming National HIV Testing Day Skills-Building Institute. "What's exciting about this is to see private sector businesses, like Gilead, giving their support. The [Centers for Disease Control and Prevention], [the Health Resources Services Administration] and the Office of AIDS Policy at the White House are giving their support."
Paul Kawata, executive director of the D.C.-based National Minority AIDS Council, at which Oldham is a board member, says coalition building is Oldham's forte. "My sense is that he's one of those directors who really tries to make things work. He will moderate and try to find the middle ground that involves the greatest number of people," says Kawata. "I'm very excited for him. [Heading NAPWA] is a huge job, but I think he's up to the task."
In the meantime, Oldham will continue to settle into his new home.
"I love the Washington area. On a personal level, I feel very much at home here. It has one of the really proud African American communities in the United States. Earnest Hopkins, Christopher Bates, Cornelius Baker — I've reconnected with them. They're heroes in fighting AIDS in the African American community, and in the gay community," says Oldham.
He adds, with a laugh, "And it's wonderful to be able to go to Annie's."