This Sunday we will know. We will know if Brokeback Mountain, a traditional unrequited love story cut from traditional Hollywood cloth but featuring a non-traditional premise will finish out an already bountiful awards season with the ultimate honor: an Oscar.
My guess is yes, though there is growing buzz that Crash, a superlative ensemble drama that employs an elaborate narrative framework to explore the theme of racism in America, will take home the prize.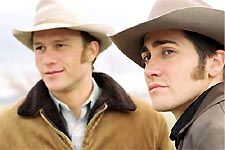 Ten gallon lo ve: Ledger and Gyllenhaal
Truth is, I wouldn't be all that sorry to see Crash win. After all, it was my choice as best film of 2005. But, on reflection, Brokeback Mountain really is the more accomplished motion picture, an intimate story told with epic sweep, acted to nuanced perfection by stars Heath Ledger and Jake Gyllenhaal, and masterfully, brilliantly helmed by director Ang Lee. The movie has emotional resonance to spare. And when you consider that it was born of a threadbare (yet potent) short story, the end product seems that much more impressive.
All in all, this is a good year for the Oscars — nearly all the movies nominated in the major categories are of the highest possible caliber. There's not a Rocky or Ghost in the mix. To my mind, it's also a fairly easy year when it comes to picking who will take home a little golden man.
I offer both my personal picks — basically, what I'd like to see win — and my best guess as to who the Academy will choose. Like I said, on Sunday, we will know. And then prepare for a virtual wagon train of gay cowboy films to emerge from the Hollywood machine. (Can't you just see it now? Man Wranglers starring Brad Pitt and Tom Cruise.)
We'll sweep aside the categories of Documentary Short, Animated Short and Live Action Short, as I've not seen any of the nominated films and picking would be akin to shooting a single minnow in a 15,000 gallon tank of water.
Costume Design — I'm going with England over Japan. My Pick: Pride & Prejudice. What Will Win: Memoirs of a Geisha.
Cinematography — A tougher category than usual — Good Night, and Good Luck, with its velvety black and white photography, could provide the upset, but my guess is that the gorgeously shot grand Wyoming vistas will reign supreme. My Pick: Brokeback Mountain. What Will Win: Brokeback.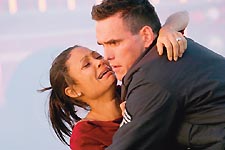 Crash
Film Editing — There's really no contest in this category, it's going to be Crash, with its deftly interwoven storylines. My Pick: Crash. What Will Win: Crash.
Sound Editing — Again, no contest. My Pick: King Kong. What Will Win: Kong.
Sound Mixing — The big monkey movie had a lot of nifty new sounds — those nasty man-eating slugs, for instance — but the Academy will pay homage to the Man in Black by awarding the crystal clear live concert tones of Walk the Line. My Pick: King Kong. What Will Win: Line.
Original Song — Dolly Parton could win with her terrific, jangly end-credits song for Transamerica. But Kathleen "Bird" York's hypnotic In the Deep — which I immediately bought on the iTunes Music Store after seeing Crash — is just too lovely and too haunting to be ignored. My Pick: In the Deep. What Will Win: Deep.
Original Score — I adored Gustavo Santaolalla's simple yet rich score for Brokeback, but the Academy loves to hand out awards to John Williams (it's rumored he's building a country home out of them). The movie maestro responsible for Indiana Jones (1, 2 and 3), Superman (1, 2, 3 and 4), Star Wars (1, 2, 3, 4, 5 and 6), Jaws (1, 2 and 3D) and the original theme from the TV series Lost in Space is nominated twice this year — for Geisha and Munich. My Pick: Brokeback. What Will Win: Geisha.
Art Direction — I'll go with black and white. The Academy will go for color. My Pick: Good Night, and Good Luck. What Will Win: Geisha.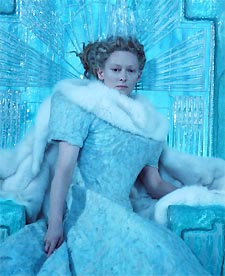 The Chronicles of Narnia
Makeup — The nomination for Cinderella Man is a joke. Ditto for Star Wars, Ep. III, whose many alien characters are now CGI-based. But The Chronicles of Narnia had a real live faun! That's right, a faun! My Pick: Narnia. What Will Win: Narnia.
Visual Effects — I'm veering in the direction of Narnia, which convinced me a lion could indeed talk (and be a messianic figure to boot). The Academy, however, will go ape. My Pick: Narnia. What Will Win: Kong.
Documentary Feature — Those adorable little penguins are a lock. Still, I'm sticking with an equally powerful documentary that explores the ability of human beings to overcome extraordinary physical obstacles and find ways to excel in their lives. My Pick: Murderball. What Will Win: March of the Penguins.
Animated Feature — All hail Nick Park, god of Claymation; he deserves any and every award that comes his way. My Pick: Wallace & Gromit: The Curse of the Were-Rabbit. What Will Win: W&G.
Foreign Language Film — All worthy entries, but a potent Palestinian drama about suicide bombers has a relevance that can't be ignored in today's combustive world. My Pick: Paradise Now (Palestine). What Will Win: Paradise.
Adapted Screenplay — Larry McMurtry and Diana Ossana worked wonders with Annie Proulx's heartbreaking short story. My Pick: Brokeback Mountain. What Will Win: Brokeback.
Original Screenplay — Repeat after me: Paul Haggis can't lose, Paul Haggis can't lose. My Pick: Crash. What Will Win: Crash.
Supporting Actress — A highly competitive category this year, but Rachel Weisz has the Golden Globe behind her, making her the odds-on favorite. Still, Amy Adams, so dazzling in the quirky indie, Junebug, could cause an upset. And then there's Brokeback's Michelle Williams, who added so much heft to the movie's tragic power. My Pick: Williams. Who Will Win: Weisz.
Supporting Actor — Brokeback's Jake Gyllenhaal deserves it, if only because his stunning performance has been perpetually overlooked as the plaudits go to his (equally deserving) costar, Heath Ledger. But it's Matt Dillon who genuinely earns it for his startling turn as a racist L.A. cop in Crash. Such a long, long ways away from Little Darlings, eh Matt? My Pick: Gyllenhaal. Who Will Win: Dillon.
Actress — As a pre-op transgender in Transamerica, Felicity Huffman brought depth, warmth and humanity — not to mention a gentle comic sensibility — to a role that a lesser actress might have turned into a surface caricature. (Still, Miss Huffman, do you really need to do those Dove commercials?) The Academy will, in this case, reward a box office commodity named Reese. And she'll get to stand in front of millions and say her piece. My Pick: Huffman. Who Will Win: Reese Witherspoon, Walk the Line.
Actor — I'm torn here. I'd love to see it go to both David Strathairn and Philip Seymour Hoffman. Both are phenomenal actors who have been overlooked for far too long and who turn in the finest performances of their careers. But if I had to choose one… My Pick: David Strathairn, Good Night, and Good Luck. Who Will Win: Philip Seymour Hoffman, Capote.
Director — To put it bluntly, Ang Lee is the best, most versatile director working in Hollywood today. Period. My Pick: Ang Lee, Brokeback Mountain. Who Will Win: Lee.
Picture — Crash could topple Mountain. But it's a pretty safe bet that, when all is said and done, the gay cowboys will find a home in Hollywood's Oscar range. My Pick: Brokeback Mountain. What Will Win: Brokeback.
The 78th Annual Academy Awards will be presented on Sunday, March 5, at 8 p.m. on ABC.