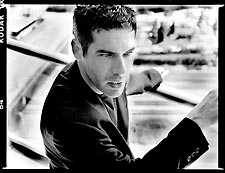 Fiddle no more: MacIssac
Ashley MacIsaac is known as a rebellious musical traditionalist, as oxymoronic as that sounds. A native of Nova Scotia, MacIsaac is a renowned singer and fiddle player whose music has more in common with punk and heavy metal than the folk or world music you might expect. But after eight albums, MacIsaac apparently feels he's already reached the limit of what he can achieve in that arena.
What does such a rebel — "the bad boy of world music" (as his new label calls him) — do next? He's already lifted his kilt while performing live on Late Night with Conan O'Brien. And the 31-year-old came out as gay with the success of his very first album 14 years ago. So what's left? Create a hard rock album. Filled with angry, edgy songs, with roots in punk, new-wave and garage rock. And caustic, explicitly gay lyrics.
Oh, and also: get rid of the fiddle.
That's right. The fiddle is nowhere to be heard on Pride. Ditching the bow and putting fingers to strings, MacIsaac shows he can strum just as nimbly with acoustic and electric guitars. The end result: MacIsaac bursts forth as an edgy gay rocker who not only demands but deserves your attention. You can't look away from his glaring pose on the album cover, on which he wears a bejeweled belt provocatively unbuckled and uses his whole body to put the "I" in Pride. And you can't not listen to the snarling attitude in his songs, in which he cultivates a sensitive hyper-masculinity.
"Time to leave you for real this time," goes one line in "Just Because," and that could stand for his message to his world music fans, though it's clearly intended as a message to his fellow gays. "You have to be this way, just because you're gay," he angrily cries out in what sounds like sarcastic disdain. With this album especially, he is rebelling against the more common route for a gay musician, since his sound is very much like Beck, Tom Waits or even Lynyrd Skynyrd and very little like George Michael, Andy Bell or Ari Gold. For one thing, MacIsaac doesn't have a pretty voice that washes over his music. His voice is ragged and raw.
And MacIsaac doesn't dance — unless it's to two-step. "Revolution" is a swaggering country-rock song, with a sweet bouncy melody and a bluesy lilt. But the title hints that there's more to the story. "You can't always get what you wish for," he sings, in obvious homage to the Rolling Stones. MacIsaac is implicitly protesting present-day activity in Iraq. "Yeah I really do hope you get back to me, but while you're gone I just do not feel free," he sings to no military official and every military official in particular.
MacIsaac does get carried away on occasion. Though it's always tuneful, sometimes his music seems a little too strained, a bit too drunk with aggression. His lyrics sometimes do too. His hard-charging gay rebel yell song "Just Because" is marred by his decision near song's end to sing a playful, colloquial put-down: "Bee-atch." It just doesn't fit the song — or the album.
A song with the traditional spelling and pronunciation of that same put-down, however, kicks off the album in grand fashion. "Bitch" also relates a common MacIsaac theme: As Andy Bell in Erasure put it decades before him, "I love to hate you." In MacIsaac's version, it becomes, "You're a bitch, so I want you / I can't help it, that's why I need you."
In all likelihood, MacIsaac could very well become the "Bitch" in your life, the kind of man whose attitude and confidence, not to mention his adrenaline-pumping music, may not be to your usual liking or flavor. And you never knew you needed it before now.
Kathleen "Bird" York has the opposite effect: she's the type of woman who may be to your usual liking and flavor, but you realize you've had enough of her type for now. In between energetic performances from Dolly Parton and especially Three 6 Mafia, York gave the pretty but lifeless performance at this year's Academy Awards. She performed her own song "In the Deep," which was nominated as Best Original Song and drawn from the year's Best Picture winner, Crash.
That song is the quietest and most lifeless on York's new debut album, Wicked Little High. But that doesn't mean the rest of the 11 songs are loud or full of life. Only an unfortunate few are. York is destined to be an easy listening/adult-contemporary radio favorite — if programmers can pay attention long enough to hear her music through. It's no easy-listening feat.
She seems to aspire most to become the happy Sarah McLachlan. Her music is slightly peppier than McLachlan's, her lyrics are uplifting, and she rarely cracks her voice to end a line in a whisper. But her voice is very similar, her music is often as slight, and probably because she's removed any of McLachlan's hard edges, it fades into the background even easier. It just flutters away.