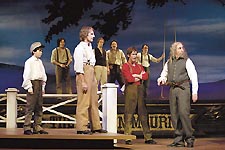 Enterprising dad: Bakula and cast
(Photo by T. Charles Erickson)
It's hard to get excited about a musical set during the American Civil War, no matter how close we live to the battlegrounds. It's well-trod territory in musical theater land, and it takes the name recognition of Scott Bakula (Star Trek: Enterprise, Quantum Leap) to command serious attention in Shenandoah, a revival of the 1975 Tony-winning show at Ford's Theatre.
Reminiscent of a young Mandy Patinkin, Bakula stars as Charlie Anderson, patriarch of a rural Virginia family caught in the clutches of the Civil War. Things are getting hairy over at the Andersons' farm, where the widowed father refuses to allow his sons to get involved in the fighting. Inevitably the clan is forced into drawing some very fine battle lines, and soldiers are no longer the only ones fighting for their lives.
Directed by Jeff Calhoun, Shenandoah walks a fine line between sweet and saccharine, never quite achieving the emotional potency of the director's sublime Big River, produced at Ford's last season. Laced with lovely harmonies and gymnastic choreography, Shenandoah features meaningful stage pictures and a full orchestra led by Steven Landau with lush new arrangements for its country-roots score.
Shenandoah
To April 30
Ford's Theatre
511 Tenth Street, NW
202-347-4833

With his scraggly hair and humble farmer duds, you actually believe Bakula is the tough and tenderhearted Pa of yesteryear. He delivers his solos with effortless and earnest conviction. As youngest son Robert, Kevin Clay all but steals the show, and Megan Lewis and Garrett Long are both fantastic as the Anderson girls, delivering a flirty "Over the Hill" and the floating lilt of "We Make a Beautiful Pair." And while he never gets to show off his superior dancing skills, Noah Racey is adorable as a nervous soldier courting Anderson's daughter.
Shenandoah manages to be a colorful treat anchored by a personal examination of our national history.
---
Regrettably, there are no axes, wire hangers, or searing references to "Hollywood royalty" in Paul Donnelly's new play Whole Against the Sky. And that's too bad, especially since at its heart lie the selfish intentions of an ingratiating mother, and actress Jean Hudson Miller could render Joan Crawford a docile lamb in comparison if given the right script to cut her fangs on.
But Miller's portrayal of a homely Cincinnati mother who crashes in on her gay son's life is the only spice in an otherwise sedate evening that effectively begins with one play and ends with another. Donnelly's domestic drama opens with an act devoted to a lifeless brother-sister rivalry, then picks up after intermission with an entirely different schematic on the dynamics between gay men and their mothers. It isn't that Donnelly lacks inspiration or insight, but his ever-shifting focus leaves the audience with an acute case of motion sickness.
Whole Against the Sky
To April 15
Trumpet Vine
3700 S. Four Mile Run Dr.
703-912-1649

We're first introduced to Jack (Jon Townson) as an impatient city mouse stuck in the trap of his mother's digs for a spell. Mom's marrying a Rush Limbaugh conservative and sister Linda (Ellie Nicoll) is in from San Diego for the wedding. The siblings lament their not-so-pleasant childhoods as they attempt to survive one night under their mother's roof. When Mom's new beau suddenly dies on the eve of their wedding, her world is shattered and she eschews any kind of emotional consolation from her children. Fast forward two years later: Mom shows up on her son's doorstep uninvited, eager to make nice and reconcile. But Jack is living with his snarky young partner Colin (David Drake), and while two's company, three's a nightmare.
There are opportunities aplenty for Donnelly to mine a gaggle of laughs with such a rich premise, but here his cast of six falters. Not only do the actors take his material far too literally, they don't manage to channel Donnelly's acerbic wit or exchange his clever barbs very well. There are many occasions when the material is better than the delivery, which often percolates at a snail's pace. Between lagging scene transitions and the misapprehension that to effectively deliver a line you must convey it s-l-o-o-o-w-l-y, it's obvious that Donnelly's talents would have better served his script than its staging.
A gifted writer with a penchant for hard-boiled realism, Donnelly delivers a powerful emotional blow at the end of the first act as Jack describes the pain from his partner's lingering death from AIDS. It's an unpredictable sideswipe that remains barely tapped throughout the play, but for a brief moment during the monologue, Whole Against the Sky is suddenly as uncomfortable as life itself.
Ultimately, Donnelly's story is defeated by perpendicular targets and not enough arrows, a frustrating, fragmented production that loses aim with exhausting stretches of exposition. It doesn't really begin until the second act, and by that point it's too late to meld together the two opposite halves into one satisfying whole.
---
Don't see The Prime of Miss Jean Brodie if you're only interested in Sarah Marshall's portrayal of the hot-blooded Scottish schoolmarm. Go for the sterling performances from Sarah Grace Wilson, Elizabeth Chomko, Mary C. Davis and Catherine Flye. Studio's clean and cold production matches girl for girl in an astute visual rendering of a boarding school in 1930s Scotland. The impassioned Jean Brodie still sways her impressionable young students toward the virtues of Fascism while romancing two very different men, and while Marshall is always captivating on stage, her Miss Brodie is a blazing eccentric rather than a "dangerous" devotee of art and literature, truth and beauty. She's no flowery Vanessa Redgrave or stern Maggie Smith, and she's already slipped on past her prime. And rather than subdue that bold discrepancy, director Joy Zinoman underlines it with an exclamation point or 20.