"It just so happens that my two most recent credits both happened to be gay men," says Jeremy Webb of his TV work. "[Law & Order] did a 'ripped from the headlines' episode about the gay governor of New Jersey. I played the governor's boyfriend. That led to another role [on SVU] where I played a psychopathic ex-con named Chocolate Jimmy. He was a real freak.
"But," he cautions, "I'm not a gay activist who's also an actor, or an actor who is also a gay activist. I want to tell great stories. I'm comfortable with giving voice to important stories within the gay community, just as much as I am with telling important stories within the world community."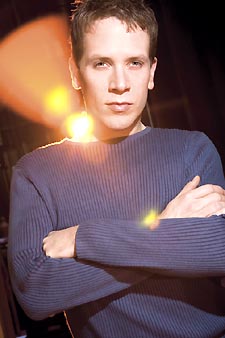 Webb
Recently, Webb landed a very different — and very demanding — role at The Shakespeare Theatre Company, as the title character in Stephen Wadsworth's critically-acclaimed adaptation of Molière's Don Juan.
"Just doing it eight times a week is a challenge," says the actor. "It's one of those huge classic roles, so there's a lot of speaking, and a lot of changing clothes and wigs. It's an all-encompassing challenge, like striving for personal best."
Armed with bedroom eyes and a dulcet baritone, Webb seems well-suited for romantic movie roles. Why, then, be out? Why not follow the Hollywood model and remain closeted, so as not to impact bankability?
"Because," he answers, "I believe that acting is ultimately about telling the truth. And I believe that's the root cause of why I'm drawn to acting. There's a hypocrisy, if you will, to being committed to telling the truth and moving people, and at the same time not being truthful about your own life.
"I think there's a great, sort of weird hardship for those [closeted] actors," he continues. "It must be more difficult for them — and painful for their lovers, friends and families — to have to hide the truth of who they are in order to succeed in this business, as opposed to just being who they are and lending that fabulous great fullness to whatever they're doing."
Don Juan runs through March 19 at The Shakespeare Theatre Company, 450 Seventh Street NW. Tickets are $14.25 to $71.25. Call 202-547-1122 or visit www.shakespearetheatre.org.