So much unexpected joy is created by Richard Clifford's fresh, frilly production of The Game of Love and Chance at the Folger Theatre that you almost wish you could step inside Pierre de Marivaux's manor-of-manners mix for just a moment, in hopes of meeting your own predestined mate.
Written in 1730 and renovated in 1992 by Stephen Wadsworth (the mastermind behind the Shakespeare Theatre Company's scintillating Don Juan), The Game of Love and Chance is a silly, cheery affair, resplendent with bright, animated characters and a spirited splash of commedia dell'arte.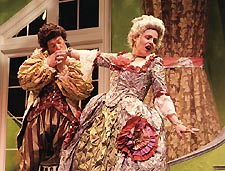 Body doubles: Peakes and Ross in Love and Chance
(Photo by Carol Pratt)
The Elizabethan stage at the Folger is transformed by set designer Tony Cisek into an impressively exaggerated receiving hall, with grand, sweeping staircases adorned in lime green and lavender. It's the 18th-century Parisian estate of a wealthy aristocrat (Timmy Ray James) and his two children. Daughter Silvia (Tymberlee Chanel) is of a marrying age and is promised to a provincial gent she has yet to meet. As a safeguard to her heart, she hatches a plan to trade places with her boisterous servant Lisette (Tonya Beckman Ross) in order to properly assess whether or not her betrothed is a true gentleman. Likewise, Dorante (Matthew Montelongo) has switched places with his harlequin (Ian Merrill Peakes) in order to properly assess whether or not his betrothed is a real lady.
The Game of Love and Chance
To May 14
Folger Theatre
202-544-7077

But the plot backfires when there is feverish chemistry between Silvia and Dorante and Lisette and Harlequin. It takes only an instant for the couples to meet and fall in love, and with "pandemonium in [her] heart," Silvia learns of Dorante's motives. Ever the prudent maiden, she insists on holding out for the promise of marriage from Dorante, all the while posing as a blushing maid.
A little delirious from all of the posturing, gesticulating and maddening wit, Love and Chance features a cascade of Wadsworth's "verbal bon-bons" and a quartet of charming performances. Chanel is exquisite as the vain sophisticate who pulls off a coup in winning over Montelongo's lovesick Dorante, while Montelongo creates a sympathetic portrait of a pining bachelor.
But the night belongs to Ross and Peakes, who know no bounds in their mischievous mannerisms. Together they are gaudy and vivacious; apart, Ross is aloof and awe-struck as the "singular marvel" object of Peakes' affections. A lively bird of physical comedy, Peakes mugs and mimics, jitters and jives all over the stage. His Harlequin may not know the cure for a case of spring fever, but the Folger Theatre's plucky production is a perfect way to usher in the season.
---
It's impossible to understand how Richard Greenberg works. The quirky and über-literate American playwright cranks out scripts — several at a time — and successfully mounts them all over the country. The prolific writer of Take Me Out, The Dazzle, The Violet Hour, and the recent Broadway remount of Three Days of Rain chose Theater J to open his World Premiere of Bal Masque, a quirky and über-literate examination of three couples who have just returned home after the "party of the century," Truman Capote's 1966 Black and White Ball.
Capote is nowhere to be found in Greenberg's esoteric work, and yet the diminutive eccentric is everywhere inside the psychology of his needy revelers. The first act opens with Greer and Trey, two older patricians with decades of marriage behind them, sipping coffee and cognac in their contrasting evening attire, masks still intact. Pretentious and coolly removed from reality, it isn't long before the two are drolly teetering back and forth between zesty zingers and the sad realization that they were humiliated at the Plaza Hotel.
Bal Masque
To May 21
Theater J
202-547-1122

Greer is a newly molted "Swan," one of Capote's pet confidantes and the quintessential belles of the ball, and her invitation was declined, forcing the pair to crash the party. Trey spent the evening under the contrived impression he was mingling with the upper crust, who turned out to be a lowly "dramatics critic from Asbury Park, New Jersey." While the two are shell-shocked after such a raw deal, fine lines and wrinkles are inspected as giant cracks and gashes in their pearls-and-Perrier relationship. Capote would be delighted.
The second act introduces two more dysfunctional couples, each entertaining the spouse of the other. Marietta, Capote's most prized Swan, aspires to be a patroness of the arts, and Owen is a Virginian painter who hopes to break in to the abstract arts scene. His wife Joanna is accompanied home by Marietta's husband, Russell, and while the two couples regale each other with anecdotes on the infamous party and test the waters for an intimate encounter, you get the nagging suspicion that the four are climbers and imposters, merely masquerading as more than what they are.
Greenberg waffles on in a gratuitous epilogue that strays from his earlier focus on the genesis of modern celebrity worship, while his more salient revelations are visible from about a mile away. It's sticky territory drenched in Greenberg's elegant language, but the story simply doesn't congeal in the style the playwright probably envisioned it could.
No worries, though, if you find yourself annoyed by Bal Masque's lack of plot. You're distracted by the Philip Glass underscore and John Vreeke's capable cast of six. Todd Scofield and Colleen Delany are riveting in the best scene of the evening, as a Mid-Westerner and a domestic housewife lost among the schmoozy New York elite; Maia DeSanti and Cameron McNary add necessary comic relief in their awkward artsy exchanges; and Brigid Cleary and Jeff Allin cast a spell as the estranged couple who open the evening under tense circumstance.
In the end, Bal Masque reveals too little, too late, leaving the author's newest contribution dangling on the precipice of discovery. It's not as though Greenberg has nothing to say — I'm convinced the man always has something to say — it's just that this time his ideas never progress beyond the page and, in the end, seem inconsequential. What he does report, in a most unusual — and sadly, ineffective — way, are the common mechanics of familiar, frozen relationships in three miserable couples who skate on the brink of isolation.
---
"This is some small consolation," joked Joy Zinoman, referring to the fact that she was denied the opportunity to audition an all-male cast in the buff for Studio Theatre's production of Take Me Out. Richard Greenberg's engaging play about a gay baseball player who announces his sexuality during a press conference tied with Woolly Mammoth's sterling production of Sarah Ruhl's The Clean House for Outstanding Resident Play at the 22nd annual Helen Hayes Awards, held at the Warner Theatre on Monday, April 17.
At Washington theater's biggest see-and-be-seen event, the Helen Hayes are presented for achievement in theatrical excellence for the preceding calendar year. Two thousand attendees cheered on Signature Theatre's Urinetown, a raucous musical that swept the ceremony with a total of eight awards, including one for openly gay director Joe Calarco and Musical Director Jay Crowder. The show about a town where its citizens must "pay to pee" also dominated the performance categories with awards for supporting players Stephen F. Schmidt (who pointed out that "It's appropriate this award will reside in the Schmidt house") and Jenna Sokolowski, and Lead Actress and Actor Awards for Erin Driscoll and gay actor Will Gartshore.
"I was gonna wear a rip-away tux," teased Gartshore, "but it was too much work." Jefferson Mays was not present to accept his Helen Hayes for Outstanding Lead Actor in a Non-Resident Production, but his grueling and graceful performance as Charlotte von Mahlsdorf, the German transvestite at the center of gay playwright Doug Wright's I Am My Own Wife, no doubt helped earn the production its award for Outstanding Non-Resident Production.
Olney Theatre Center's artistic director Jim Petosa kept the evening clipping along at a surprisingly brisk pace, setting a record time at just under two hours. "This year they decided to go with a gay Jew," waxed Rockville native Brad Oscar in a self-comparison to last year's hostess E. Faye Butler. Oscar proved a tasteful, if tame choice for "the Helens," as he dubbed them, and the only snag in the evening came during Patrick Page's acceptance speech for his sociopath Iago in the Shakespeare Theatre Company's Othello (a Supporting Actor award he tied with Rick Foucheux for Studio's Take Me Out). Page was gently booed when he innocuously compared the Helen Hayes Award to a Tony. The rest of the evening was a fairly predictable affair, other than the major disappointment that Karl Miller left empty-handed for his terrific performance in Round House's columbinus. But with his recent turn as the title character in Rep Stage's Hamlet, there's always next year.