The Lizard will shortly no longer be a king on the Sunday night scene.
After almost eight years the weekly Lizard Lounge party will close, a victim, said owner Mark Lee, of the city's impending ban on smoking in bars and restaurants. A leading advocate against the legislation, Lee has long claimed that the anti-smoking bill would be detrimental to the district's nightlife and restaurant industry, gay and straight.
"This is the end of Lizard Lounge," said Lee. The party, held at MCCXXIII nightclub in the Dupont/downtown area, will open for the final time this Sunday, April 9.
Lee announced he would close the party on Monday morning, April 3, the same day on which the anti-smoking law had initially be expected to take effect. However, the D.C. government later confirmed that the law went into effect on April 4.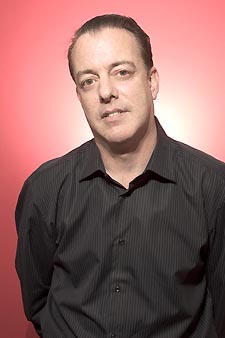 Mark Lee
Whichever date it started, now that the law is active, restaurants and some other businesses will be smoke-free outside of bar areas. Nightclubs, such as Lizard Lounge, will have one year to comply with the anti-smoking rules. Some businesses, such as Adams Morgan's Duplex Diner, have already used the new law to springboard into completely "no smoking" spaces. Others plan to wait until 2007.
Lee is the first, by all indications, to close a business as a result of the city's new law.
Said Lee: "We feel that with the looming forced imposition of a mandatory smoking ban that it no longer makes sense for us to continue to invest our time, energy and financial resources in sustaining and building that event when the known and quantifiable effects experienced in other cities that have forcibly imposed mandatory smoking bans, that we will not be able to sustain the economic impact that that will cause."
While anti-smoking activists and other advocates for the new law have pointed to other cities as examples of how businesses continue operating while banning smoking, Lee has long argued that a blanket ban will harm nightlife businesses. In particular, Lee noted a downturn in wholesale liquor businesses in New York City after that city's ban on smoking.
"The irony is that there are choices for people and there are more choices all the time," said Lee. "The marketplace produces choice. We've always maintained that."
Because he expects a downturn in drink sales and other nightlife revenue as the result of the smoking ban, Lee said he decided some time ago to bring Lizard Lounge to an end.
"Unfortunately, I've always felt with regard to this decision, there was never a question of if," he said. "It was a question of when."
Although Lizard Lounge is ending, Lee said he will continue to stage his holiday-weekend Atlas parties, themselves a long-standing part of D.C. gay social scene. Lee did not say if he would end the Atlas parties in 2007 as a result of the smoking ban, claiming he would reserve judgment until that time.
RELATED ARTICLES:
Mark Lee: Fighting for DC's Nightlife (1/8/04)
Bashing the Ban: Nightlife and restaurant supporters rally against legislation to prevent smoking in DC workplaces (1/5/06)
"I think it would be premature to suggest that you're rid of me yet," he laughed.
Asked if he was concerned his decision to close the business now instead of after the ban took effect would be perceived as a political decision, Lee said that the decision was not easy, but necessitated by what he sees as an usurpation of his ability to run his business.
"It's a very difficult decision and a very emotional decision to make," said Lee. "Does it anger me, does it sadden me that I'm confronted with these choices?… I'm certainly frustrated and disappointed and, yes, angry at a city government that continues to treat its golden goose, its largest taxpayer and its identifying business like a dog….
"I have been arguably good at my profession over the last 18-and-a-half years," he said, noting that he had taken a number of potentially risky moves, such as debuting Lizard Lounge on 14th Street years before that area's revitalization hit full swing.
"When we opened [Lizard Lounge] in June 1998, I'll tell you a lot of people thought I was out of my fuckin' mind, that I was stark raving mad," he said. "Why have I been successful for 18-and-a-half years? Because we anticipate what the community wants and what our customers want. And we've had that taken away from us now."