Like a bottle of premium champagne that's lost all its fizz, Olney Theatre Center's flat and flimsy Anything Goes manages to somehow relay all of the merry mayhem aboard the S.S. America without any of its sparkling wit and gleeful glamour. In fact, Brad Watkins' cast, with the exception of one or two bubbly performances, takes the jazz out of the jazz age with bouts of contrived staging and predictable, manic choreography that weighs in just a few notches above community theater.
Kevin Bernard is a serviceable Billy Crocker, the Wall Street flounder who works for the esteemed Elisha J. Whitney (an affable John Dow), the tycoon sailing off for 1930s London by way of Manhattan's skyline. Who else is on board the luxurious ocean liner but the nightclub diva Reno Sweeney (Karlah Hamilton) and her notorious chorus line; Public Enemy Number 13 Moonface Martin (Ray Ficca) and his moll Bonnie (Erin Driscoll); a few bishops; an array of Chinese gamblers; and a whole host of shady and shimmering hooligans. And what would a transatlantic cruise be without a little romance? So Billy is reunited with the dainty Miss Hope Harcourt (Laura Schutter), recent fiancée of Sir Evelyn Oakleigh (Karl Kippola). Thus, the plotline goes a little something like this: Lovers meet and are parted. Chaos ensues. More chaos ensues. Eventually, all is well and everyone lives happily ever after.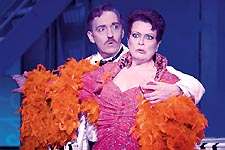 Poor Porter: Kippola and Hamilton
(Photo by Stan Barouh)
Featuring a score of some of the most beloved music of the twentieth century, musical director Christopher Youstra retards the tempo of almost every number to suit the patchy enunciation of his vocalists. The result is an evening of Cole Porter Lite.
Consider "You're the Top," one of the most joyful songs in musical theater, or how about "I Get a Kick Out of You," a playful serenade to unrequited love? The first is a heaving lyrical burden on the shoulders of Bernard and Hamilton, the second an overwrought torch ballad as delivered by a histrionic Hamilton. And what about "Friendship," that quirky little ode to bosom buddies? Since Watkins uses the 1962 version of the book and score, the ditty is sung by a bland trio with only half-hearted aplomb.
Perhaps the only thing worse than a musical that alternates between taking itself seriously and kitschy, punch-drunk moments that distract from the over the top, forced performances of the principals is the over the top, forced performances of the principals. Poor sound design is no excuse for Hamilton's deep-throated, dragalicious interpretation of Reno Sweeney, with her villainous facial expressions and creepy mother-son affections toward Billy. Sure, Reno can be cast as an older madame to a vigorous, youthful Billy, if and only if she has magnetic allure to spare. Here the chemistry between Reno and Billy fails to spark, leaving a key plot device falling flat on deck.
Schutter's Hope is a mousy, blank-faced ingénue to Kippola's swanky Sir Evelyn, while Ficca negotiates a laugh or two with his wannabe gangster.
It's Erin Driscoll, miscast in a minor part, who is like a firework blasting off during the sassy, smoldering "Heaven Hop." Her Bonnie is as cute as a button, lending a shot of carbon into an otherwise flavorless sparkler.
---
It's back to the future in Ethan McSweeny's radiant new production of The Persians. With a powerful new adaptation from Ellen McLaughlin, Aeschylus' surviving account of the battle of Salamis from the perspective of the defeated still forewarns the folly of hubris, but with bold, disorienting aesthetics and a piqued sense of irony, McSweeny successfully delineates a cold and ancient tragedy from its more contemporary counterpart.
In 75 intermissionless minutes, James Noone's hypermodern set, with its exposed lighting grids and blood-stained sand, transforms from a multi-media exhibition chamber to a barren desert upon which the conquered Persians mourn their dead. Eight Persian counselors lament the disappearance of their army led by a bloodthirsty King Xerxes (Erin Gann), while their tormented Queen (Helen Carey) waxes on about the sibling relationship between Athens and Persia. She describes her horrifying nighttime premonitions of the fall of Persia until a wounded herald (Scott Parkinson) appears with a devastating account of the gruesome, grizzly battle at Athens. Realizing the tragic mistakes of her son's emptied empire, the Queen summons her husband (Ted van Griethuysen, in long black leather) from the great beyond for guidance. He advises Persia to honor her dead, and when the disillusioned young Xerxes finally arrives home, the effects of war begin to settle with heartbreak and dread.
Jess Goldstein has fashioned a stunning gown ensemble for Carey's stoic Queen Atossa, a presentational performance tempered by van Griethuysen's slick Darius and Parkinson's articulate soldier. Gann creates hypnotic moments rich with aesthetic poetry while a diverse ensemble of elders, aided by a pair of rumbling percussionists and a sole cellist, drifts into shaky territory with strange chorus commentary (think Xerxes! The Musical). Their brief melodic interludes are serve as mild diversions in McSweeny's self-assured production, an astonishing work of stylized stagecraft and solemn political discourse.