JANET'S NOT "CRAZY IN LOVE"… We should hear a new single from Janet Jackson within the next month, or months in advance of Jackson's next album. But the single won't be a high-stepper, or at least it won't be the high-steppers that those still getting their music illegally may have heard recently. Jackson tells Billboard that several tracks she recorded a couple years ago have been leaked online, including one called "Put It On Me." But none of those tracks will be featured on her new album, she told the magazine. She obviously decided against working with those tracks' producer, Rich Harrison. And all we can say is: too bad.
Yes, it's great to hear that her latest album will refer back to her breakthrough album, Control, released exactly 20 years ago. In fact, her latest album, due in late September, will be called 20 Years Old, a direct reference to Control. It's also an acknowledgement that her career has reached a level of maturity matched by few others, as well as the fact that some Janet fans, barely 20 years old themselves, can't even remember a time when she was just the youngest Jackson, or Penny from Good Times. Makes you feel old, doesn't it?
It's also great that Jackson is still working with her longtime collaborators Jimmy Jam and Terry Lewis, in addition to her boyfriend, Virgin Urban president Jermaine Dupri. But while it's possible that they've cooked up some spicy sweet goodness, the likes of which Jackson hasn't served up in years, Rich Harrison would have surely done the job. Don't recognize the name? Well, the Maryland native and Howard alum Harrison, working as Richcraft, created Beyonce's "Crazy in Love," Amerie's "1 Thing," and future hits from the likes of Missy Elliott, Toni Braxton, and the Pussycat Dolls. Based on every production I've heard from Harrison pairing his distinctive big, brassy, bouncy sound with a female R&B vocalist, I'd call Harrison among the best R&B producers working today. Let's just hope Jackson can coax out some classics from Jam & Lewis, who at least can say they were yesterday's best R&B producers….
"CRUSH"WORTHY NEWCOMER ANNIE… The Norwegian singer Annie Lilia Berge-Strand, who records simply as Annie, gained a stateside cult following, particularly in the gay community, with the release last year of her bubblegum pop debut Anniemal. The album, with tracks from fellow Norwegian synth-poppers Royksopp and British electro-electronica producer Richard X, made multiple musical references to '80s acts, and hinted that Annie could be the second coming of Madonna.
Less than a year later, like a good Madonna acolyte, Annie doesn't want us to forget her. She may be still recording tracks for her follow-up album, but she hopes to have it released asap, and by the end of the year. "I'm in a hurry," she told MTV.com, adding, "The new songs are more club-oriented, still '80s-sounding, but different." Chances are good we'll finally hear her in the clubs, something that was only promised last time out, but never delivered. Her cute and springy first single "Heartbeat" was remixed by The Scumfrog, and yet barely a beat was heard.
For her new, untitled set, Annie is planning to work with Alan Braxe, a French remixer who as part of the trio Stardust (also including half of Daft Punk) created one of the biggest dance hits of the past decade, 1998's "Music Sounds Better With You." She's also working again with Richard X, with whom she got the ingenious notion to cover "Two of Hearts," the '80s hit from one-hit-wonder Stacy Q. First up will be an original composition "Crush," to be released as a single this summer….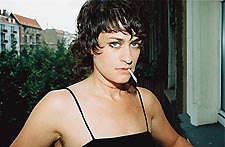 Peaches
PEACHES TALKS OF "BUSH"… Merrill Nisker will return this summer to the gutter-mouthed, garage-punked and raunchy electro rapper/singer shtick she's cultivated with modest success as Peaches. Her third album will be released July 11 — and its title, Impeach My Bush, seems to be more than just a taunt to an ex-lover or a hater, and more than just a clever play on words. Though not obvious from the song titles that have been reported — doozies such as "Tent In Your Pants," "Two Guys (For Every Girl)" and "Hit It Hard" — the album title at least suggests the set will include some political fire aimed at the current American President. And so does the Berlin-residing Canadian's recent activism. Peaches performed alongside R.E.M.'s Michael Stipe, Rufus Wainwright, Moby and Fischerspooner at last month's anti-Iraq War benefit concert, "Bring 'Em Home Now!" in Manhattan. She also pleads on her Website for people to protest the president's opposition to stem cell research, explaining that her sister has an advanced case of multiple sclerosis, and the research offers some hope for a cure.
The album looks like it could be her most appealing yet, and possibly her most popular, considering that she's collaborated with Joan Jett, and Queens of the Stone Age's Josh Homme and Leslie Feist. Peaches hasn't really had a hit since her very first single, "Fuck the Pain Away." In advance of the album, Peaches will tour with what Pitchfork Media calls her "sleazier-than-thou live act." Joining her on the tour: JD Samson, the lesbian member of feminist post-punk trio Le Tigre. Unfortunately, the closest Peaches will come to our Bush is Pittsburgh, on June 30….