There was a full house of about 150 people in the Human Rights Campaign's Equality Forum space April 5. It was a "who's who" of gay D.C. — and then some — with Brett Parson of the police's Gay and Lesbian Liaison Unit, former Whitman-Walker Clinic head Cornelius Baker, and HRC's Candace Gingrich, for starters. City Councilmembers Kathleen Patterson (D-Ward 3) and Phil Mendelson (D-At large) were there, along with Council hopeful A. Scott Bolden. And that's before even mentioning the 14 panelists.
Local celebrity took a back seat, however, to the real crux of the evening: the plight of queer youth in Washington. Here, it was the stories that provided the most compelling moments at the forum.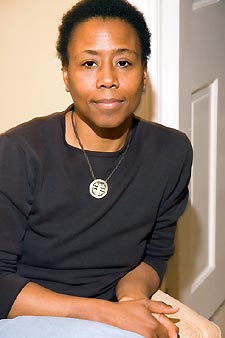 Darlene Nipper
(Photo by Todd Franson)
Craig Bowman, executive director of the National Youth Advocacy Coalition (NYAC), told the audience about the young woman who died while he was heading the Sexual Minority Youth Assistance League (SMYAL). It was years ago, shortly after the Washington Post profiled the group. This young woman's parents read that profile and made a note to pass along the article to their daughter, whom they thought could benefit from SMYAL. But she committed suicide before they showed her the article.
Ruby Corado of "Latin@s en Accion" shared the story of a young El Salvadoran immigrant she knew. In America, he came out as gay. But leaving the closet presented a new set of problems for this young man. "He got involved with substance abuse and he became HIV-positive," said Corado. "The pressure was so hard, so difficult, he took his life at 17-years-old, jumping off the Calvert Street bridge."
Earline Budd of Miracle Hands, formerly of Transgender Health Empowerment, expressed her frustration with tears, relating the story of a young client who recently became HIV-positive. "He sat before me and said, 'It's okay,"' Budd said, explaining how this 18-year-old man was infected by a man 16 years his senior, whom he continues to date. "It's not okay with me. Â… This is not the time to be afraid. We have to stand for what's right."
From the tight schedule of panelists, through the question-and-answer session, the event — called "Confronting the Crisis," the same name of the SMYAL report presented that evening — offered a list of the challenges faced by D.C.'s "lesbian, gay, bisexual, transgender and questioning youth, especially youth of color," and suggested what might be done to counter those challenges. The list of panelists, moderated by Justine Love, host of WPGC-FM's "Love Talk and Slow Jams" show, moved from affected youth, to their advocates in the trenches, to those with power — or seeking power — to make a difference in this particular slice of D.C.
Christopher Barnhill, an 18-year-old SMYAL youth, complained that by the time he graduated from the D.C. public school system last year, he had still not heard open dialogue in the schools about HIV and STDs. Lisa, a 16-year-old student in the district who declined to give her last name, said that during her public-school career, she was never told by school administrators of policies that forbid sexual-orientation discrimination. "I'd like to see this policy promoted on behalf of my peers," she said.
Suzanne Greenfield of the D.C. chapter of Parents, Family and Friends of Gays and Lesbians (PFLAG-DC) lamented that her group's recent sensitivity training at Lisa's school had not met with more success, in light of Lisa's report of an effeminate friend's harassment. Xanthia Johnson, a licensed graduate social worker who treats SMYAL clients, said there is a need for more free counseling support for the district's sexual minority youth, citing the low-self esteem, depression, post-traumatic stress disorder, isolation and such that she treats in her patients. SMYAL staffer Victor Q. Price said that SMYAL's drop-in center falls short of the need for alcohol-free venues for sexual-minority youth socializing.
Beyond venues for socializing, Rob Woronoff of the Child Welfare League of America called for emergency housing specific to queer youth. It was a call made several times during the course of the evening. Darby Hickey of Different Avenues called for more resources — and fewer arrests — to help those young people who have turned to "survival sex" on the streets to get by.
Darlene Nipper, director of the Mayor's Office of LGBT Affairs, was the first to speak from inside the city bureaucracy. While applauding the release of the Confronting the Crisis report as a "major, major step," she also pointed out that those in the community — and in the room — could start taking steps themselves to help queer youth. Nipper and her partner, for example, have informally adopted a young lesbian who needed support. While reminding everyone of their right as citizens to tell the bureaucracy what to do, she added, "Being a part of a community takes responsibility. Â… Each and every one of us has a responsibility and a role."
Michael Brown, the first of three mayoral candidates on the panel to speak, forcefully charged that the district has not done enough to control HIV. "Our city has slept on this issue," he insisted. "Forget No. 1 in the country — We're No. 11 in the world. Â… Forget the United States — we've blown the other cities away."
City Councilmember Adrian Fenty (D-Ward 4), also a mayoral contender, made three points. He called for better education in the school system regarding diversity; shelter for homeless GLBT youth; and improved public health care.
The last to speak was Marie Johns, also a mayoral hopeful. She took a more emotional angle, concluding, "This is a 'heart' issue. Â… These issues are not new for me. What they cry for is new leadership, new ideas, and heart."
At the end of the SMYAL forum — sponsored by the National Black Justice Coalition, as well as HRC, NYAC, and about two dozen other community organizations that signed on as supporters — audience members offered a wide range of suggestions and concerns. One suggested that teaching GLBT youth yoga would help them manage stress, while tai-chi would help them to defend themselves. Another wondered how schools would be able to guarantee a safe-space for GLBT students, while not infringing upon homophobic students' right to free speech. City Council candidate A. Scott Bolden generated the most discussion with his question, "How do we get the churches to be more tolerant, to be partners?"
Several panelists answered, including Johns. "This is a very important question. Â… This issue has so many questions, particularly in the African-American community. The silence of the black church is killing us. I love Jesus, but Jesus made all of us."
Though the forum was not called for the purpose of constructing some definitive plan of action, it did suggest two simple ways that anyone could help improve the situation for GLBT youth in D.C. One is to help disseminate copies of SMYAL's Confronting the Crisis, available at the group's Web site, www.smyal.org. The other is to write a check in support of any of the organizations already doing the work on behalf of this demographic. As Bowman pointed out, with spring and its attendant warm-weather festivities coming near, "You're going to get a haircut and a new outfit." He asks that you include the kids in your budget as well.