Like many of life's little luxuries, from a great glass of wine or a beautifully made suit, the Washington National Opera's production of Donizetti's L'Eisir d'Amore (The Elixir of Love) offers immediate sensory gratification without so much as a whiff of the hard work it took to conceptualize and perfect it. This is a polished whirlwind of superb singing and wonderful theater made to appear utterly effortless. Everybody seems to be having a good time, from the front-and-center leads to all the members of the chorus, whether up in a balcony or tucked into the furthest corners of the set.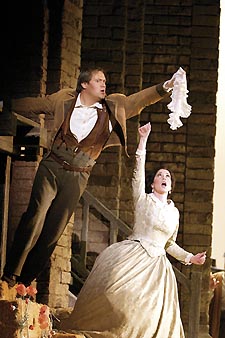 Mind the hanky: Groves and Futral
(Photo by Karin Cooper )
What is fascinating, of course, about this fine production is that there was indeed something of a wrinkle in its preparation: Director Stephen Lawless felt it necessary to publicize the fact that he did not approve some changes made to the production after a scheduling conflict removed him from immediate directorial control. Despite the promise of controversy inherent in such a declaration — was Act II to be sung completely in the nude? — no meaningful dents mar the integrity of the production. This version remains utterly in keeping with the true nature of Donizetti's opera, a beautifully rendered romantic comedy ripe with opportunities for superb acting and singing.
And that is exactly what we get. The four leads are extremely well-rounded performers. Not only do they sing wonderfully, they all also have very well-matched acting and comedic talents, making for a snug, dramatically air-tight evening of fun and pathos-lite. Among all of the excellent performances, the two standouts are soprano Elizabeth Futral as Adina, the feisty universal love interest, and Steven Condy as the traveling salesman Dr. Dulcamara.
Futral has a most agile voice delivering much sweetness in the higher registers and a subtlety of expression that she can pour forth on demand. In her stage demeanor and sculptured good looks, she brings to mind a thirtysomething Jane Fonda, a nobody's-fool heroine with a brain and a bit of composure. Remarkably, she is nevertheless very convincing when she suddenly begins to see her prime suitor Nemorino — a heretofore ungainly peasant — as marriage-worthy material. This is the kind of emotional about face that rarely passes muster in the realm of opera yet she pulls it off.
Baritone Condy gives Dulcamara a lot of dimension, making his snake-oil salesman a nervous, expressive character, along with all the visual humor one expects to see, deftly transcending the stock portrayal of such roles. His rapid vocal delivery in the patter sequences is deadpan and hilarious, while his lovely mellow baritone remains most easy on the ears (though it could not always be heard over the full orchestra).
Also wonderful is Marc Barrard as Sergeant Belcore, the vain interloper who serves to ignite Nemorino's jealousy and determination to win Adina. Like Condy, Barrard takes a stock comedic role and makes it his own. Fresh and fun to watch, he looks relaxed and seems to relish the silliness of the character. His hearty baritone is a nice counter-point to Condy's.
And then there is tenor Paul Groves as Nemorino, the ardent and increasingly desperate villager who, almost by accident, finally wins his lady. If Futral recalls Fonda, Groves at times recalls Robin Williams, especially during the role's energetic slapstick moments. He sings technically well and at times with a pleasing, lusty abandon, but his voice tends to lock into a rather jagged and distracting vibrato. Still, his superb job with Nemorino's lovely aria, "Una Furtiva lagrima'" brings the house down.
Emmanuel Villaume conducts the orchestra with a fluidity that completes the cohesive circle of this production. The choreography and sets remain nicely understated and yet dotted with thoughtful detail, providing a gentle pastoral feel to the quiet moments and easily transforming into the center of a lively and intimate village life from long-ago. If you are in the mood for a little luxury — an operatic confection, as it were — then have a glass of excellent wine, put on a beautiful suit, and enjoy L'Elisir.