"I'm following in the footsteps of Judy Garland and Ethel Merman and all the greats," says Amy Armstrong, about her career performing cabaret.
"They all drank."
Armstrong's also as much a comedian as a singer — she notes that drinking while performing helps because "When I'm drunk I talk a lot" — and her stage shows are as much about comedy and good humor as they are about the showtunes, jazz and blues standards that she and her pianist and musical director Freddy Allen perform as Amy & Freddy. Toss in some favorite pop tunes from the '70s and '80s and, Armstrong notes, "It's kind of like A.D.D. cabaret."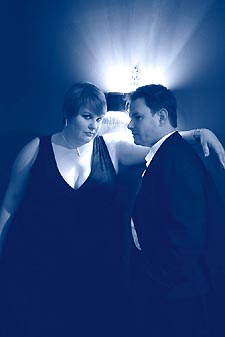 Armstrong and Allen
"People say [cabaret is] a dying art," she continues. "But I don't think it is." Certainly not when it's this fun. The Chicago-based duo regularly intoxicate audiences at gay resorts up and down the East Coast. They're also regulars on RSVP Cruise Lines, serving as the gay cruise company's Entertainment Ambassadors for 2006. The Chicago Tribune raved about their recently wrapped first theater production, Inside Amy's Mind, which Armstrong calls a "Carol Burnett meets Judy Garland kind of show" with comedy sketches and music.
In addition to performing again for Chicago Pride later in June, the month also marks their Capital Pride debut, where they will perform at the Festival and serve as this year's Parade Grand Marshals.
"I've never been a grand marshal," says Armstrong, who is, like her role models Garland, Merman and Bette Midler, actually straight. "I think that's so great. I'm so excited to represent gay pride. I love the gay boys, and they love me. They take care of me."
"They do," interjects Allen, who is gay. "And I'm not being biased: Margaret Cho has nothing on Amy. Amy's very funny and she's a beautiful woman and she has a killer voice. Whenever Amy takes the stage, she commands the audience's attention."
"I totally paid him for that," Amy jokes, before burping a hearty laugh.
Amy & Freddy will serve as Grand Marshals for the Capital Pride Parade, Saturday evening, June 10 and will perform on the Capital Pride Festival Main Stage, Sunday, June 11, at approximately 3 p.m.