Stop me if you've heard this one before: An Irishman, an Englishman and an American are kidnapped and tossed together in a dark and dirty prison cell in Beirut…. Oh wait, that doesn't sound very funny at all.
It may sound like a contrived set-up for a politically incorrect joke, but Frank McGuinness's Someone Who'll Watch Over Me is, unfortunately, grounded in factual history. "Loosely based" on the true story of Brian Keenan, an Irish educator held hostage in Beirut, Lebanon for over four years, McGuinness's fictional drama earned a Tony nomination for Best Play in 1993, just a few years after Keenan's release.
During his captivity, Keenan was held with several other hostages, including American Terry Anderson. McGuinness re-imagines the daily reality for these men struggling to reclaim their humanity while living like beasts. It could be a tale of how they rip each other apart in displaced fury, but McGuinness digs deeper to understand how three men could survive in such desperate conditions.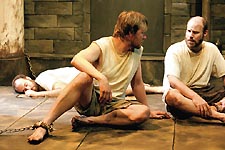 Baldwin, Via and Janson
(Photo by Shymanski)
Edward (Dan Via) is the Irish journalist at the center of the story, and he passes the time by telling jokes and trading memories with Adam (Christopher Janson), an American doctor from California. A third body is imposed upon them, this time a dainty English professor from Peterborough (Cecil Baldwin), and their first advice for their new cellmate is to laugh away the tears. The three suffer through the endless hours by filming imaginary scenes and attributing them to famous directors, mixing invisible drinks at a fully stocked bar, reenacting Wimbledon matches and composing letters home in their heads. But familiarity always breeds contempt, and their delicate balance is disturbed by the need to release frustration in tense moments of internal conflict.
Director Christopher Gallu takes his time ironing out his characters in the first act, but as the action moves toward McGuinness's resolution, he doesn't allow crucial moments to fully blossom. As a result, much of McGuinness's subtext is left untapped by actors who are more than capable of delivering it.
The audience is held captive by Via's impulsive Irishman, the sort of restless, brooding chap who juggles a bottle of whiskey in one hand and a pen in the other. Whether he's lamenting the boredom or regretting that he doesn't really know his kids back home, Via explores the alternating fits of grief and rage felt by a man caged against his will. Janson and Baldwin provide meaningful snapshots of emotion, though Janson hasn't quite settled in to the psychology of his helpless doctor. Baldwin is more successful with his human rendering of Michael, the widowed etymologist who neatly declares, "I could murder a cup of tea."
Someone Who'll
Watch Over Me
To June 10
Catalyst Theater Company
$10
1-800-494-8497

Alexander Cooper's dismal set, a convincing depiction of a Middle Eastern prison cell with winding corridors and dark, suffocating walls, is one of the most impressive designs conceived inside of Catalyst Theater's tiny black box space.
The punchline never comes in McGuinness's grim and realistic account, but Someone Who'll Watch Over Me delivers a harrowing reminder of the unseen and incomprehensible suffering inflicted on innocent lives.
---
Faust goes punk in a twisted new adaptation of Johann Wolfgang von Goethe's classic fable of good versus evil. As presented by those sinewy, writhing bodies of Synetic Theater, Dr. Faust is a haggard, homely wonk in need of more than just a pact with the Prince of Darkness. Greg Marzullo's good doctor drips his blood on the dotted line and poof! — it's time for an extremely eXXXtreme makeover, from grisly old coot to hot young club kid in just… well, let's just say it takes a while.
Faust
To June 18
Synetic Theater
$15-$35
703-824-8060

That's the wacky conceit in Paata Tsikurishvili's wildly entertaining production, an eccentric amalgamation of gothic nightmare (picture Frankenstein on acid) and hip dance hall hell à  la Rocky Horror. Tsikurishvili and his choreographer wife, Irina, have a knack for manipulating classic texts to fit their artistic mélange of dance and pantomime, music and movement to create an inimitable brand of theater. Their Faust is an intensely physical play of bloodlust and erotica that flows seamlessly from one scene to the next with an orgy of players who destroy many a volume of literature and expose full flanks of flesh while tangling themselves together in a great big sweaty soup.
Here Dan Istrate's devil is a menacing little imp, an absurd clown, a madman surgeon who dons a leather trenchcoat and packs a remote control. That's right, Mephistopheles manages the underworld and all its power with the simple push of a button or two. And so he controls the fate of Faust and his love interest Gretchen (Irina) from the set's centerpiece, a standard white bathtub that lives a seedy life of its own under moody lighting from Colin K. Bills.
Istrate gives a command performance alongside Marzullo's bracing, powerbod Faust (apparently Satan can grant a cumulative one-percent body fat). Anna Lane shines as an undersexed housewife who gets naughty with Istrate.
Who knew Faust was ripe for a throbbing house mix? With original music from Aaron Forbes and help from Irakli Kavsadze, the Tsikurishvilis spin an ingenious new soundtrack for the work. And as with most of Synetic's productions, the less dialogue, the better. Irina's choreography communicates all we need to know. Sure, some of the scenes are a bit overdrawn, but trust me, you never knew you could do so much in a bathtub.