For 25 years, the Gay Men's Chorus of Washington, D.C. (GMCW) has been fulfilling a mission "to entertain through excellent musical performance, to affirm the place of gay people in society, and to educate about the gay experience." Since 2004, the GMCW has also recognized those who share this mission in some noteworthy way with Harmony Awards.
This year the chorus will mark its 25th year with its annual Spring Affair, including a special "Honoring Our Past, Celebrating Our Future" tribute, where this year's four Harmony Award winners will be honored.
"There will also be a special video presentation," says GMCW marketing manager John Sykes of the special tribute at this year's gala, which will feature scenes from past concerts, footage of the chorus' early days and interviews. "It's kind of a mini documentary. It's really cool, actually."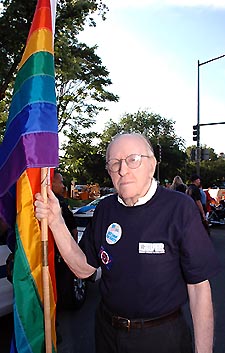 Frank Kameny
(Photo by Randy Shulman/File photo)
Unfortunately, one honoree will also be appearing by pre-recorded video. Harmony recipient Frank Kameny, pioneer of the modern gay civil-rights movement, will be in Minneapolis during the ceremony.
"It's one of these irreconcilable conflicts," laments Kameny, who will be speaking at an academic symposium focusing on GLBT archives. The symposium organizers simply beat the GMCW to the punch. "Rick Rosendall will accept for me. He has a speech prepared. He's been over here to record a very brief interview with me."
Kameny also regrets that he may have missed his chance to have the chorus sing him a round of "Happy Birthday," as he'll be turning 81 on May 21, the day after the affair.
"I'm genuinely sorry," says Kameny. "They present the kind of events which attract large numbers of people. They've helped to create part of the crucially important sense of community. I've always been strongly supportive of the chorus."
While Kameny sends his regrets, the remaining three honorees — David Streit, Food & Friends, and long-time partners Carl Baldwin and Gary Turner — promise to be in attendance.
"I can promise that I won't sing," jokes Craig Shniderman, executive director of Food & Friends, an organization delivering food to more than 1,000 ill clients and their families in the metro area. "It would be punishment to those nice people." Kidding aside, Shniderman says Food & Friends is grateful for the honor, which comes on the heels of a Leadership Award from the National Gay & Lesbian Task Force earlier this month.
"We're very appreciative. I wouldn't make a comparison [of the awards]," he says, adding that Food & Friends President Robert Hall III is a member of the GMCW. "Certainly [the Harmony Award] is a recognition of our work, but beyond that it's a recognition of the values of Food & Friends — of inclusiveness, of how we work with clients, staff and volunteers.
"While the chorus is artistic and cultural, and Food & Friends is health- and service-oriented, the chorus is by definition a part of the gay community. And Food & Friends was founded in the gay community and remains committed to the gay community. In that sense, we're of the same community…. The values of Food & Friends and the values of the GMCW are the values of democracy at its best."
In the cases of Baldwin, Turner and Streit, the chorus is honoring its own.
Baldwin and Turner have been together since meeting at the University of Georgia 22 years ago. They've been with the chorus nearly as long.
"We moved up here in '86," recalls Baldwin. "In the spring of '92, we were invited by some friends to a [GMCW] concert. I had been a singer all my life. I started in the church choir and all of that, and sang all through college. I missed that artistic outlet in my life. I immediately knew I needed to do this."
Baldwin says Turner was content to spend quiet time at home as a "chorus widow." That wouldn't last, however. The chorus was not about to let Turner's creative talents go unexploited. "There was a need for some production work to be done," says Baldwin. "And Gary is extremely creative [and] artistically talented." Turner was drafted from chorus widow to, eventually, executive producer, turning the couple's home into prop, set and costume central. Turner earned the unofficial title "facilitator of fabulosity."
Baldwin says the level of the couple's involvement over the yeas has been immeasurable. "For the last 15 years or so, it's been the primary source of our social interaction," he explains. "The majority of our friends are either from the chorus, or, oddly enough, friends from outside the chorus who have joined. It's been a huge part of our lives."
Such a big show of appreciation from their friends is "wonderful," says Baldwin, who adds, "although I so appreciate being honored, what matters most is being in that energy, that place with the brothers who sing with me. That's what it's about."
Similarly, honoree David Streit, says that above all else, he appreciates the sense of community he finds as a member of the chorus.
"We always joke about the chorus being all-encompassing," says Streit, who has held a number of administrative roles with GMCW, including six years on the board. "It wraps you up and keeps you. It's a major involvement. You sort of get hooked on it. You love the show part and the family part of it."
Like Baldwin, Streit is touched by receiving an award from a group he considers his friends.
"It's coming from the people I've been with for years and years," he says. "We really are a family."
The GMCW's Annual Spring Affair takes place this Saturday, May 20, at the Hyatt Regency Washington on Capitol Hill. For more information, visit www.gmcw.org or call 202-293-1548.