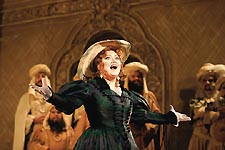 Captivating: Borodina
(Photo by Karin Cooper)
Bubbly buoyancy brings the Washington National Opera season to a close in a nicely-conceived high-energy production of Rossini's L'Italiana in Algeri. This irreverent tickler delivers just about everything one could want from a good comic opera — lots of wit, a bit of slapstick, plenty of gently non-PC ribbing, and some gorgeous arias.
Filling the rich and fizzy confection is an ensemble of fine performers with an array of strong, well-matched voices. Leading the pack is the golden-throated, mezzo-soprano Olga Borodina, who takes complete control of her role and the stage as man-eating Italian Isabella, a woman who's been taken captive by an Algerian potentate and all-around buffoon called Mustafa. Borodina sings her Rossini with full-on power. And yet her tone stays true and velvet smooth. An operatic archetype, Isabella is part harridan, part enchantress, part hustler. Borodina plays her to the hilt without ever losing her likeability.
Bass Ildar Abdrazakov as Mustafa (and Borodina's real-life husband) is extremely well-cast as Isabella's larger-than-life suitor. Borodina's commanding stage presence needs a counterweight and Abdrazakov provides it handily, never stealing her thunder. And yet when the moment calls for it he is singularly hilarious. He has a lot of fun singing the role, too, moving easily between musicality and vocal hijinks. Another strong member of the troupe is Bruno de Simone, who plays Taddeo, another captured Italian that Isabella has kept around while she searches for her true love, Lindoro. De Simone isn't often at center stage, but his hard work everywhere else is one of the reasons the production flies along so skillfully. He possesses a nice solid baritone and a full understanding of opera buffs.
And then there is Juan Diego Florez as Lindoro, Isabella's boyfriend previously captured and enslaved by Mustafa. Once Isabella appears, silliness abounds as the lovers try to escape the potentate and his elaborate plans for them. Florez is currently being hyped as a heartthrob tenor possibly eligible for crossover appeal. There's no doubt he has a strong self-confidence, ease on stage, and a sense of showmanship. However, truth be told, in his first powerhouse aria, some of Florez's higher notes danced right to the edge of — dare I say it? — stridency. His is a crystal-clear tenor, a liquid and dramatically intense sound, and it is obvious what all the fuss is about, but at the same time the balance is delicate. Later, perhaps as opening night nerves eased, the harder edges disappeared and Florez delivered some delightfully subtle and brilliant high notes. His Lindoro was a tiny bit overshadowed in the presence of Borodina's star-shine, but when he was alone on the stage, he held the space compellingly.
Another singer who struggles somewhat with the larger personalities is soprano Lyubov Petrova as Elvira, Mustafa's long-suffering wife. Her sweetly lyrical voice trills like a lovely bird here and there, but her performance is out-of-step with the bigger characters. She seems more like a shy pre-teen daughter dropping in on a grown-up dinner party. Mezzo-soprano Leslie Mutchler as Zulma, Elvira's handmaiden, has more of the idea and injects quite of bit of good comedy into a small role.
L'Italiana in Algeri
Kennedy Center Opera House
May 18, 21, 24, 26, 30 and June 3
$45-$270
202-295-2400
www.dc-opera.org
Director David Kneuss guides these talented performers into a fast-paced and very funny frolic for the senses. Other than a lull in the second act for a spasm of Italian patriotism and the ceremonial ridiculing of Mustafa, which doesn't quite work, there are countless giggles and outrages along with the joyous complexities of Rossini's score.
Finally, mention must be made of conductor Riccardo Frizza who artfully leads the orchestra with a touch as light as the evening requires, and the men's chorus who turn some truly grotesque costuming into something funny and almost charming. L'Italiana in Algeri is a delightful farewell from an interesting season. It's worthy of opera buffs and the curious alike.