Ranging from alarm to hope, a panel of D.C.'s black gay leaders strove to outline what they saw as the state of their community as part of a town-hall forum hosted by the D.C. Coalition.
Coalition President Brian Watson says he hopes the forum, held last Thursday, April 27, will be the first in a series of town-hall meetings. For this first installment, the discussion focused on "The State of the Black Gay Community" for an audience of about 100.
Before the forum began, the pre-event meet and greet took on a distinctly political flavor, as City Council Chairman and mayoral candidate Linda Cropp shook hands, while representatives from other mayoral campaigns did the same. A. Scott Bolden, a candidate for City Council, also greeted attendees as they entered the gracious, high-ceilinged forum space. Councilmembers David Catania — applauded often during the event for his work to secure city funds for the transgender community — and Vincent Gray were also present.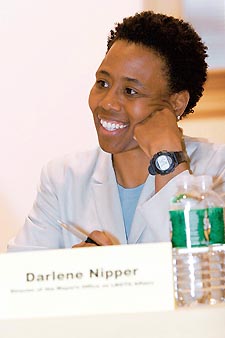 Darlene Nipper
(Photo by Rudy Lawidjaja)
At the start of the forum, Watson welcomed attendees, pointing out that so many interested people came to an event that was promoted primarily through word-of-mouth and community fliers.
"This is a very grassroots effort," he said.
Noting that a number of people had asked him in the days leading up to the event why such a forum was necessary, Watson said that he believed the community had "gotten a little complacent." But, he noted, too much can't be expected from just one forum.
"We're not trying to solve D.C.'s problems tonight, but we are trying to start a dialogue and a lay a foundation," he said. "Please leave here tonight ready to do the work."
Co-sponsoring the forum with the Coalition were D.C. Black Pride, Women in the Life and Us Helping Us. Panelists for the event were Christopher Bates, acting director of the U.S. Office of HIV/AIDS Policy; Sheila Alexander-Reid, founder of Women In The Life (WITL); Toni Collins, board chair of Transgender Health Empowerment; Rev. Kenneth King, minister of worship and intercession at the gay-affirming Covenant Baptist Church in Southwest D.C.; Leo Rennie, of the D.C. Department of Health Services HIV/AIDS Administration; and Darlene Nipper, director of the Mayor's Office of LGBT Affairs.
Ranging from alarm to hope, the panelists — and the questions that followed — hit upon HIV/AIDS in the community, homophobia in African-American churches, substance abuse, coming out, and self-empowerment — and that was just for starters. The range of topics gave immediate impetus to Watson's call for a future series of topic-specific, town-hall meetings discussing the district's black GLBT community.
"We are a diverse community with a lot of issues affecting us," said Bates, who jokingly labeled himself an "old dinosaur sissy."
"HIV is only one [issue]," said Bates. "Many a sissy and transperson who is homeless is walking the streets of Washington, D.C. [In church], we've been rejected, denied or turned away. We've heard them say the most heinous and disgusting things about us."
Bates also pointed to same-sex marriage, mental health, domestic violence, housing and alcoholism, as issues affecting D.C.'s GLBT African Americans.
Like the other speakers, he concluded with hope: "This town of Washington, D.C., has always been transcendent…. We have a long legacy that should not be forgotten, that we should stand upon."
The speakers to follow largely struck the same notes, sharing the problems they see in D.C., followed by optimism by how things might improve. Alexander-Reid offered particular insight into the lesbian community, Collins into the transgender community, King into the faith community, and Rennie into the disproportionate toll HIV has taken on gay, African-American men.
Nipper, who aside from her work with the mayor is training to become an ordained minister, marshaled her new skills as the final panelist.
"I have a problem. I get so emotional. I get so full when stuff like this happens," she said passionately, allowing one to easily imagine her in ecclesiastical robes, rather than her smart, cream-colored business suit. "The local government works for you!" she continued, after sharing her history with addiction, and calling for more attention to behavioral and mental-health issues. "If you don't tell us what to do, we'll run amok and do whatever the hell we want to do…. You have the right to go to these people and tell them what you expect and what you need.
"A unified community is a strong community," she concluded. "Hate cannot be fought with hate. We know that. Only love can stop hate."
Though Nipper's comments injected the evening with brief wave of joy, questions from the audience returned the crowd to a more pragmatic perspective. With an apparent eye to the current City Council and mayoral races, there was concern that no black gay candidates were in the running. It was pointed out, however, that longtime activist Philip Pannell, is running for D.C.'s "shadow" Senate seat.
Why should same-sex marriage be a hot topic among GLBT African Americans when there are so many other pressing health and socioeconomic issues, another asked. Audience members were also concerned with confidentiality in HIV testing, and black pastors in the city taking publicly homophobic stands. How do you stop infighting in the community? What's the secret to getting more GLBT African Americans to come out, to join the fight?
As facilitator Tommy Jackson read the questions to the panel, he paused to interject his own sentiments. "The thing we don't do well is celebrate the stuff that we do do well," he said, scanning the room and offering the forum itself as proof of progress. "Look at what's happening in D.C. today. Celebrate yourselves."
While the organizers have shown they can draw a respectable crowd for this first event, the true test may be whether they have created enough momentum to spur an ongoing dialogue. Moderator Keith Jackson urged attendees to ignite that fire as they emptied the hall.
"Please leave her tonight empowered," he asked. "When you get on the phone tonight, tell them you got something good out of this."