"For all my life," Ariel Aparicio sings in a raspy voice, "I wanted to be in a cool as fuck band." He's now fulfilled that dream, at least when you consider him as part of The Hired Guns, the band that supports him on his riveting release Frolic and F***. It's an album whose title draws from his autobiographical song "All My Life," which seems inspired by The Who as much as the bands he references, including The Psychedelic Furs and XTC. The album title also nods to the key reason beyond melody-making anyone would want to be in, and especially lead, a "cool as fuck band."
But fronting a hard rock band is not an obvious career move for Aparicio. He grew up in Miami, in a salsa-marinated Cuban-American household. He currently runs two successful Thai restaurants in Brooklyn — JOYA in Cobble Hill and SONG in Park Slope. And he's an openly gay man, in a 13-year relationship.
There have been very few openly gay male singers in the history of rock. But Aparicio does appear to be part of a new wave of gay punk rockers. And it's a wave that seems propelled more than anything else by the cult-like success of Hedwig and the Angry Inch, John Cameron Mitchell's musical about a transsexual punk rocker.
Hedwig inspired one other punk rocker: Kevin Cahoon, who played the title role in several productions of the musical, including off-Broadway. Cahoon has just released his stirring punk rock debut, Doll, recorded with his band Ghetto Cowboy. A former Star Search Junior Grand Champion and a current star in the new Broadway musical The Wedding Singer, Cahoon credits Hedwig with giving him the confidence to become more than just an actor and to perform his own music.
And that music is very much in the Hedwig mold. It's a punk rock variant that the Texas-reared Cahoon considers glam-rock — the sound is more Guns 'N' Roses than Scissor Sisters — created, he says, "for the underdog." The title track from his short album of 10 boisterous songs is a ribald riposte to the childhood jocks who used to tease and torment him for playing with dolls and "watching Barbara Mandrell." "So what, I played with dolls," he sings on the catchy track, before shouting: "You're singing to my song right now!"
In considering both Aparicio and Cahoon, it's almost beside the point whether their music is any good. (Though it is good.) And it certainly doesn't matter if they're charting any new musical ground. (They're not.) Still, more than most of today's punk rockers, Aparicio and Cahoon are carrying on the original purpose of punk: creating edgy, thrashing music and caustic lyrics that generate a rebellious heat too hot for the present-day mainstream.
They don't do it just by creating gay-specific lyrics. In fact, Aparicio only does that once on his album's seven, mostly straightforward tracks. On the blazing "All My Life," he sings of "primping and pruning, trying to catch me a man." On two other songs, he sings of women. On the bluesy, Rolling Stones-esque lead track, he refers to one as "my punk rock girl." Later, he calls another his "girlfriend" — though it should be noted, he sings this on the country-rock stomper "Brenda Lee," on which he actually seems to be singing about the early country-pop star.
What's most notable about Aparicio and Cahoon is that their music never strays from being fun, something you could imagine swaying to, as well as head-bopping, fist-pumping, even lighter-flicking to, in a sea of people at a concert hall. Like countless rockers before them, they never lose sight of their ultimate purpose: to connect with an audience hungry for guitar-slinging musical idols packing heat.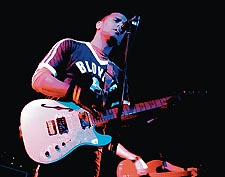 Cool as f***: Aparicio
Hedwig's success also helped indirectly inspire another new release, Centaur Music's Wed-Rock: A Benefit for Freedom to Marry. Centaur's release is an edited live recording from a two-year-old marriage-rights benefit concert organized by John Cameron Mitchell and featuring performances from other gay and gay-friendly renowned punk acts, from Le Tigre to Sandra Bernhard. Proceeds from the album will benefit the nonprofit Freedom to Marry.
Mitchell closes out Wed-Rock by singing a duet with Margaret Cho on the Hedwig signature anthem, "Origin of Love." Cho's not much of a singer, but that's okay. She provides charisma and support as Mitchell carries the song. It's a grand melodic composition whose fanciful lyrical tale, about the need for life, love and equality among us, "the children of the sun," packs a punch like few others. This, at its core, is what punk music is all about.