In case you've never studied women's history and you're not entirely sure who George Sand was, don't count on getting a thorough lesson from MetroStage's new musical Becoming George. The world premiere work from Chicago-based writers Patti McKenny and Doug Frew and composer Linda Eisenstein begins long after Mademoiselle Amantine-Aurore-Lucile Dupin became the baroness Aurore Dudevant, long after she brushed aside her oaf of a husband and children for the bright lights of Paris, and long after she became notorious for her ardent devotion to literature and politics as much as assimilating to masculine French culture. Becoming George all but ignores the very feck of "becoming" George and breezes in somewhere in the middle of George Sand's end.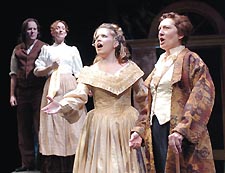 French disconnection: Jason Hentrich, Raleigh, Midkiff and Taylor
(Photo by Stan Barouh)
After dozens of rumors and scandalous affairs and thick, better-than-fiction plots have unfolded in Sand's extraordinary life, McKenny and Frew catch up with the writer in 1870, six years before her peaceful death in the country. It's here they introduce two other convenient figures from French history — Alexandre Dumas fils and a chirping young Sarah Bernhardt, rounding out a story that leisurely stretches along the course of one act, then races along in double time during the second.
When we first meet George Sand (Kat' Taylor), she is in rehearsals for her feminist version of Faust, as directed by Dumas fils (Greg Violand) and starring the Bernhardt (Meegan Midkiff). George invites everyone at the theater — mysterious Prince included — to her country estate in Nohant. It's there, among old friends and new, George discovers the intentions of her royal guest as the Franco-Prussian War begins and threatens the lives around her.
It isn't enough that Becoming George casually skips over all of the juicy bits in the life of a woman who inspired and encouraged revolution as the minister of propaganda, but when she is finally confronted with impossible decisions on matters of life and death, this George counters with a silly, outlandish plot that would never make it past the scrutiny of an eighth-grade drama class. Filled with the kind of glossed-over, homogenized characterizations and condensed version of history you might stumble across in a theme park presentation, Becoming George approaches the great literati with a light and fluffy touch, only hinting at the darker notes that lie beneath such an epic story.
Brett Smock's production has the faint look of a Renoir painting, with broken frame pieces hovering over the stage and assorted provincial accoutrements. There are baskets of stale baguettes, wine and cheese and flowers, but aside from the scenery and lavish period costumes from Howard Kurtz, the essence of the French is lost in a story that seems more associated with the American Revolution in tone and texture than any French malaise.
Becoming George
To May 28
MetroStage
1201 North Royal Street
Alexandria, Va.
$35-$40
1-800-494-8497

With barely a trace of make-up and a glide of masculine panache, Taylor's George Sand is a yolk of brutish force and feminine guile. And while the script rarely delivers a moment that isn't busy elbowing you in the waist, Taylor attempts a subtlety her lines never allow. "Why doesn't he just die?" she deadpans in reference to her ill husband. It's a cross attempt at humor rendered by a book that follows a strict formula in constructing a classic piece of musical theater.
It's a shame the script follows such hackneyed rules, never quite matching the sophistication of Eisenstein's dynamic score. Influenced by the sweeping arcs of Chopin and Liszt, with an occasional jangly melody ("Go Where the Girls Can't Go") and demure waltz ("How to Dance with a Prince"), Eisenstein seems intent on telling a different story through her lyrics, a far more interesting sketchbook that allows the audiences to color inside of the lines.
The highlight of the evening is Eisenstein's titular number, a layered duet for George and Sarah rich with gliding harmonies. Midkiff is a dazzling vocalist despite her odd take on Bernhardt (it's hard to imagine a peppy Bernhardt prancing around a parlor singing with glee, "Someday they will say Sarah Bernhardt was here"). Still, her Sarah is an indefatigable presence, and Midkiff is matched by the talented Brian Childers as an enigmatic Prince after more than just her heart.
Mary Jayne Raleigh's servant Marthe provides the only real comic relief in an evening that's all very quaint and even twee in parts. Becoming George is an oddball musical that ultimately doesn't become much of anything.
---
Two Rooms
To May 28
Theater Alliance
1365 H Street NE
$25
1-800-494-8497

If you still haven't ventured over to the H Street Playhouse and acquainted yourself with a Theater Alliance production, now is the time. Shirley Serotsky's bold and brilliant mounting of Lee Blessing's Two Rooms is an emotionally gripping, heart-wrenching evening that cuts to the bone with its unflinching focus on international politics and their domestic implications.
Lainie's (Kathleen Coons) husband Michael (David Johnson) is captured and held hostage in a cell in Beirut. She waits, thousands of miles away, in his home office for word of his survival. Visited only by a government crony (Kerri Rambow) lending false hope and an anxious newspaper reporter (Jason Stiles) eager to document her grief, she must learn new ways to cope with the horrifying unknown.
Featuring four knock-out performances full of raw emotion, Two Rooms is an intense tour of how the heart bleeds and burns and eventually locks itself up with fantasy to avoid bitter reality. As the pragmatic State Department employee paid to silence Lainie, Rambow ignites a fire on stage opposite Stiles's bloodhound reporter. The opposing sides twitch with fury in two of the most earnest and satisfying portrayals you'll find on stage all year.
From the moment you enter Nick Vaughn's utilitarian world you are affected by its grim, dusty reality. It's here, under Klyph Stanford's unforgiving lighting, you can sense Coons's palpable anguish as the natural sciences teacher who has lost her life trying to save her husband. The sublime performances by Coons and Johnson move you to tears.
But perhaps what is most astonishing about Two Rooms is that it is both endlessly romantic and uncomfortably, undeniably real.