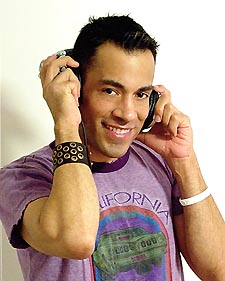 Belmares
ALEGRIA BY ANOTHER NAME… Roland Belmares has spun for party promoter and former DC resident Ric Sena before, at Sena's Alegria in New York, the special-Sunday night party that makes you prematurely wish Saturday night would hurry up and be over. As a seller of Latin-spiced tribal house with a generous side of disco, it makes sense that Sena would find favor in Austin-based Belmares. Sena has tapped Belmares to headline the New York Pride Weekend launch of his new Friday night party, NRG. At least on the initial flyer, Belmares even got top billing over Alegria staple and circuit-star Tony Moran for the event. It's set for June 23 at PachaNYC, the former Sound Factory space with an elevated central DJ booth fronted by blocks of mirrors — until the party really gets going that is, when the mirrors become flashing, multi-colored glow cubes.
Still, it's nice to imagine that Sena tapped Belmares to spin at NRG after just one listen to Belmares's latest Centaur compilation, Party Groove: Blue Ball 5. Certainly one listen will make you want to check out Belmares this Saturday at Velvet Nation, when he spins for the Queer as Folk-derived City of Babylon Tour. More than any other set released lately, it very much resembles the two Alegria compilations that Abel Aguilera compiled for Tommy Boy Records. Like Abel, Belmares isn't afraid of diva vocals. But also like Abel, whether by default or design, he chooses his diva vocals wisely — these aren't tracks you've already heard, or at least they're not tracks you're already tired of from overexposure. Chances are, you still won't be tired of this smart, appealing set this time next year. Belmares makes that prospect all the more likely by incorporating wild but tasteful beats into his mix. Like Abel, his tribal polyrhythms move your feet without beating you over the head about it. Belmares never loses control or veers from his overriding happy-dance sensibility. "We like the disco sound," goes one disco-sampling track midway through. When disco sounds like this, it's a truism no one could deny….
CENTAUR'S SOUR CHERRY… Philadelphia's Blue Ball, no longer a depths-of-winter party but one held in the spring, has become a direct competitor to our own nonprofit circuit party Cherry. As has been reported, Cherry organizers are considering a move away from the annual weekend format to nightly events several-times-a-year (an official announcement about Cherry's future is expected in just a couple weeks). If that happens, Blue Ball will be in some small part at fault. This year's Cherry had a better lineup than Blue Ball, held two weekends ago. But Blue Ball had Roland Belmares — and with Belmares, Blue Ball gets the better compilation. Cherry's wasn't even a designated Cherry compilation anyway. Cherry attendees got a limited edition version, with a different cover and a Rachel Panay remix of the latest Global Groove set from David Knapp, who did not play at Cherry. Why couldn't Centaur have tapped Closing Party DJ duo Rosabel to compile a set?
In any case, Knapp's set is one you can do without. Not because it's bad, but because it's not that good. It's way below expectation from this veteran. Though Knapp has included several new and up-and-coming dance hits, he doesn't compile them in any compelling way, and as good as some of them are, they're exactly the kind of diva tracks that suffer from overexposure. Closing out the set with "Give Me Your Love" by Carl Cox featuring Hannah Robinson. Fabulous track it is — and a recent dance chart-topper too. But it's been played and played and played some more. For well over a year. Belmares had it on his Party Groove: Winter Party 8 compilation last year, in fact….
A GAY GAMES HIT PARADE… If you're looking for a hit-parade compilation, turn to Joe Bermudez and his debut for Centaur, Gay Games Chicago 2006. As far as hits-of-the-moment compilations go, this is actually one of the best Centaur has ever released. The first of two Gay Games VII compilations to come, Gay Games Chicago 2006 belies Bermudez's skill as a radio DJ (most notably for XM and Music Choice). Bermudez has assembled a varied mix of hot tracks from both big and soon-to-be-big names in clubland. Among the standouts: With "Bring It On," he's finally found — and remixed — a worthy successor to Debby Holiday's sweet breakthrough hit "Dive" from a couple years ago. (Her second single "Half A Mile Away" is thankfully many miles behind us now.)
And Bermudez managed to find an altogether pleasing track — no complaints — from Vernessa Mitchell. It's shocking to believe, I know. For once, Mitchell barely screams at all on "Love Will Find A Way," and D.C.'s own Yiannis has outdone himself with his Outstanding To The Limit Mix featured here. To paraphrase several of those past shout-fests from Mitchell, you might say this song has liberated her. Yiannis took her life and made it better. And now, finally, we can accept her for who she is. As long as she doesn't go changing, that is. In which case, we'll have to leave her again….