There is, shall we say, a certain type of singer that goes over big with a gay crowd. They may be pop, they may be dance, they may be R&B, but there's one thing they definitely are:
Divas.
Headlining the stage this year at Sunday's Capital Pride Festival are four divas who range from the gay community's long-time musical companions to its newfound friends: veterans CeCe Peniston and Thelma Houston, along with upstarts Kimberley Locke and Rachel Panay. Together, these four straight women represent the type of artists who find themselves enthusiastically embraced by the gay community.
And just why do we like big-voiced vocalists with great presence? Panay thinks it's all about the enjoyment of dance music's style. "[It's] full voice, wide range," she says, "with a lot of dynamics and heightened emotional drama."
"I don't know why it is," pop and R&B singer Kimberley Locke says. "When I first started doing this, I noticed how many gay fans I had. [I asked my manager about it and] he just simply said, 'We like strong women, and we like strong women who have opinions. And who have big voices."'
Big voices, strong personalities — that and more will be the star of the show come Sunday.
---
"FINALLY," 15 YEARS LATER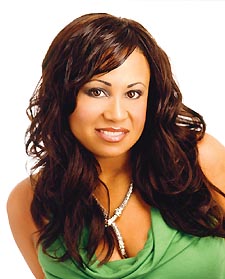 Peniston
"A friend told me they did seven minutes of 'Finally,' and I said, 'No they didn't!" says CeCe Peniston, reliving the first time she heard about the drag performances to her signature song in the 1994 film, The Adventures of Priscilla, Queen of the Desert. "When I saw it I was like, 'Oh my god!' I love it. I love the creativity, the originality."
"Finally" was the first song Peniston wrote, and one of her biggest hits. "'Finally' is like my baby," Peniston says. "It's wonderful it's still playing after 16 years." Right now, she's excited by a forthcoming greeting card from Hallmark Cards that features a chip playing a sample of the tune when the card is opened.
Originally from Phoenix, Ariz., Peniston has had several hits since "Finally," including "We Got a Love Thang" and "Keep On Walkin." Her songs are generally uplifting in both music and lyrics. "I feel like I'm a positive person," she says. "I try to give that to other people. What you put out is what you get back, I always say."
She's released several albums over the years, and she's working on a new one, which she says will be a combination of R&B and dance. She was recently in the studio with new R&B hitmaker Mario Winans, and she's also created a new dance single, "I'm Feelin You," with noted Chicago house purveyor Ron Carroll, which she will perform in at Capital Pride on Sunday.
Peniston's looking forward to an enthusiastic Pride crowd, laughing that they'll probably have "a couple drinks in them by the time I hit the stage anyway, so everybody should be real happy."
Does she ever tire of singing her signature song?
"No," she answers, "because you know what? The audience is great. The audience gives me a lot of love when I do it. It's still the same energy as it was in '91. The whole gay community has given me love from the beginning.
"Ninety-five percent of the shows I do are gay shows anyway," she continues. "It's so much fun for me — I get to play dress up. I can have curly hair one day, straight hair another. You know the queens like you to switch it up."
---
A "WOMAN'S TOUCH"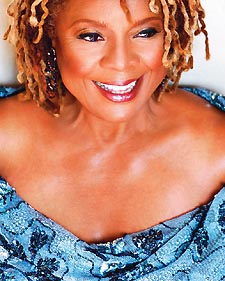 Houston
As with Peniston, Thelma Houston has yet to tire of singing "Don't Leave Me This Way," even though she's been doing it for almost 30 years.
"I would never even think of not doing that song," Houston says. "If I didn't do it, the audiences, man…."
Houston's not even close to retiring from performing, a fact for which everyone should be grateful. This Grammy-winning disco legend is one of the most energetic and engaging performers anywhere, with pipes as incredible now as when she started in the industry some four decades ago. She steals the show whenever she performs, be it a reality-TV competition, a disco-tribute event, or a gay Pride performance.
"I'm amazed how much I'm still working," says the seemingly indefatigable Houston one recent early morning, following a bout of her daily Pilates. "But I really enjoy the touring and the live performances over the recording. My forte is the live performance."
Born Thelma Louisa Jackson in Mississippi but reared (and still residing) in Southern California, Houston tours constantly. Nonetheless, she is preparing to release her first album in a decade-and-a-half at the end of the year — A Woman's Touch, on which she'll cover hits from the likes of Marvin Gaye, Sting, Nat King Cole and John Lennon.
"I thought I'd like to do some songs I wish that I had recorded — that's how I'm selecting them. And as it turns out, they're all songs that have been recorded or written by men. I don't know why that is."
Houston credits the gay community for helping make a hit out of "Don't Leave Me This Way" — and for boosting her career. And she feels performing at Pride is one way for her to give back to a supportive community that she in turn supports. That's also how she originally got involved in charity work fighting HIV/AIDS, back when the disease was hitting her gay support network hard.
"Oh, yes I continue to do that," she says, when asked about AIDS benefits. "That's a given until it's eradicated from the face of the earth."
---
IDOL'S "SUPAWOMAN"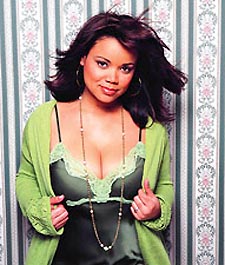 Locke
So, does Kimberley Locke consider herself a strong woman? "I guess I would describe myself that way," she says, after a moment, adding, "I'm a very opinionated bitch."
She then laughs hysterically for several seconds, her friendly and self-deprecating nature coming through just as it did when she was the second-runner-up to Clay Aiken and Ruben Studdard on season two of American Idol. Talking about herself and her career, she's as sweet as Tennessee tea. She has a drive to succeed, coupled with a demeanor to win you over.
And that's the message in her new single, "Supawoman," from her sophomore album, Based on a True Story, due out this summer.
"I wanted to write a song that really described me and a lot of other women out there," Locke says. "A woman who actually has her shit together and has got it going on. The only thing you need a man in your life for is to be your companion, your friend, your confidant, all that good stuff. But some men can't accept that role."
The 28-year-old says she's matured "and really come into my own" since her 2004 debut album One Love and especially since her days on American Idol.
"Idol was a great experience," she says. "I learned so much about myself while I was singing on the show." She didn't really follow the show much this past season, she says, at least not after first Paris Bennett and then Chris Daughtry were voted off.
As for the new album, Locke says it shares the same pop sound as her debut, though it's "more soulful and more stuff that you would actually hear on the radio." She's co-written all but two songs with proven hitmakers for Kelly Clarkson, Natasha Bedingfield, the Backstreet Boys and others.
"I've been able to really show and reveal more of myself, about who I really am," she says.
In addition to her recording career, Locke is currently the national spokesmodel for women's retailer Lane Bryant. And she'll take part in a non-reality MTV series this fall, though she says it's too early to reveal details.
Capital Pride will be her first trip to Washington since she performed at last October's HRC National Dinner. She's looking forward to it. "Pride is always a lot of fun," she says. "I get a lot of love when I do gay Prides."
---
"BACK TO LOVE" IN D.C.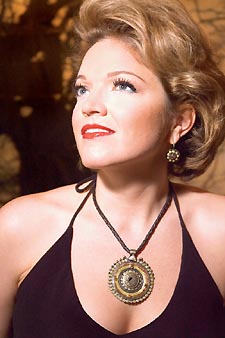 Panay
Rising dance singer Rachel Panay is so thrilled to be making her debut appearance at Capital Pride, she has written a new song just for the occasion — "My Prayer."
"It came to me as a complete inspiration," Panay says. Pride Festival DJ and classically trained pianist Chris Wren will join her for the performance.
"It's a dance song with an almost theatrical slant to it," she says. "Kind of like Deborah Cox's 'Easy as Life,' but uplifting and happy. I'm going to see if I can grab a few friends and bring them up on the stage so I can sing directly to them and just give it like that." She'll have plenty of local friends to choose from: the D.C. native just moved to New York after having spent a couple years launching her career from Washington's gay clubs.
"Given the way D.C. has supported me on all levels, professionally and personally, for me it's a particular honor to be called to do this performance," says Panay.
In addition to "My Prayer," Panay will also debut her next dance single, set for release this summer, although she won't reveal any details about the song before Pride. She expects to finish recording the week before Pride, so it's guaranteed fresh.
The nearly 30-year-old Panay is gaining increasing recognition for her work in dance music. In February, she won the Washington Area Music Association's WAMMY Award as Best Vocalist in the electronica category, her first win and second nomination in the category. She was also nominated last year as Best New Dance Artist Solo at the well-regarded Miami-based International Dance Music Awards.
A graduate of Boston's Berkelee College of Music — and before that D.C.'s Duke Ellington School of the Arts — Panay considers today's dance music the "modern jazz medium."
"You've got a great song, you've got all these remixers interpreting it for what it means to them," she says. "There's no other genre of music where so much creativity is happening."
Rachel Panay, CeCe Peniston, Kimberley Locke and Thelma Houston will perform back-to-back on the Main Stage at the Capital Pride Festival starting at approximately 5 p.m. on Sunday, June 11.