Take a beautiful sunset as seen from the Kennedy Center balcony, add a warm wind off the Potomac, throw in a glass of bubbly, and then take in an enthralling, well-paced Mozart opera — even one as rarely staged as La Clemenza di Tito (The Clemency of Titus) — and what you get is a delicious dose of pure personal harmony. There's nothing quite like spring and opera in D.C. to remind the government-weary that there is more to life than Blackberries, fluorescent lighting and GAO reports.
So sit back, let the glare of the setting sun fall from your eyes and enjoy the brilliance of tenor Michael Schade as he carries this excellent production out of the historical shadows and into your heart. Schade most recently graced the Washington National Opera stage in last season's Magic Flute, where he shone like a jewel amid the wreckage. Here we see him aboard a ship that is fully afloat, and it serves to further enhance his powers.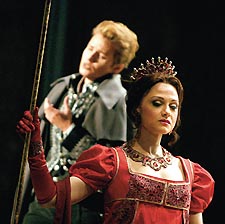 Mozart mania: Domashenko and Pavlovskaya|Karin Cooper
Taking a character that might easily become mired in the required pomp, Schade infuses Emperor Titus with compassion, fire, uncertainty and even a bit of sex appeal — much of it conveyed through the simplest of looks or movement. That's a kind of subtlety of interpretation rarely seen except in the finest performers. And yet he is also a gorgeous singer, sending his song out like a clarion laser, powerful and yet flexible, precise and yet touched with emotion at unexpected moments. He is an interesting physical presence; tall and almost hunched, yet still his magnificent voice carries to the rafters.
Unfortunately, in some ways, no matter how fabulous Schade is, his emperor's emotional potential can never quite be realized, which is really the issue with this opera, one of Mozart's last. Although the female protagonist, Lady Vitellia, will stop at nothing to become his bride, we don't actually see them together until the final act — and even then they have no real personal contact. Other than her stated quest to become his bride and her intense jealousy of his other love interests, there is almost no opportunity to witness their chemistry, if there is any. Perhaps that is the point; Vitellia has no reason other than blind ambition to chase Emperor Titus, but if that is the case, it is too strangely conveyed.
And then, on the other hand, we are treated to numerous ardent moments between Vitellia and her besotted young suitor Sesto, whom she eventually convinces to avenge a perceived dishonor by Titus. These scenes are played out in languorous detail, so much so it seems to throw the opera off balance. It plays like an anatomy of betrayals, each bigger than the one before. We are left wondering "Where do we go from here?"
Sesto, a trouser role, is sung superbly by the mezzo-soprano Marina Domashenko, a very good actor, who's only giveaway is the tenderness of the embraces she steals from Vitellia. Young men are wonderfully ardent but they are not known for their motherly caresses. Still, these two do offer a believable chemistry and keep the dramatic tension fully alive. Domashenko delivers her Mozart beautifully and wistfully, in this way aptly capturing the heart of a young man, madly unrequited.
La Clemenza di Tito
Kennedy Center
Opera House
May 11, 14, 17, 19, 22 and 27
$45-$270
202-295-2400
www.dc-opera.org

Soprano Tatiana Pavlovskaya as Vitellia fills the stage like some kind of unstable planet on the verge of becoming a super-nova. It makes for a riveting performance, but cannot be easy to maintain, and on some of her high and low notes Pavlovskaya shows signs of strain. There is also something about her intensity that's dramatically confusing — at times, we are meant to see her as humorously haughty in the tradition of "opera lite," yet at others she's in full-on tragic mode. This is an area where director Michael Hampe, who otherwise crafts a very tight and spirited production, needs to smooth the conceptual edges.
Mention must also go to Jossie Perez in the other trouser role of Annio. Her lovely, mellow mezzo-soprano is a delight to the ears. Bass Nikolai Didenko rounds out the ensemble with a very solid performance. Interestingly, the scenery, props and costumes all come from the Corporacion Cultural de la Illustre Municipalidad de Santiago, which doesn't explain why the characters in this story supposedly set in 80 A.D. Rome are wearing clothes fit for a Napoleonic dinner party. But putting such trifles aside, don't miss this chance to complete a perfect D.C. spring evening with some Mozart.