In many ways, Pride is about being seen, being visible. And that's one of the goals behind Pride & Heritage, D.C.'s annual celebration of the GLBT Asian/Pacific Islander community.
"Pride & Heritage is about visibility, celebration — recognizing all the talents and contributions of gay Asian Americans in our community," says Linh Hoang, one of the organizers of the event. "By bringing folks together, we can recognize people for their contributions."
The seventh annual Pride & Heritage celebration this Saturday at Club Chaos will honor Gita Deane, one of the plaintiffs seeking equal marriage rights for gays and lesbians in Maryland. Deane, 45, moved to the U.S. from India to attend graduate school, where she met and fell in love with her partner, Lisa Polyak.
As an immigrant, Deane's story reflects one of the common themes for many Asian/Pacific Islander gays and lesbians. Without the option of marriage to bestow legal status on her relationship, Deane felt compelled to keep her life with Polyak secret, lest it disrupt the complex and precarious process of immigration.
"We were both so terrified," Deane says.
Over the years, the couple increasingly came out to their friends, families and co-workers, culminating in their role in the Maryland marriage case. Whatever the outcome, Deane seems satisfied that change is coming. "Win or lose, we've created visibility, we've taken a step forward."
That visibility applies to the gay and lesbian A/PI community as well, which makes the recognition by Pride & Heritage particularly special for her.
"I feel like there are layers of invisibility," says Deane. "If you're minority and gay and lesbian, you're even more invisible. To know that there are people out there watching who come from a culture that's even more repressive [than mine] yet are able to come together and be out — that's really significant for me."
"This is very incredible because rarely do you see Asian people at the forefront of gay civil rights," says Pride & Heritage's Hoang. "We're applauding her courage in stepping up and challenging the institutions."
Pride & Heritage is also honoring efforts in visibility by Asian Pacific American (APA) Film, a D.C.-based group that has continually worked to include a range of gay and lesbian voices in its film programming, particularly in the annual D.C. Asian Pacific American Film Festival.
"They always dedicate one section to a focus on…films that are produced by LGBT people or have LGBT content," says Hoang, lauding APA's efforts at inclusivity.
Hoang himself shows another aspect of the diverse A/PI gay community. He jokingly refers to himself as 1.5-generation — born in Vietnam, he moved to the U.S. in 1993, when he was just 10. Even though his family settled in the San Francisco area, it wasn't until he arrived in D.C. to attend Georgetown that being gay even entered the realm of possibility.
"You're not supposed to date or have a relationship until you're out of high school," he says. Now 23 and actively working to increase the visibility of A/PI people within the broader gay community, Hoang is still looking for the right way to come out to his conservative family. That process helps inform his involvement in Pride & Heritage.
"This event is really special to me because within the Asian community, there's a challenge between being gay and Asian," he says. "It's sometimes a challenge to connect the two together.
"We're celebrating our sexuality and are open about it, but at the same time we're celebrating our culture an heritage."
Pride & Heritage is a collaboration by a number of organizations, including three prominent groups that focus on gay and lesbian Asian Americans, and who are profiled on the following pages: Khush-D.C., Asian Queers United for Action (AQUA), and Asian Pacific Islander Queer Sisters (APIQS). They're joined in their efforts by the National Asian Pacific American Women's Forum (D.C. Chapter) and the D.C. Men of Asia Prevention Study (DC-MAPS).
The stories and experiences of GLBT Asian/Pacific Islanders are as varied and diverse as the people who make up the community. But they share a common thread. The desire to be seen, to be a valued part of the GLBT community, to celebrate their own heritage while celebrating the heritage of this shared community — to be visibly proud.
---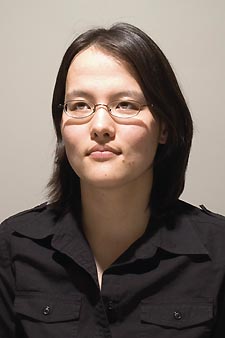 Rebecca Sawyer
Celebrating a Community
Pride & Heritage
At first glance, one might think Rebecca Sawyer's story is part of a traditional American gay and lesbian narrative: Raised in the South by conservative evangelical Christian parents, she left home for college, where she was able to explore her own sexuality, and then moved on to the big city where she pursued her work for GLBT rights.
But as is often the case, a glance doesn't tell the whole story. Sawyer's mother is Korean, her father Caucasian. Her personal heritage has led her to pursue a social justice path that includes both queer and Asian/Pacific Islander issues. And that means working to make queer Asians more visible.
"For those folks who are having difficulty with coming out [to their families], if only their parents saw that there were other queer APIs out there and understood the communities a little more," says Sawyer. "Visibility will only improve the lives of queer API."
Sawyer, 25, knows of what she speaks, having gone through the difficult process of coming out to her own parents.
"We're still working on it, slowly but surely," she says. "It was definitely one of those things that I had to do. There was a bit of relief, to know that I am who I am regardless."
Sawyer first got involved with Pride & Heritage last year, as part of her work with the National Asian Pacific American Women's Forum. Now a member of the Pride & Heritage Planning committee, she's focusing on working with local mainstream, Asian and GLBT media on issues of inclusion and visibility of GLBT Asian/Pacific Islanders.
With the event in its seventh year, Sawyer expects to see Pride & Heritage continue to grow, both as a part of the U.S. government designated A/PI Heritage Month every May and as part of the annual June celebrations of gay and lesbian pride.
"It's growing steadily from year to year," she says. "My expectation is that it will grown even more so in the next year."
In addition to increasing visibility, Sawyer says that fighting stereotypes and racism within both the mainstream and GLBT communities is also a goal.
"It's stereotypes of how people perceive [for example], Asian-American women," she says. "The image of Asian-American women being docile — more of the geisha and less of the dragon lady stereotype.
"I think what makes the problem of racism more difficult to deal with in the GLBT community is that it's not usually direct — it's very indirect.
"There needs to be more education and awareness."
That's why Sawyer is excited about this year's Pride & Heritage honorees.
"The lack of recognition for your work makes the work unnecessarily difficult," she says. "Being able to recognize Gita and APA film is what will be most personally satisfying." — SB
---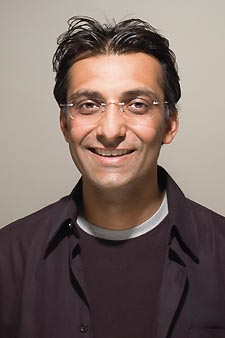 Paresh Gajjar
South Asian Solidarity
KhushDC
In June of 1994, two Washingtonians of South Asian descent went to New York to speak at an event marking the 25th anniversary of the Stonewall riots. It was the first time Atul Garg and Yassir Islam met. There, they struck up a plan to bring to D.C. something akin to New York's South Asian Lesbian and Gay Association.
KhushDC was born.
The group has a three-point mission to provide a safe and supportive environment, promote awareness and acceptance, and to foster a positive cultural and sexual identity for "lesbian, gay, bisexual, transgender, questioning and additional gender or sexual minority" South Asians in the D.C. area. They throw a pretty good party, too.
The first Saturday of every month finds members enjoying dinner, drinks and dancing at their signature "Chutney Saturday" events. They also hold potluck dinners every other month, and the monthly "Spicy Asian Crunch" happy hour, held with other area GLBT Asian/Pacific Islander groups, at Halo. With their full social calendar, it's no wonder KhushDC is responsible for Pride & Heritage's biggest party, "Jalwa." The phrase is Urdu — the national language of Pakistan — for "splendor" or "display." The name certainly suits this year's Jalwa theme: Bollywood, a tribute to the huge Indian film industry nicknamed as Bombay (Mumbai) meets Hollywood, and known for its extravagantly colorful, melodramatic musicals.
"Last year was the first time it was called 'Jalwa,"' says current KhushDC president, Paresh Gajjar. "Prior to that, it was called 'Monsoon Nights.' This year, we are going to have a performance early in the evening. As we move into the heavy dance hours, it's going to be strictly dancing." Arrive early to catch the male belly-dancing.
Though socializing has been a mainstay of the KhushDC agenda, Gajjar says the organization is trying to evolve in a way that is more inclusive and more political.
"We're not at a point where we do have a large membership base, so for political cause or political events, we have to make a determination as they present themselves," Gajjar says, adding that KhushDC has about 45 dues-paying members, more than 300 listserv subscribers, and a new affiliate group called KushDC-Girls. "For example, one of the things right now is immigration reform. We had a discussion, and our membership feels as though we should be taking a stance. We're exploring ideas on what we might be able to do."
In a sense, though, simply existing makes a political statement for South Asian gay people. Consider Gajjar's recent trip to India. Though born in New York, Gajjar has plenty of extended family in India. For his first trip back since he was an adolescent, Gajjar, 32, tried Mumbai's Voodoo Pub. Billing itself as the only gay bar between Bangkok and Istanbul, that doesn't leave many options for GLBT people in South Asia.
"I was expecting it to be far more open," Gajjar says of his night out, and the gay scene in Mumbai in general. "It's still very closeted. I'd heard that people were much more open about their sexuality nowadays. I expected it to be more like D.C. or parts of New York. I did not find it to be like that."
Though the real world may not be welcoming, the KhushDC listserv can at least offer GLBT South Asians a sense of virtual camaraderie. "People overseas, they might sign up for the listserv, just to see what discussions are happening," says Gajjar. And if they make it to D.C., they'll certainly know where to find a friend. — WOB
---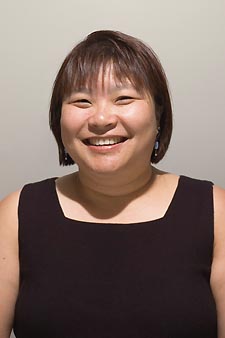 Trang Duong
Sharing Sisterhood
Asian Pacific Islander Queer Sisters
Born in Vietnam and raised in California, Trang Duong took the road less traveled — to Anchorage. Her godparents lived there, and enticed her to make the big move north.
"It's actually a great community," she says of Anchorage. "It's a small, very close-knit queer community." It wasn't, however, very diverse. She explains that as far as the Anchorage milieu was concerned, any conversational reference to "the Asian lesbian" always meant her.
Moving to the D.C. area in 2002, Duong, now 36, says she was impressed by the diversity she missed in Alaska. "Being here, it's totally different. You've got a lot more numbers, especially with queer women."
D.C.'s diversity also includes some Western touches she's fond of — Country-Western two-stepping, in particular. Between boot-scoots, she met another dancer, Kim. "She said, 'Have you heard of APIQS?' She became my partner." Kim, it turned out, was a former co-chair of the group.
APIQS is the acronym for Asian Pacific Islander Queer Sisters. And today, Duong is one of the group's co-chairs.
"We're primarily a support group," says Duong of the group, first started in 1987 as D.C. Asian Lesbians [DCALs], participating in the GLBT March on Washington that year. DCALs was reorganized in 1998 as APIQS "to be more inclusive."
The APIQS mission is to serve as an organization for lesbian, bisexual, transgender and questioning women, focusing on "queer issues, education and sisterhood," through outreach, education and raising the visibility of Asian/Pacific Islander queer women. The group is affiliated with the national umbrella organization Asian and Pacific Islander Lesbian, Bisexual Women and Transgender Network, which uses the acronym APLBTN, or "apple button."
While APIQS has been around in some form or other for nearly 20 years, it doesn't have a reputation for infrastructure. Duong says they're trying to change that.
"It hasn't been very regimented. Because we don't have an office or staff, it's totally volunteer-driven. Over the past few months, we've been trying to do at least a monthly potluck or dinner. We're looking now at restructuring and getting APIQS more active. We're constantly challenging ourselves to see how we can make [APIQS] better."
One concrete step in that direction should give the group a better handle on its constituency — both in numbers and need. "We know we don't reach out enough, [but] we're creating a survey to send out to members and potential new members. What do you want APIQS to be? It will probably go out around [Capital] Pride."
This push to recruit new members and identify the needs of both current and potential members may ultimately lead APIQS to be a dues-collecting organization. APIQS's primary goal, however, is 501c3 status. With this IRS designation as a non-profit organization, APIQS would be able to apply for grants with an eye to increasing capacity. That, says Duong, would mean doing more work like their new partnership with the Asian/Pacific Islander Domestic Violence Project (DVRP).
"One of the issues that we want to address is same-sex violence. We want to start addressing that, and to help DVRP build their capacity to help same-sex female couples," she explains. "I think [our goal] is just getting more involved in issues beyond being social. We're just starting to get ourselves more organized to do that sort of thing."
Still, Pride & Heritage will demand Duong put her social skills front and center. After all, she's going to serve as one of the event emcees.
"We're very involved this year," Duong says of Pride & Heritage. "This is very important for us. It's a way to build community and bridges, especially with our queer brothers. And to celebrate that we're not only queer, but of API descent." — WOB
---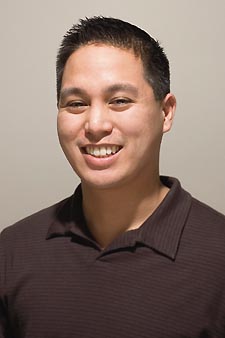 Don Verde
Feeling at Home
Asian Queers United for Action (AQUA)
Balancing an interest in both pride and heritage can be a challenge. Just ask Don Verde, who's active in both the D.C. Filipino-American community and the GLBT community.
"I definitely feel part of both communities," says Verde, 30. "But I feel that within the API community…LGBT people are largely ignored. They aren't supportive of events or causes I may be interested in.
"Same for the gay community — they don't necessarily focus on the issues of Asian Americans."
Verde moved to D.C. three years ago because he wanted to live in an area with a more diverse community. Born in Michigan and raised in Florida, he says that homosexuality remains a taboo in many API cultures.
"With so many immigrants in the community, it's hard to let go of the old country's values," he says. "Even if they are supportive, they may not feel it's their place to focus on LGBT issues."
Those two elements come together for Verde, however, with AQUA, an organization for which Verde currently serves as chair. Founded in 1997, AQUA provides both social and political opportunities for gay Asian men.
"We were founded as an organization where we were in control, where the space was by us and for us," says Verde. That's important given the stereotypes and other challenges gay Asians still face within the larger GLBT community.
"You hear comments," says Verde. "People assume things based on your appearance — that Asians can't speak English or are very effeminate. [And] there's a lot of exoticizing going on. A lot of people just like to assume certain things."
Still, Verde notes that AQUA has a lot of allies, including boyfriends and partners of members, "who are very supportive, and they are welcomed into the group like everyone else."
AQUA's activities have grown over the years, from occasional outings and potluck suppers to participation in the annual Capital Pride parade and festival, and sponsorship of film programs at the Reel Affirmations film festival. The group will also sponsor a mayoral candidate's forum in June. And AQUA Youth has been conducting outreach to gay Asian college students in the area.
"We're really trying to reach out to more college students who may get involved with API groups, but don't necessarily feel [completely] at home," he says. "Those groups tend to be very straight. We let them know that they're free to be both gay and Asian."
It's that freedom to feel at home in both communities that drives AQUA's participation in the Pride & Heritage celebrations.
"With Pride & Heritage, it feels that even as a participant, you're connected to an event — these are your people," says Verde. "We're able to…show recognition to people who have given a lot to the community.
"And those who might not be informed about issues [of GLBT API], they can see who we are and see how much work we have to do." — SB
The seventh annual Pride & Heritage celebration will honor Gita Deane and APA Film on Saturday, May 6, at Club Chaos, 1603 17th St. NW, at 6:30 p.m. For more information about Pride & Heritage and its supporting organizations, visit www.dcprideandheritage.org.
For more information about KhushDC or KhushDC-Girls, visit www.khushdc.org.
For more information about APIQS, visit www.apiqsdc.org.
For more information about AQUA visit www.aquadc.org.