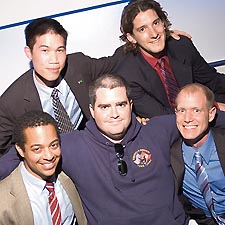 Members of GLIFAA
(Photo by Todd Franson)
MISSION: Founded in 1992, GLIFAA works for full parity for GLBT personnel and their families in U.S. foreign affairs agencies. GLIFAA also serves as a support network and source of information for GLBT employees and their families.
ACTIVITIES: Lobby foreign affairs agencies to advance the group's mission, while also offering social events for membership.
HOW TO JOIN: Full membership available to foreign affairs officers, with $35 annual dues. Other levels of membership are available to supporters. Membership application is available online at www.glifaa.org.
BACKGROUND: It wasn't until 2001 that the State Department offered to officially acknowledge that gay diplomats' same-sex partners existed for purposes of securing visas, offering emergency assistance, and the like, thanks in no small part to GLIFAA's efforts within the department. "I believe that we and our families should be treated equally," says Clayton Bond, GLIFAA communications chair. He joined the State Department in 2001, and GLIFAA not long after. "I enjoy feeling that I'm part of something bigger than myself, and being part of an organization that is trying to do good. GLIFAA is about equality, and having community with fellow members, both gay and straight."
CONTACT: glifaa@hotmail.com
NEXT EVENT: Happy hour, Thursday, June 29, 6 to 9 p.m. at Halo, 1435 P Street NW.