METRO WEEKLY: Let's begin with what first got you interested in acting.
HARRIET HARRIS: I'm from Texas. I grew up in Fort Worth, and there was a very vital theater school there called the Merry-Go-Round school at Casa Mañana. I went there primarily because I was considered shy and withdrawn — and that doesn't fly in Texas, so something had to be done to "bring her out." It was something I enjoyed immediately and it seems that people think I'm good at it. So at age 7, I thought "This is what I'll do!"
MW: That's a pretty young age to know what you're going to make your career.
HARRIS: Well, when I was 6 and my father was still alive — he was a lawyer and he was friends with a lot of people in politics, and he wrote speeches for them — I was very focused at 6 on being the governor of Texas. I thought that would be a great job for me. And then I thought that if that doesn't work out, I'll just go into law practice with my dad. But he died when I was 7, so I kind of thought, "Well, dad's dead, the connections are gone." [Laughs.]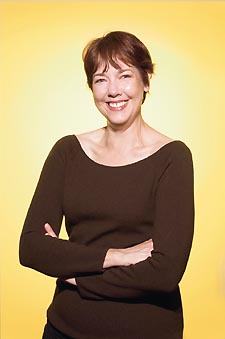 Harris
MW: Like Miss Baranski, you went to Juilliard.
HARRIS: Yes, Christine was a very big deal when I was there. Everybody knew that Christine was it.
MW: Did you also have Michael Kahn as a teacher?
HARRIS: Yes, and I thought he was an absolutely great teacher. He really understands scenes and how they work and he's able to talk to people about what they need to get out of a scene and he's very patient in that role. And then working with him as a director, he's so brilliant. He's so imaginative. He has such incredible skill with language and such a great sense of what's dramatic and how things will hold.
MW: It's interesting how similar your career paths are, in terms of the breadth of acting mediums that you cover.
HARRIS: If Christine and I are similar, it probably has to do more with our training. Juilliard is a conservatory and they try to train you for everything.
MW: A valuable experience.
HARRIS: For somebody who wants to do a lot of different things. I didn't think I wanted to do anything other than stage. At that time I had no aspirations to do TV and I just didn't ever think I would ever do movies. I thought I'd just be a New York actress. I didn't know how hard that would be.
MW: Is it tough getting to your level?
HARRIS: When I was doing Thoroughly Modern Millie, this bright looking 9-year-old girl was waiting with her mother outside the theater after a performance. She said, "How many Broadway plays have you done?" And I said, "Two." And her jaw dropped and she said, "Is it hard to do a Broadway play?" And I thought, "Yeah, for me, it was." I could see that she was crestfallen, and that she just completely reexamined her then career choices. I think she must have thought, "Man, she's ancient and that's all she's done."
MW: Yes, but you won a Tony. That must have been a nice surprise.
HARRIS: It was a surprise all right! I think everyone was surprised!
MW: Why do you say it like that?
HARRIS: Because I really didn't think I would be nominated, so it was absolutely shocking to win. My boyfriend had just come to New York to see me, and we were sitting in bed watching the nominations. When they read my name my head just kind of tilted to the side like the RCA Victor dog, and I just thought, "How could that be?" And my boyfriend practically elevated off the bed like some yogi. It was incredible. And I thought, "Wow, that's what I guess I should be feeling" but I was so surprised, I couldn't.
MW: I'm sorry I never got a chance to see it with you on Broadway.
HARRIS: It was such great fun. There were so many great things in it. Sometimes you wish you could go back in time to see the original cast do a show. I know they can tape it and all that, but it's not the same as being there when you're dealing with live theater.
MW: I've become more aware of you because of your TV work. The agent Bebe in Frasier, and now the deliciously evil Felicia on Desperate Housewives.
HARRIS: People do find Felicia evil. I think she's just determined. She's a zealot pursuing an objective that no one wants her to pursue. And so it makes her really eccentric. And even though the man she's pursuing is the one who committed murder, he's only considered creepy by people and Felicia is always considered evil. I think that's so interesting because he's really the bad person. She's just trying to get him caught. But she is extreme. I think she doesn't stop when other people would. She keeps on, she keeps pursuing and I think that is a scary thing. She just keeps scraping away until she eventually gets what she wants. And if she doesn't get it one way, she'll go around and do it another way. She's completely unapologetic about it. She doesn't care what anybody else thinks.
MW: Does working on a show like Desperate Housewives make you nervous about your job security? After all, they seem to take liberties with who they'll kill off at any time. Do you ever get nervous when you get a script, thinking "This could be my last?"
HARRIS: Yeah, I felt like that last year. So far as I know, I'm still ticking.
MW: How's working in Mame?
HARRIS: Oh, it's fun. A real pleasure. I'm thrilled that we have this huge orchestra here. I think it's 24 pieces that we have — it's done so rarely and it's incredible. And I think that will really be fun for people to hear. I'm really impressed with the costume designer and the director and the choreographer. They're all so fun and so talented and seem to be working so well together. And I have a really fun part.
MW: What do you bring to the role of Vera?
HARRIS: I have no idea. I read a [faux] flyer and it said that Vera Charles is a has-been actress and I took some umbrage with that. I just thought, "She is not a has-been. She's a drunkard, but she's a very highly functioning alcoholic." She shows up at the theater, she does her show every night, she has a following, she is a big deal. But she's got a massive problem. Back in the '20s [alcoholism] was a problem, but I think people thought you'd outgrow it or something. It didn't have the same onus on it that excessive and compulsive drinking has now.
Vera has all these problems, but she is the one, in the book anyway, who comes up with solutions. She is a much more practical person than Mame, and she has certain skills. She falls over drunk every once in a while — which isn't a skill — but she can figure things out that Mame can't because she just has a broader experience in the world. Mame is all about opportunity and wonderful things happening. But when something bad happens, she really doesn't have the answers, because that's just not what her life has been. Her life is about opening windows.
MW: Do you remember at all the first time somebody came out to you and how you felt about that?
HARRIS: Wow. As far as I know no one was gay in my high school. Of course people were, but I wasn't aware of it. In Fort Worth people were called "bachelors" — they just weren't gay. Not too long ago, a relative was talking about somebody and she said "He's a walker." And I said "His name is Walker?" And she said, "No, he's a walker." And I said, "What's a walker?" And she said, "Well, I don't know what to call him, he's a walker." And I said, "Well, what is it?" And she said, "He's a homosexual and he goes out with women to the opera." And I said, "You just can't call them that." She said, "Well, what do you call them?" And I said "You call him her date or her friend. They're dates for the evening. He's not a walker." And she said, "Well, that's what everybody has always said."
But I think the thing that really made me stop and think about it was when I was on tour with The Acting Company, and we had seat mates [on the tour bus] and people exchanged books and tapes all the time. And my seat mate was finishing a book and I said "I'm finishing mine, you want to trade?" And he said, "No, you won't like it." And I said, "Why?" And he said, "Because it's not any good and it's a gay book and it has no value except that it's a gay book." So I said "Well, why do you want to read it?" And he said, "Because it's such a relief to be able to have it be two men who are in love with each other and embracing. I don't have to go to the trouble thinking which of these people am I." I don't know if he was really reading a dumb book or if he was reading pornography, but I thought "Wow, that's nothing I ever had to think about — reading something that I didn't think was any good just so I could identify with it, just so I could escape into a book without a problem." And I thought, that really sucks.
MW: I'm wondering if Housewives is incrementally boosting your status as a potential gay icon.
HARRIS: I don't know about that. I think I'd have to look a lot better in white shirt and black tights in order to have my gay icon status confirmed.
MW: Well, we can start here and now to help you become a full-fledged gay icon.
HARRIS: [Laughs.] Well then, I'll have to work on my thighs.
Click for even more from the stars of Mame